Many of Gen X's iconic alternative bands have slowed down as they've reached middle age, and you might only get a new Green Day or Foo Fighters album every few years at this late date. Weezer, however, has only gotten more prolific since debuting with its multi-platinum 1994 self-titled Blue Album, releasing two albums a year in both 2019 and 2021. Indeed, the band has released no less than six self-titled albums differentiated only by the color schemes of their cover art, ranging from the debut to 2019's substantially less beloved The Black Album.
There will always be purists who only care about the first two Weezer albums recorded with founding bassist Matt Sharp, who left the band after 1996's cult classic Pinkerton. But singer/guitarist Rivers Cuomo has fostered a strong relationship with the band's fanbase, even becoming one of the first major artists to crowdsource creative suggestions from diehards on the Internet for 2002's Maladroit. And with aesthetic experiments like the chamber pop of OK Human and the tongue-in-cheek metal of Van Weezer, it feels like Cuomo is determined to keep expanding Weezer's musical palette in unpredictable new ways.
In December, Weezer debuted SZNZ: Winter, completing the season-themed series of EPs released throughout 2022. Below, SPIN sorts through the good, the bad, the blue, and the red to determine which Weezer albums are truly worth your time and attention.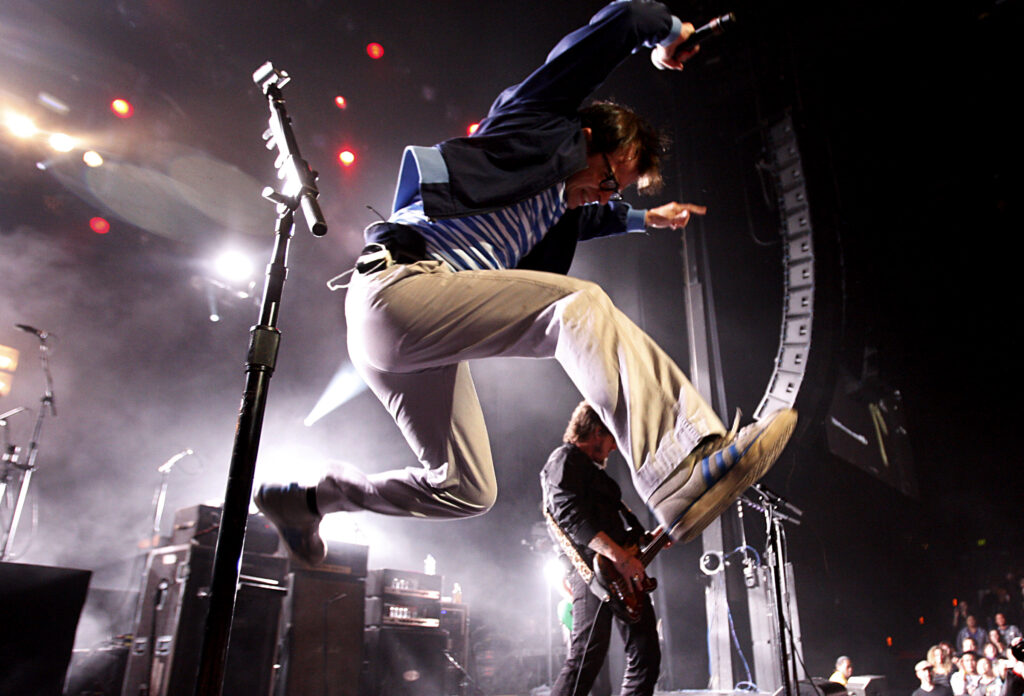 17. Hurley (2010)
Hurley was Weezer's third album in three years, and its only release for the trailblazing California punk label Epitaph Records. It felt like the band was wearing thin by the end of that run, dressing up an uninspired set of songs up with pop culture ephemera. Actor Jorge Garcia's face adorns the cover of an album named after the character he played on Lost, and there are backing vocals from Michael Cera and the entire cast of Jackass. The only single, "Memories," is monotonous and lackluster, and "Where's My Sex?" and "Smart Girls" are some of the worst songs in the Weezer catalog. The lo-fi closing track "Time Flies," written with country music legend Mac Davis, is a unique standout on an otherwise blandly formulaic album. "This is a Mk. III Weezer album where songs are constructed more like sitcoms: each has a single premise based on a rigid structure and a comforting predictability, and each can be experienced in virtually any order," Ian Cohen wrote in the Pitchfork review of Hurley.
16. Weezer (The Teal Album) (2019)
In 2018, Weezer honored a teenage fan's request on Twitter that the band cover Toto's 1982 hit "Africa." Sure enough, it was a smash for Weezer as well, topping the alternative charts and becoming the band's only Hot 100 entry since 2009. A few months later, Weezer capitalized on "Africa" with the surprise release of its first covers project, The Teal Album, which it snuck out shortly before the release of the already announced The Black Album. Instead of curating songs that influenced the band or held significance to him personally, Cuomo crunched Spotify data to come up with a list of some of the most enduring songs of the '60s, '70s, '80s, and '90s. That spreadsheet-driven approach results in boringly faithful wedding band-style renditions of everything from "Stand by Me" to "Sweet Dreams (Are Made of This)," filtered through the Weezer aesthetic with as little personality as possible. On some level, you have to admire Cuomo's commitment to singing TLC's "No Scrubs" with a straight face, but one has to wonder what a less clinical Weezer covers record would sound like.
15. Raditude (2009)
In the late 2000s, it became common for big rock bands such as Coldplay to Fall Out Boy to work with pop and rap hitmakers in a bid for continued commercial relevance, but nobody's cross-genre collaborations were as consistently bad, baffling, and unpopular as Weezer's. On Raditude, Cuomo teams with Dr. Luke on "I'm Your Daddy" and Lil Wayne, Jermaine Dupri, and Polow Da Don on "Can't Stop Partying," songs that feel more like condescending parodies of Top 40 pop than genuine attempts at mass appeal. The album opens with an all-time great Weezer single, "(If You're Wondering If I Want You To) I Want You To," but things go off the rails pretty quickly after that. "The second half sags, the ballads bore, and weirdly, it's too short. Old school Weezer fans won't like it, and neither will blog-rock acolytes," wrote Spencer Kornhaber in the contemporaneous SPIN review.
14. Weezer (The Red Album) (2008)
The Red Album marked the beginning of a more experimental, anything-goes era for Weezer, perhaps best signified by the unflattering mustache Cuomo started sporting in 2008. It was the first and only Weezer album to feature all four members of the band writing songs and singing lead. Unfortunately, Brian Bell, Patrick Wilson, and Scott Shriner's songs are all a bit bland, marking the album as a failed experiment in creative democracy in the tradition of Creedence Clearwater Revival's Mardi Gras. Even Cuomo's more reliable songwriting is all over the place, particularly on "The Greatest Man Who Ever Lived (Variations on a Shaker Him)," a six-minute epic with 11 verses that shift through hip-hop and pastiches of Nirvana and the Andrews Sisters. It's a daring love-it-or-hate-it song, and personally, I hate it. Still, The Red Album's most indulgent moments are somewhat redeemed by a pair of anthemic radio hits that both celebrate the value of doing things your own way: "Pork & Beans" and "Troublemaker."
13. Weezer (The Black Album) (2019)
TV on the Radio's Dave Sitek was not the most obvious candidate to produce a Weezer album, but he proved to be the right kind of versatile, genre-blurring collaborator for one of the band's more modern and adventurous albums. The Black Album features songs Cuomo primarily wrote on piano, as well as collaborations with co-writers including Against Me!'s Laura Jane Grace and Evanescence's David Hodges. The album often engages with the sounds and subject matter of contemporary Top 40 pop a little more thoughtfully than on Raditude, aside from the embarrassing opening track and lead single "Can't Knock the Hustle."
12. Pacific Daydream (2017)
As Cuomo was compiling song ideas for The Black Album, he set aside a separate group of songs with a more upbeat vibe. This collection quickly took on a life of its own and wound up hitting stores about 18 months before The Black Album. Pacific Daydream pays tribute to Cuomo's sunshine pop heroes on "Beach Boys," and no less than three songs feature summer-themed choruses ("Mexican Fender," "La Mancha Screwjob," and, of course, the hit "Feels Like Summer"). There are some charming moments here, but the album feels like a tentative version of Cuomo's more dramatic leap into orchestral pop on OK Human a few years later.
11. SZNZ (2022)
Over the course of 2022, Weezer unveiled a different seven-song EP on the first day of each season. At the end of the year, those songs were assembled into one collection, and the mammoth 90-minute SZNZ is effectively the longest Weezer album to date. Surprisingly, SZNZ: Summer is the weakest chapter in the quartet — perhaps Cuomo was simply tapped out for good songs about the warmer months after writing so many on The White Album and Pacific Daydream. Instead, the synth-heavy arrangements and darker lyrics of SZNZ: Autumn break some refreshing new ground for Weezer. Cuomo has often taken inspiration from outside of rock and roll, but the interpolations of classical music melodies, including Vivaldi on "Opening Night" and Albinoni on "Sheraton Commander," are an incredibly grating recurring motif here.
10. Weezer (The White Album) (2016)
White Album producer Jake Sinclair grew up as a Weezer fan and even sang in a tribute band called Wannabeezer. As such, it's no surprise that the album evokes '90s Weezer more convincingly than any other later albums — particularly when Cuomo nails his Blue Album vocal style on "L.A. Girlz." Still, The White Album is not merely an exercise in reverse engineering the band's early sound. Cuomo experimented with William S. Burroughs-style cut-up techniques to assemble some of the lyrics, and introduced the more prominent keyboards and summery Beach Boys vibes that would become recurring themes of later Weezer albums. "The party winds down on 'Endless Bummer,' the acoustic closing track where the summer fun finally dies out," wrote John Hugar in the AV Club review. "Weezer spends the first nine tracks celebrating summer joy and then closes on a somber note, lamenting the emptiness of it all."
9. Death to False Metal (2010)
Cuomo keeps a legendarily vast and detailed catalog of his unreleased songs, and several of Weezer's later albums have been assembled by combing his vault for songs that fit together in sound or content. He released many of his demos on the 2007 solo collection Alone: The Home Recordings of Rivers Cuomo and a series of sequels, but Death to False Metal is the only compilation under the Weezer name that's comprised entirely of studio outtakes from across its career. Of particular interest are three hard rocking songs, "Losing My Mind," "Everyone," and "Trampoline," from the wilderness years between Pinkerton and The Green Album. Elsewhere, a Make Believe-era cover of Toni Braxton's "Un-Break My Heart" is a more convincing reclamation of a pop standard than anything on The Teal Album. The collection holds together surprisingly well, surpassing some of Weezer's proper albums despite some justifiably shelved curios like "I'm a Robot."
8. Everything Will Be Alright in the End (2014)
Ric Ocasek's greatest triumphs as a producer outside of his own band the Cars have been with Weezer, including the platinum Blue and Green albums. Ocasek returned to produce a third and final Weezer album a few years before his death in 2019, but Everything Will Be Alright in the End doesn't feel like an exercise in nostalgia. Indeed, the three tracks that close the LP, dubbed "The Futurescape Trilogy," are the band's best attempts at a prog epic. Unlike on most Weezer albums, however, the singles are the weak link. "Back to the Shack" rallies fans to keep on rocking with eye-rolling lyrics dissing disco and American Idol, and "Cleopatra" feels overstuffed with instrumental twists and turns.
7. Van Weezer (2021)
Rivers Cuomo grew up in Connecticut loving bands like Kiss and Aerosmith, and moved to Los Angeles in hopes of making it big with a glam metal band on the Sunset Strip. But after getting an education in alternative and classic rock while working at Tower Records, Cuomo unlearned most of his heavy metal guitar technique to write Weezer's early albums. Van Weezer is Cuomo's attempt at reintegrating his hair metal roots into the band's modern-day sound, and the unrepentant shredding livens up songs like "End of the Game" and "1 More Hit." Weirdly, a few tracks feature interpolations of hard rock classics by Ozzy Osbourne, Motley Crue, and Blue Oyster Cult, which come off campy and forced. The album was ultimately dedicated to its namesake, Eddie Van Halen, who passed away during the 20-month period between the announcement of Van Weezer and its long-delayed release date.
6. Weezer (The Green Album) (2001)
For a time, Weezer was one of countless '90s bands who released a massively successful debut album, suffered the dreaded sophomore slump, and then appeared to permanently fade from the mainstream landscape, a la Third Eye Blind, Spin Doctors, The Presidents of the Unites States of America, or Better Than Ezra. After nearly five years without an album, Weezer seemed less likely than many of its contemporaries to stage a comeback. But by reuniting with producer Ric Ocasek on another self-titled album that deliberately reminded fans of the debut, Weezer became perhaps the first band to lucratively tap into '90s nostalgia in the new millennium. At just 28 minutes, The Green Album is Weezer's shortest release, and it does feature a couple of subpar songs, including the knuckle-headed lead single "Hash Pipe." Overall, the charm offensive of tight, hooky songs like "Don't Let Go" and the band's perennial top streaming track, "Island in the Sun," did the trick: Weezer was back, though new bassist Mikey Welsh wouldn't stay in the band for long.
5. Maladroit (2002)
Weezer deliberately evoked the sound of its debut on The Green Album, but by following it up with a self-produced album that sold a lot less, Maladroit was something of an echo of Pinkerton, even if it's largely brighter and less emotionally charged than the band's revered sophomore album. With new bassist Scott Shriner on board, Weezer settled into the lineup that's still together two decades later, and Maladroit sounds like the work of a band in perfect harmony, tastefully incorporating the hard rock influences that would eventually dominate Van Weezer. The album features some of the best drumming of Patrick Wilson's career, particularly in the fluid tempo shifts that make "Keep Fishing" one of the band's most underrated singles. "Maladroit has a more disturbed edge than did the Green Album. Careening guitar solos stretch out the waistband on rockers such as 'Fall Together,' while the teakettle harmonies on 'Space Rock' recall Weezer's forebears in hyperactivity, the Pixies," wrote Ann Powers in the Rolling Stone review of the album.
4. OK Human (2021)
In early 2021, Weezer was gearing up to release Van Weezer and head out on the road for a huge tour with Green Day and Fall Out Boy. But first, Cuomo had an ace up his sleeve: the surprise release of an album that swung in the opposite direction, helmed by White Album producer Jake Sinclair. Instead of the Radiohead response record implied by the title OK Human, Cuomo tapped into his inner Burt Bacharach for an album of lush orchestral pop recorded with analog equipment and a 38-piece orchestra. "All My Favorite Songs" is a top-shelf late-period single for the band, and "Numbers" is one of Cuomo's most elegant lyrics ever, a clever and resonant union of concept and emotion.
3. Make Believe (2005)
Rick Rubin is one of the most polarizing producers in rock, known more as a guru who talks bands through creative philosophies than a hands-on engineer who's a wizard at the mixing board. Muse and Velvet Revolver fired Rubin and expressed dissatisfaction with his working methods, while the Red Hot Chili Peppers and Tom Petty made some of their most celebrated albums with his help. Weezer is firmly in the category of bands who gelled with Rubin. Cuomo began meditating on Rubin's advice, and found it so creatively rejuvenating that he scrapped dozens of songs he'd penned for Weezer's fifth album and wrote some of his most personal and inspired material in years. Make Believe became the first Weezer album since the debut to notch three top-10 singles on alternative radio, including the massive crossover hit "Beverly Hills" and the lovelorn singalong "Perfect Situation." Even deep cuts like "My Best Friend" and "Hold Me" sound like potential hits, and Rubin would later reunite with Weezer to produce the better half of The Red Album.
2. Pinkerton (1996)
Rivers Cuomo was going through a lot in the mid-'90s. Weezer's debut album had made him a rock star, and he was accepted to Harvard University. But he also underwent a painful surgery to extend his left leg, which was shorter than his right, felt isolated and sexually frustrated at college, and scrapped his first attempt at Weezer's sophomore album, a sci-fi rock opera called Songs from the Black Hole. Eventually, Weezer made Pinkerton, a darkly confessional and abrasive album inspired by the Puccini opera Madame Butterfly, and even the most upbeat songs, "El Scorcho" and "The Good Life," were rejected by rock radio. The album's commercial failure sent Weezer into a five-year hibernation, with founding bassist Matt Sharp soon departing the band. In Weezer's absence, Pinkerton became a sleeper hit that influenced a generation of emo bands such as Taking Back Sunday, The Used, Dashboard Confessional, Saves the Day, and Thursday, all of whom have cited the impact of the album's uncomfortably honest lyrics and raw production. Pinkerton eventually went gold in 2001 and platinum in 2016, completing its unlikely journey from major-label flop to underground touchstone.
1. Weezer (The Blue Album) (1994)
In 1994, bombastic, angst-ridden Seattle grunge bands such as Nirvana, Pearl Jam, and Soundgarden still dominated alternative rock, and fast, irreverent punk pop groups such as the Offspring were ascendant. In that context, Weezer stood out immediately as a clean-cut quartet of geeks whose whimsical power pop retained some of the new wave polish of producer Ric Ocasek's band the Cars. Further aiding Weezer's early popularity was its command of the music video art form, with memorably askew Spike Jonze-directed videos for "Undone (The Sweater Song)" and "Buddy Holly" turning the band into MTV darlings. A nation of adolescents promptly bought the album and obsessed over more introspective tracks like "Only in Dreams" and "The World Has Turned And Left Me Here." Weezer was also still gelling as a band at this early stage, with founding guitarist Jason Cropper having been fired during the recording sessions and replaced by Brian Bell. "This anti-cool quartet strums solid pop melodies with singsongy, anthem-like choruses, peppered with grunge fuzz that at first seems strangely at odds with its self-deprecating lyrics," wrote Mike Flaherty in the Entertainment Weekly review of the album. Throughout, Cuomo was unafraid to enthuse about Dungeons & Dragons and comic books on "In the Garage," or share anxieties about his parents' divorce on "Say It Ain't So" in relatable ways that bonded Weezer to its youngest listeners and created lifelong fans from the very beginning.