Death Cab for Cutie is kicking off a milestone 2023 with a just-underway winter North American tour and the announcement today (Jan. 31) that it has recorded a complete acoustic version of its 2022 album, Asphalt Meadows. The new edition will be released March 10 and includes a bonus cover of "The Plan" by longtime Death Cab influence Low, whose drummer Mimi Parker died of cancer last November.
"At first, there was an idea of doing an acoustic version of 'Pepper,' which was going to be the next single from Asphalt Meadows," Death Cab bassist Nick Harmer tells SPIN of the acoustic recording sessions, which were completed over four busy days in December with co-producer Andy Park. "But then we thought, well, if we're in there, we might as well see if we can do some other versions. We really love Asphalt Meadows, and we were really happy with the songwriting that's at the core of every track. For us, we were wondering how all of those songs would sound presented slightly differently. Then we said, maybe we'll just do an EP. As we got into the process, one thing led to the next, and before we knew it, we had re-recorded every song. It was a lot of work, but having that short window forced us to make quick decisions and stick by our choices without a lot of second-guessing."
With no planning having gone into the new arrangements in advance, band members were free to exchange ideas in the studio in real time. Many involved how to translate some of the more bombastic moments of Asphalt Meadows, which spawned Death Cab's biggest radio single in many years, "Here to Forever," a No. 1 hit on both Billboard's Alternative and Adult Alternative Airplay charts. "At the end of 'Foxglove Through the Clearcut,' we really loved the build to this big explosion and catharsis that happens there," Harmer says. "We wondered, how will this really hold together without that payoff? It forced us to think about a different kind of catharsis or a softer landing. We didn't know it was going to work until we tried it. We realized there was a good song at the core of it that could be presented in different ways and still hold that emotional gravity."
At the other end of the spectrum is the new version of album closer "I'll Never Give Up on You," which in its original form possesses a big, loud finish. "We were scratching our heads without any real ideas," Harmer admits. "[Guitarist] Dave [Depper] came in from the other room and said, what if I played it on an acoustic guitar, just me? He sat down and played it from start to finish, and [frontman] Ben [Gibbard] was sitting in the control room and just started singing along with him. We were like, well, that's it! It's the complete opposite. Instead of building it up to a full-band experience, we peeled it all the way back to just a vocal and a guitar. We didn't have to rely on production or studio tricks to elevate it."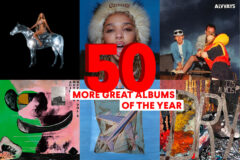 As for the Low cover, Harmer says the band had a short list of songs it was considering but that "The Plan" jumped out thanks to its powerful vocal performance from Parker and its "pure and beautiful lyrical sentiment. We've been fans forever and played shows with them," he says of Low. "We were supposed to tour with them in the fall, but they had to cancel. I think Ben would tell you that in tracking 'The Plan,' he gained a whole other level of appreciation for Mimi's incredible abilities as a singer — to be able to hold and sustain those long notes so purely and beautifully. I'm so proud of how Ben sang and I connected it to memories he and I had. Before we were even in a band, we bonded over Low, and we saw them a number of times before we were in a position to play with them and get to know them. It was a big moment for me emotionally for sure."
Death Cab just started a new leg of U.S. touring in support of Asphalt Meadows on Jan. 27 in Louisville, but the group will be happily looking backwards starting in September, when it shares a bill with Gibbard's electronic side project the Postal Service for a six-week arena tour. Death Cab will be performing its 2003 breakthrough album Transatlanticism in its entirety, while the Postal Service will play its lone full-length, that same year's Give Up, from front to back.
With Gibbard having to pull double duty on lead vocals for both sets, Harmer says the group is "still figuring out" bow to structure the evening given that the acts share a frontman. "We're trying to determine the production side now, and how it will all work and flow as a complete show, he says, adding that it's too early to know whether Death Cab's set will include non-Transatlanticism material. "There's a lot of thought being put into it, that's for sure."
Luckily, Death Cab has performed the album in full on a couple of prior occasions, including on a lark in Chicago on the day of its 15th anniversary. Many of the Transatlanticism songs, including "Title and Registration," "The New Year," and the title track, are staples of the band's set lists, and even some of the more rarely performed tracks still have seen the light of day on stage in the past several years.
"Transatlanticism created such a moment for us, and people have a strong connection to it," he says. "We felt confident we could pull from any part of that record at any point. The most interesting thing about this fall tour is that it takes the guesswork out for people coming to the shows. I wish there was a festival where it was only bands playing seminal albums from start to finish, and you knew that going in. It would be so fun."
In related news, Gibbard has remixed Canadian band Stars' "Snowy Owl" as part of an upcoming project centered around the latter's 2022 release, From Capleton Hill. "Ben's one of my dearest friends, and our tour with Death Cab way back when was such a pivotal moment in our career, so it feels incredibly happy and good to put this remix out into the world," says Stars' Torquill Campbell. "And what a remix it is, gifted with Ben's innate melodicism, but tougher and more groovy than the original version as well."