If there was a Venn diagram for the topics of "punk rock" and "guitar pedals," one would find James Bowman prominently displayed right in the center.
Not only has he been the guitarist for Against Me! (and the only consistent bandmember outside of Laura Jane Grace) since 2000, Bowman also has an appreciation for guitar pedals and effects not always seen in a genre that usually prides itself on DIY simplicity. His decades of credentials with one of the most influential punk rock bands of the 21st century has earned him respect from punk rockers at large, while his understanding of guitars and their accessories gave him credibility in the gear world regardless of musical style.
So when the world shut down for the COVID-19 pandemic and Bowman suddenly lost the career path he'd dropped out of high school for, the guitarist found himself in need of a new hobby.
"After being locked in my house for however many weeks, I knew I had to find something to do with my time," Bowman tells SPIN over Zoom. "First, I got pretty good at making cocktails. Then, I started staying up late just tinkering with stuff and playing along to Thin Lizzy songs on YouTube. After a couple of weeks of that, I remembered I had a pedal kit that I tried to build years ago, but I never got it to work. So I dug that out of the closet and just messed around with it until I got it to work. I figured that was fun, so I spent some time researching some circuits and stuff to see what else I could build — which led to me ordering a bunch of parts and messing around, melting a lot of things and burning myself a lot."
Following a few unsuccessful attempts, Bowman started piecing together some classic circuits and sending them out to some friends — sometimes after tweaking one or two aspects to make them a little different from their stock counterparts. As the pandemic wore on and Bowman gained more experience in building pedals, he decided to put together a website and socials under the name Bowman Audio Endeavors to sell a few of them.
Then the first batch sold out. And the next batch. And the one after that.
Over the seemingly never-ending pandemic, Bowman started racking up both praise and clientele for his pedals. The Bowman Overdrive gets rave reviews both from fans of the iconic Klon circuit it's based on as well as those who prefer the angrier punk tones it's capable of. The Threshold Maximizer is Bowman's RAT-based collaboration with The Dirty Nil, and it's proven nearly impossible for the one-man operation to keep in stock. Even the other options like the Indiana Jones-themed Fortune and Glory clean boost and demonic Satan's Fingers fuzz put new twists on classic pedal options — each with an important way to differentiate itself from the hundreds of other brands trying to do the same thing.
"One thing I didn't realize when I started building pedals is that there are like five bazillion people who build pedals," Bowman laughs. "It's not a thing to get into to make a bunch of money, because there are only so many circuit designs out there and only so many different ways to manipulate them [analogously] until you get into the digital side of things — and I don't really know how to do that. I started messing around with the Klon, since I feel lucky to have acquired one of those. I tinkered around a bit and made something that I thought sounded pretty close, and then I was like 'That's cool, but it'd be cooler if it was a little more overdriven and aggressive to suit what I would like it to do.' The Klon sounds great, but there's no way I'm putting a $6,000 pedal on my pedalboard, so this is a much more useful pedal for me. It does what the Klon Centaur does and maybe a little more."
While Bowman Audio Endeavors is just the veteran guitarist hand-building pedals in his home workshop, he's not alone on his journey. For instance, Bowman asked his friend, Alec Breslow of Mask Audio Electronics, to help him keep the circuit boards looking neat and clean — a skill the business owner hasn't quite mastered. His former guitar tech, Brad Clifford, also helped with the layout and design of the pedals. And when he's not at home building pedals, one of Bowman's other friends has opened up a career path he'd never really considered before.
When My Chemical Romance hit the road for their long-awaited (and delayed) reunion tour in May of 2022, Frank Iero enlisted Bowman to serve as his guitar tech. But what would be the opportunity of a lifetime for a certain segment of the population really just began with his mid-pandemic move to where his wife, Vanessa, grew up in New Jersey — and thus becoming neighbors with Iero.
"I was friends with Frank a little bit from doing some shows together and stuff, but we started hanging out a lot more after I moved," Bowman says. "We'd be hanging out in his basement playing guitars and such, and he'd be like 'Oh, sorry that guitar plays like shit. It really needs a setup.' So I started setting up his guitars, and he was like 'This is amazing! But also, I'm not trying to invite you over here just to set up my guitars — you don't need to do this for me.' But I really enjoy doing that kind of thing. I like taking care of my little fleet here at home, so I didn't mind."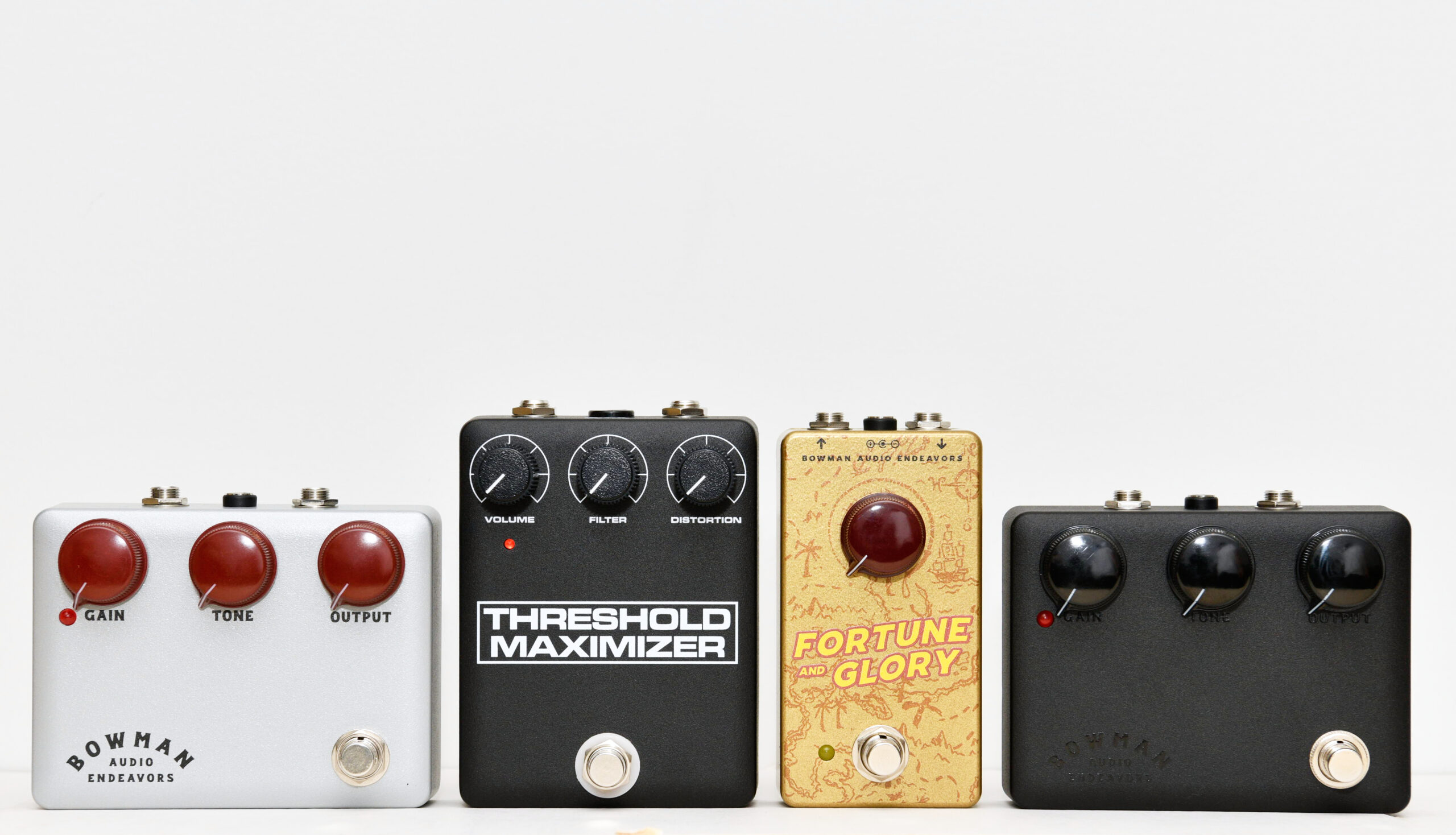 While Bowman had exactly zero prior experience as a guitar tech, he'd often watch and ask questions of the technicians he toured with. The combination of his curious nature, passion for tinkering, and need to be able to maintain and repair his own guitars made it a natural subject for him to study, and it quickly became a bit of a passion for him. But when Iero called Bowman asking if he knew of anyone who would be willing to tech for him on the delayed reunion tour, the guitarist still didn't think to offer his own services.
"Frank called me one day out of the blue like 'Hey, I know this isn't your thing, but I was just curious. I'm kind of in a tight spot, and I need somebody. Do you know anyone? Would you do it?'" Bowman recalls. "I told him I knew a few people and could put a list together, but I also knew that people were going to be busy. I got off the phone with him and Vanessa, my wife, asked me who it was. I told her, and she was like 'Did he ask you?' I was like 'Well, kind of. He asked if I'd be interested.' So she said 'Well, call him back and tell him you'll do it!'" So I called him back, and here I am."
Not only did Bowman end up handling Iero's guitars for MCR's global stadium tour (as he will again for the upcoming shows), but that friendship also allowed him to tech for his other band, L.S. Dunes — effectively keeping him on the road for much of the second half of 2022. While it was nice to get back on the road with Against Me! on hiatus, the treks across Europe and North America (with Australia and Japan coming this spring) meant that Bowman Audio Endeavors' offerings were as limited as ever over the last several months. After all, if Bowman isn't home in his workshop soldering pedal circuits together by hand, they're not being produced.
As someone who both purchased and received numerous pedals over the years on tours of his own, the 42-year-old has a new level of respect for those who created and gifted him creations of their own.
"It's really still just me building the pedals by hand, one at a time — so it does take some time," Bowman says. "Being in a band, I took for granted how much work it was, because people would just bring me pedals they made. I would be like 'Oh, this is pretty cool,' but I don't think I appreciated that enough back then. It's fucking hard and it takes a lot of work. It's a lot of late nights and a lot of trial and error. So if you gave me a pedal in the past and I didn't seem appreciative of it, I'm sorry. The good news is that I never really get rid of anything, so if you gave me a pedal, it's probably still here in this giant catalog drawer I have."
But with the music industry back in full swing and most bands' touring plans resumed, Bowman knows that his solo operation isn't necessarily viable in the long run. While it's a fine hobby to make a little extra money when not on the road, the long-term growth of Bowman Audio Endeavors as a company may eventually require someone other than the guitarist himself to help out from time to time — particularly if he needs to balance his new career as a guitar tech with heading back into the studio or on the road with Against Me! anytime in the near future.
"I'm trying to get some more stuff out there soon — both trying to make new things, and also trying to have more stock on hand, so I don't have to calculate everything down to the pedal," Bowman says. "These days, it's like 'OK, if I get all of the parts and put in 18 hours per day for a week, I can have 30 of these ready to go right by this date.' They're limited by what I can personally do, but I'm working on that. I hope to have them more readily available for as long as people want to check them out. But that's just part of running a business. I dropped out of high school, so I don't know how to run a business at all. I'm just trying to do the best I can, and I'm learning every day."