It's a slow month for noteworthy new metal, so we're going to try something different this month. First up: a quick rundown of tracks from January's handful of standout heavy releases. Then, we'll take a trip back 30 years to 1993, an unusually fertile year for metal, and list our picks for the 30 best riffs unleashed in those 12 months.
Obituary, "My Will to Live"
There really isn't another band like Obituary. You'll often see them pegged as pioneers of death metal, and while the group and its fans probably wouldn't bristle at that categorization, they share almost nothing in common with most of their peers in that realm. For one thing, they've taken a career-long pass on the space-race mindset that drives many of subgenre's practitioners: the idea that faster, more guttural or generally more extreme is always the goal. Obituary, rather, are a band on perpetual cruise control: They play at tempos that work for them — typically either an upbeat but not breakneck cadence that can feel like a mixture of thrash metal and hardcore punk, or their most tried-and-true gear, a head-nodding stomp that feels as comfy as AC/DC laying into "Back in Black."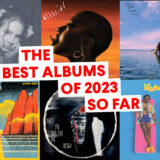 A great example of the latter mode is "My Will to Live," a highlight of the band's new 11th album, Dying of Everything. Even if you've never heard Obituary before, throw this one on and you'll quickly perceive how the band wrings maximum badassery out of a handful of crunchy power-chord riffs — and how Trevor Peres' ever-chunky guitarwork aligns with drummer Donald Tardy's consummately laid-back groove and his brother John's signature ghastly howl like a cheeseburger, fries and an ice-cold fountain soda. There are a few textural shifts here and there, but mostly this is just Obituary being Obituary, and that's more than enough.
Ahab, "The Sea as a Desert"
Another band that's exceedingly comfortable in its chosen mode is Ahab. You might think that the world doesn't need more than one Moby Dick–inspired metal outfit, but this German quartet takes a very different tack than Mastodon did on their landmark Leviathan LP from 2004. While that album was proggy and action-packed, Ahab are all about atmosphere. "The Sea as a Desert," one of four 10-minute-plus tracks on their new album, The Coral Tombs, lives up to its title: Its rumbling doom-metal expanse feels like a slow descent into inky blackness. What really sets this band apart, beyond its knack for elegiac mood-setting, is the crafty way guitarist-keyboardist Daniel Droste contrasts gruff death-metal-style bellows with mournful melodic crooning. This is some seriously despondent yet majestically lovely stuff — highly recommended for fans of early Pallbearer and the heavier work of Patrick Walker (Warning, 40 Watt Sun).
Leper Colony, "The Surgical Undeadvors"
Back in September, we spotlighted a cameo by Marc Grewe, former frontman of the underrated German death-metal outfit Morgoth, on Bloodbath's latest album. Now he's back for an album-length statement in the form of Leper Colony, the self-titled debut by a new band of the same name — a collaboration with Rogga Johansson, an insanely prolific Swedish guitarist and songwriter whose Metal Archives page lists upwards of 40 active projects. The band's style celebrates the late-'80s pivot point between thrash and death metal, perfected on early albums by Death. The brilliantly titled "The Surgical Undeadvors" showcases the potent combination of Johansson's alternately eerie and furious riffage, and Grewe's unhinged delivery — in contrast to the more guttural vocal styles in vogue today, he favors a wilder, more expressive approach, closer to peers like Asphyx's Martin Van Drunen and Obituary's aforementioned John Tardy. He still sounds as bloodthirsty as he did on Morgoth classics like Cursed and Odium, making this record a must-hear for fans of his back catalog.
Oozing Wound, "Hypnic Jerk"
Chicago's Oozing Wound fall somewhere between metal and noise-rock, but they're heavy as hell, and they have a new record out this month, so they merit a mention here. "Hypnic Jerk" lurches from punishing accents to in-the-red grindcore and stomping art-punk, all tied together by the shredded yowl of guitarist Zack Well. We'd liken the track's sound to a more hyperactive Unsane, a more wild-eyed Big Business or a more anthemic Lightning Bolt, skillfully marrying weighty riffs to herky-jerky rhythms. Some heavily effects-treated trumpet from Windy City indie-prog luminary Thymme Jones — if you've never heard his long-running band Cheer-Accident, you must remedy that immediately — sweetens the gleefully chaotic mix.
Disfiguring the Goddess, "Below the Water"
Speaking of chaotic, there's a new Disfiguring the Goddess EP out this month, titled Karnival and boasting some seriously unsettling creepy-clown artwork. The solo project of Nevada-based extreme-metal auteur Cameron Argon, who works under the memorable sobriquet Big Chocolate, DtG approach what's known as "slam" death metal from a surrealistic angle, adding heady production flourishes that make an often monochrome subgenre feel unusually vibrant. "Below the Water" blends grotesque growls and bruising downtempo groove with ominous electronic textures, yielding a warped and unsettlingly tactile sound.
*****
And now for our 1993 countdown. That year was an absolutely glorious one for all kinds of heavy sounds. At the macro level, those 12 months produced a sizable number of classic records; at the micro level, they yielded an even greater number of all-time-great riffs. Here are 30 of our favorites, unranked and sequenced into an all-killer mixtape.
Helmet and House of Pain, "Just Another Victim"
Helmet's 1992 masterpiece, Meantime, set a new riff benchmark with its minimalist noise-metal motifs. The masters returned the following year with this gem from the rap-rock-filled Judgement Night soundtrack, driven by a brutally simple yet impossible-to-shake verse riff.
Disincarnate, "Monarch of the Sleeping Marches"
Dreams of the Carrion Kind — the sole album by Florida's Disincarnate, the band led by former Obituary, Death and Cancer guitarist James Murphy — is an unsung death-metal classic, jam-packed with expertly crafted songs and choice riffs. A standout moment comes around 1:35 into "Monarch of the Sleeping Marches," when a fierce uptempo passage suddenly gives way to a full-band dropout, followed by a grimly groovy half-time breakdown.
Entombed, "Demon"
We all know the story of grunge's ascension by heart, but shortly after Seattle broke, another fertile indie scene infiltrated the mainstream when U.K. extreme-metal bastion Earache partnered up with Columbia Records. The series of releases that followed alienated some die-hard fans, but time has proven most of them to be among the gems of these respective bands' catalogs. Wolverine Blues saw Swedish death-metal pioneers Entombed slowing down and adding a rock and roll swagger to their grisly, sepulchral sound, and in the process realizing some of their most memorable material. The grinding stop-start riff that leads off choice deep cut "Demon" — punctuated by the vomitous bellow of the late, great LG Petrov — shows that the band was just as effective at slower tempos.
Carcass, "Heartwork"
The crown jewel of the Earache/Columbia union is undoubtedly Heartwork, the album that saw Liverpool gore-grind pioneers Carcass perfecting their mature sound: razor-sharp melodic death metal driven by the world-class two-guitar team of co-founder Bill Steer and future Arch Enemy leader Michael Amott. The title track kicks off with a tornado of high-speed shred that plays like the headbanger's version of a classical overture.
Eyehategod, "Take as Needed for Pain"
New Orleans miscreants Eyehategod did their best to portray themselves as dead-eyed nihilists, but their second LP, Take as Needed for Pain, featured some of the sweetest doom-blues riffs since the early days of Sabbath. It's hard to pick a favorite, but cue up the title track to 2:50 (or 2:58 in the above clip, which has an intro tacked on) and behold feel-bad rock and roll at its finest.
Sepultura, "Refuse/Resist"
Sepultura were another extreme-metal powerhouse that made the major-label jump in '93, partnering with Epic while remaining affiliated with Roadrunner, and the resulting album, Chaos A.D., remains a career highlight. The record is packed with ferocious motifs, but the massive groove that breaks out around the 30-second mark here, punctuated by whiplash fills from drummer Igor Cavalera, represents the band at its most anthemic.
Death, "The Philosopher"
The late Chuck Schuldiner wasn't just one of death metal's founding fathers; he was also one of its true avant-garde leaders, always pushing the genre somewhere new. After realizing a progressive masterpiece with 1991's Human, he delivered his catchiest songs to date on 1993's Individual Thought Patterns, including MTV-featured single "The Philosopher." The song's 9/8 verse riff, first breaking out around the 15-second mark, is one of Schuldiner's most awe-inspiring creations.
Morbid Angel, "World of Shit (The Promised Land)"
Schuldiner's contemporary Trey Azagthoth, the sole consistent member of Morbid Angel throughout the band's ongoing 40-year history, is another figure who belongs on the Mount Rushmore of death-metal riff writing. The band's major-label debut, Covenant, featured some of his gnarliest-ever creations, including the deliciously dismal intro to "World of Shit (The Promised Land)."
Demilich, "Inherited Bowel Levitation — Reduced Without Any Effort"
Far away from sunny Tampa, home to Morbid Angel and many other U.S. death-metal titans, Finland's Demilich were creating their own brand of twisted death metal, realized on their sole full-length, Nespithe. The album is a cornucopia of oddball earworms, but look alive at 1:35 into this track, when the quartet unveils a devilishly righteous stop-time killer that turns into a punishing groove once the full band kicks in.
Tool, "Bottom"
Tool grew more and more esoteric, and less overtly metallic, over the years, but on their full-length debut, Undertow, they were tossing out crunchy gems left and right, including the lurching Adam Jones rager that kicks off the abject anthem "Bottom."
Clutch, "Walking in the Great Shining Path of Monster Trucks"
On their debut, Transnational Speedway League: Anthems, Anecdotes and Undeniable Truths, Clutch were still perched between Helmet-y post-hardcore and the groove-centric hard rock that would define their later career. But the riff acumen of guitarist Tim Sult was already fully dialed-in: The badass central motif of this tune perfectly complements the surreal Americana kitsch spewed by visionary frontman Neil Fallon.
Crowbar, "High Rate Extinction"
Not to be outdone by their NOLA comrades Eyehategod, Crowbar leveled up their riff game on their self-titled second LP, which starts off with the steel-plated hardcore-meets-groove-metal intro to "High Rate Extinction."
Immortal, "The Sun No Longer Rises"
Norwegian black metal was booming in '93, with many of the heavy hitters in the subgenre nearing their early creative peaks, and no band better exemplified the skin-crawlingly creepy riffing style at the genre's core than Immortal. This track from the band's second LP is a master class in atmosphere. You'll feel a distinct chill in your bones as guitarist Demonaz Doom Occulta kicks into the core theme at the :53 mark.
Cynic, "Sentiment"
This was the year that extreme metal went prog, yielding a series of bizarre hybrid classics, including Atheist's Elements, Pestilence's Spheres and Believer's Dimensions. While we strongly recommend all of those, Cynic's Focus is the record that takes the '93 prog-death crown, and no riff better exemplifies their sci-fi extremity than the head-scrambling yet strangely moving one heard at :40 seconds into this track.
Melvins, "Hag Me"
Melvins' major-label debut, Houdini, is packed with downer opuses, but the ur-grunge band has rarely sounded meaner than on the gradually ascending "chorus" of this molasses-paced epic — starting around 2:50 — where guitarist Buzz Osborne and drummer Dale Crover's unison accents align like a jackhammer on slo-mo.
Living Colour, "Leave It Alone"
Though not their most well-known album (that would be 1988's stunning, double-platinum Vivid), Stain is undoubtedly Living Colour's heaviest — for proof, check out the nasty funk-metal breakdown that kicks in around the 19-second mark here.
Danzig, "It's Coming Down"
The same year that a revamped version of Danzig's iconic "Mother" became an unlikely MTV hit, the band unveiled this relentless rocker, driven by a numbingly simple but fantastically effective riff.
Nirvana, "Scentless Apprentice"
It's a stretch to call Kurt Cobain underrated in any category, but we'd argue that he's not given quite enough credit as one of the greatest riff writers of his generation ("School," anyone?). A shining example from In Utero is the thudding two-note noise-metal figure at the center of "Scentless Apprentice."
Monster Magnet, "Twin Earth"
Retro-metal kingpin Dave Wyndorf realized one of his finest bellbottom-boogie anthems with this track off Superjudge, which features a verse riff that Cactus or Mountain would have killed for.
Coroner, "Internal Conflicts"
One of the coolest under-the-radar statements of 1993 came from Coroner, a progressive-minded Swiss thrash band that, like so many others across the rock and metal spectrum, sharpened and streamlined their sound during this era. The songs on Grin unfold gradually, but the payoffs are huge: for example, the sinister, laid-back groove that erupts around the 2:28 mark here.
Voivod, "Fix My Heart"
Quebec art-thrash visionaries Voivod still sounded like a genre of one during their most accessible era, which peaked on 1993's outstanding The Outer Limits. Opener "Fix My Heart" features a marvelously intricate riff from late guitar visionary Denis "Piggy" D'Amour — kicking in around :33 — where he effectively plays crunchy rhythm and precision lead at the same time.
Rush, "Stick It Out"
After a decade or so of synth-centric releases, Rush re-dedicated themselves to guitar-driven hard rock on 1993's Counterparts, a point driven home by the lead riff of "Stick It Out," one of Alex Lifeson's toughest-sounding creations.
Sacred Reich, "Crawling"
Arizona thrashers Sacred Reich crafted some seriously groovy anthems on their first major-label co-release, Independent. The opening of "Crawling" is a smartly stripped-down blues-metal swinger that won't leave your head once you hear it.
Bad Brains, "Rise"
"Rise" is an oddity in the Bad Brains catalog due to the absence of iconic vocalist H.R. — replaced here by Israel Joseph I. But the signature groove-metal riff style that the hardcore masters spotlighted on The Quickness is very much in evidence here, especially on the stunning multi-part opening to the leadoff title track.
Life of Agony, "This Time"
There's really no other record like River Runs Red, in this or any other year. This melodic, progressive-minded hardcore concept album still stands as the crown jewel in the catalog of New York's Life of Agony 30 years later, and riffs like the irresistible mosh starter first heard at the 20-second mark in "This Time" encapsulate the LP's streetwise appeal.
Quicksand, "Baphomet"
Another hardcore-spawned masterpiece from '93 is Quicksand's Slip, and while Walter Schreifels' edgy vocals shine throughout the album, one of the album's most memorable riffs comes on the lone instrumental, "Baphomet," driven by a suitably infernal-sounding melody.
Mercyful Fate, "Legend of the Headless Rider"
Speaking of infernal-sounding, pay close attention around the 4:30 mark here, and witness the occult-metal mastery of Mercyful Fate riffsmith Hank Shermann, abetted by his trusty partner Michael Denner. These two, along with ghoulish frontman King Diamond, were responsible for some of the most bone-chilling metal of the '80s on the albums Melissa and Don't Break the Oath, but a section like this shows that they still had plenty of frightful delights left in them when they reunited in '92.
Cathedral, "Enter the Worms"
Cathedral, the doom-metal band fronted by early-era Napalm Death barker Lee Dorrian, got their turn at the Columbia-Earache bat with The Ethereal Mirror. The album is packed with Iommian blues-metal delights, including the slithering breakdown at :53 into this track.
Fudge Tunnel, "Grey"
Maybe the most unlikely members of the Columbia/Earache class of '93 were disaffected Nottingham, England, noise-rockers Fudge Tunnel, who put forth a scrappy yet highly effective sound on Creep Diets. Opener "Grey" boasts a classic early-'90s sludge riff — both boneheaded and brilliant — that's tweaked only slightly in the fist-pumping chorus.
Type O Negative, "Black No. 1 (Little Miss Scare-All)"
Type O Negative's Bloody Kisses is a lush, nuanced goth-metal masterwork, but the album's flagship is the unshakable four-chord riff (played first by Peter Steele's bass alone) at the center of this unlikely hit.