For the past few years, 10-year-old Ellen Alaverdyan has charmed millions of viewers with her phenomenal, funky bass playing and her infectious smile. Fostered by her father Hovak, also a musician, her love of the bass was forged through exploration and experimentation, the grand prize of trying out four other instruments first: piano, ukulele, guitar, and drums.
Watching her groove and sway to her music, Ellen is clearly in her own special world. "If I'm playing slow blues or jazz, I often feel relaxed, but in the beat," she explains. "Or, if I'm playing funk or disco, I feel energized and feel the need to move around, dancing to the beat. Sometimes, I feel sad when I'm playing, depending on what the song is about."
Ellen has been impacted by the early musical experiences with her dad, who would play his guitar when she was a baby. Other influences include legendary funk bassist Bootsy Collins, Cameroon multi-instrumentalist Richard Bona, and bassist-songwriter Victor Wooten. An eclectic mix you wouldn't expect to find in a pre-teen's list of top artists.­
"I would like to play with them because those were the main people I knew when I was starting to play bass," she says. "And also because I've known Victor Wooten ever since I was a toddler – those would be the people I would like to jam with."
Getting to Know Ellen:
Age:
I am 10 years old.
Current Grade:
I am currently in fifth grade.
How I'm feeling, at this exact moment:
I am feeling a little tired but exited to watch my favorite show that just came out.
Favorite food:
My favorite food is probably all three foods starting with Chipotle burritos, my mom's homemade soup called "Supas," and vegetarian Thai food.
Next live stream:
Sometime in January 2023.
Next live event: 
The next live event is going to be of my new upcoming band performing mid-July.
The song I love the most right now:
I don't really have  a favorite song on the top of my head right now, but I have a lot of songs I like. One of them is "Here Comes the Sun" by the Beatles, and "Imagine" by John Lennon.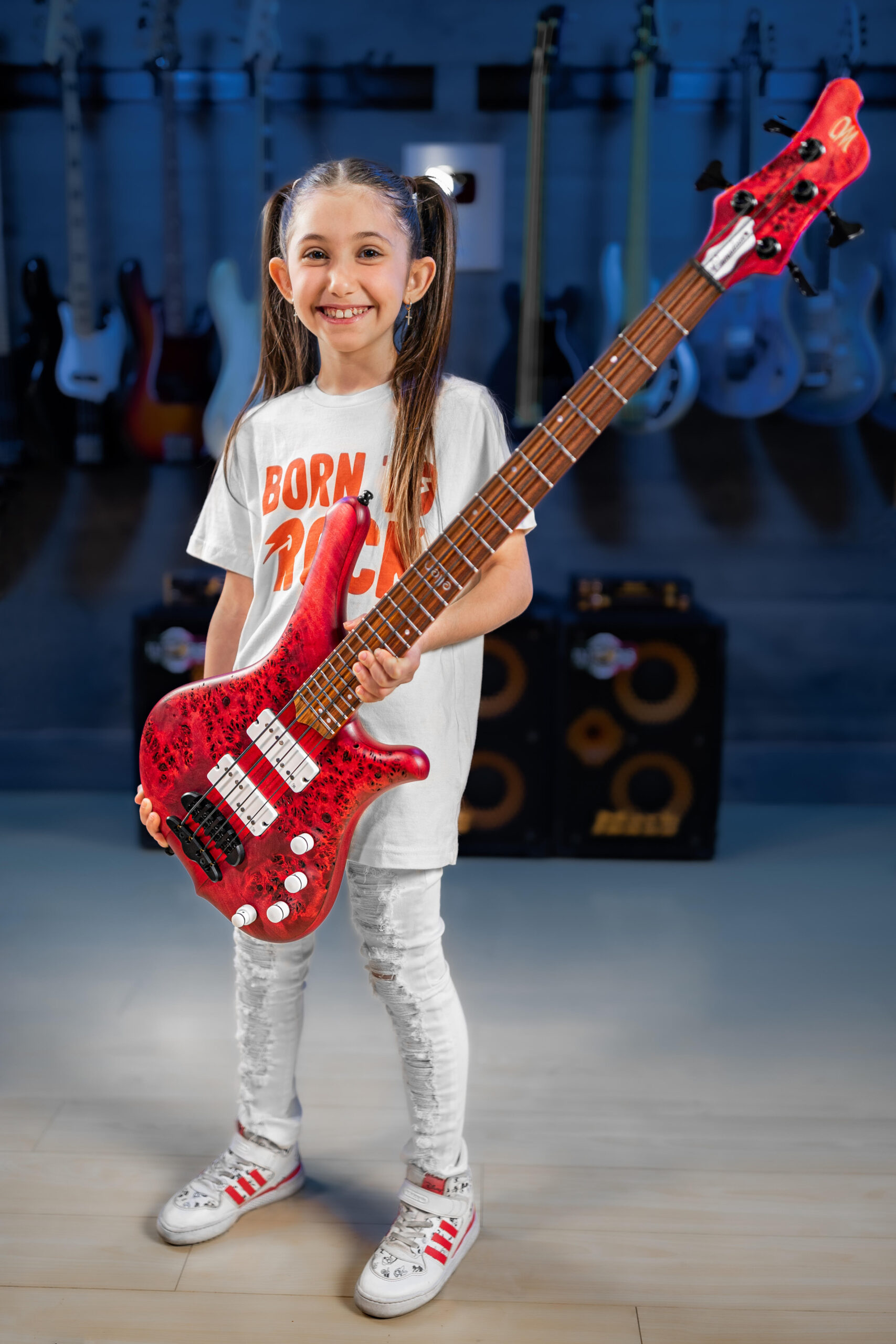 My practice routine consists of:
It depends on the mood I'm in, or how tired I am. Usually, around an hour to two hours or more, and sometimes, 20 – 30 minutes. It really depends.
When I'm not playing practicing/performing, you can find me…
Watching something, talking to my friends, drawing, crafting, doing some extra math practice. And eating.
If I could meet one musician in person, it would be:
It would be either Geddy Lee, Bootsy Collins, or Richard Bona.
If I could meet them, I would tell them:
I would tell them how they became my favorite musician and how great they are and ask questions about how they started or who inspired them.
In 10 years, I really hope to be…
The musician people recognize, and one of the greatest bassists that kids like me would look up to.
What are you most looking forward to for the rest of this year?
I am mostly looking forward to getting into middle school with my friends.
The secret to being a great bass player is…
To love what you are doing and practicing for that goal. Don't do it for other people, do it for you. If you don't love what you are doing, it's all pointless.