Over eight albums and two live records, Talking Heads charted an unlikely course — moving from a tiny punk club in New York City's East Village to the pop charts and even movie stardom. David Byrne, Chris Frantz, Tina Weymouth, and Jerry Harrison put their unique spin on the traditional rock quartet, pulling soul music, Afrobeat, hip-hop, Krautrock, and other influences into their herky-jerky grooves. Along the way, they helped to invent what we now call "alternative rock" about as much as any band.
Talking Heads officially ended 30 years ago this year. The breakup was contentious: In 1996, Byrne sued his former bandmates, attempting to stop them from performing under the name The Heads. The group has only reunited once, to play four songs at their 2002 Rock and Roll Hall of Fame induction. And given the stories that have come out over the years, including in Frantz's 2020 memoir Remain in Love, there seems little hope of ever seeing Talking Heads back in action. But here's a look back at 10 of the most memorable moments in the band's story:
10. Their first gig, opening for the Ramones at CBGB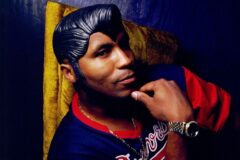 The Artistics, the first band that singer-guitarist David Byrne and drummer Chris Frantz formed after meeting at the Rhode Island School of Design, was short-lived. But by the time they'd formed their new trio with bassist Tina Weymouth, Frantz's girlfriend, all three had moved into a loft in New York, where Talking Heads made their live debut at the soon-to-be-legendary East Village club CBGB.
On June 5, 1975, Talking Heads staged the first of four shows opening for the Ramones, debuting a handful of songs that would appear on their first two albums, including "Psycho Killer." By the end of 1976, the two bands were Sire Records labelmates, and in 1977, the Heads once again opened for The Ramones on their first European tour. At shows in Syracuse and Boston that year, the Talking Heads covered "I Wanna Be Your Boyfriend."
9. The band records "Psycho Killer" despite awkward moments in the studio
"Psycho Killer" was the first song the band wrote together, back when they were still The Artistics. But the song didn't take its familiar bass-driven shape until after Weymouth joined the band. It became the standout on their debut album, Talking Heads: 77, and the band's first Hot 100 hit — unintentionally capturing the zeitgeist of the moment that the Son of Sam murders were terrifying New York City, years after the lyrics were penned.
Talking Heads: 77 was co-produced by Tony Bongiovi and Lance Quinn, who'd been assigned to the project by Sire. Unfortunately, the band didn't seem to be operating on the same wavelength as Bongiovi, who soon founded the legendary New York studio Power Station and helped launch his cousin Jon Bon Jovi's career. Bongiovi tried to convince Byrne to hold a carving knife while recording "Psycho Killer," to get into character as the song's murderous protagonist. Byrne refused. According to Harrison's liner notes for Once In A Lifetime: The Best of Talking Heads, the producers pushed to release an alternate mix with acoustic guitars and cello over the electric version we all know today.
7. When "Radio Head" became another great band's namesake
In December 1991, three years after Talking Heads' last album and seven years after their final concert, David Byrne finally confirmed the band was over, telling the Los Angeles Times, "You could say [we've] broken up, or call it whatever you like." The same month, British band On A Friday signed a contract with EMI Records and changed their name at the label's request. Their new moniker, Radiohead, was an homage to the 1986 Talking Heads track "Radio Head."
On the True Stories album, Byrne sang "Radio head, the sound of a brand new world" over a Latin rock groove featuring legendary Tejano accordionist Steve Jordan. (In the film of the same name, Tito Larriva of the Mexican-American punk band the Plugz sang the song.) Though Thom Yorke's band would probably be embarrassed to call themselves "the sound of a brand new world," Radiohead followed in Talking Heads' footsteps — a boldly experimental band that also made platinum-selling hit records.
Things came full circle in 2019, when Radiohead were inducted into the Rock and Roll Hall of Fame, with Byrne giving their induction speech. "I was surprised and very flattered when Radiohead stated that they had named themselves after a song that I'd written," Byrne said. "But I had to ask myself, 'Why that song?' I still haven't been able to figure it out. In a certain way I don't wanna know. This was a kind of goofy Tex-Mex song that I'd written. Maybe we'll find out — who knows. Thankfully, I'm a huge fan of the group. They richly deserve this honor."
6. Jerry Harrison completes the band's lineup
One group that seemed to lay the groundwork for Talking Heads was The Modern Lovers, who married The Velvet Underground's edgy proto-punk aesthetic to wry, wide-eyed perspectives on contemporary life. The Modern Lovers broke up in 1974 after the collapse of deals with Warner Brothers and A&M, though their sole album was eventually released independently and became an influential cult favorite.
Talking Heads performed as a trio for nearly a year while looking for a keyboardist and/or a second guitarist to round out the lineup. Harrison, who'd played keyboards (in Modern Lovers) and guitar, was an ideal candidate. But after his disappointing Modern Lovers saga, Harrison was reluctant to join until they had a record deal in place. He came onboard after the Sire contract was signed, becoming a secret weapon who fleshed out their sound perfectly. In October 1976, the Heads even covered The Modern Lovers' "Pablo Picasso" during their performance at New York club Max's Kansas City.
5. Tina Weymouth becomes a new kind of bass guitar hero
When Frantz's band couldn't find a bassist, Weymouth learned the instrument by playing along with records by glam rock artist Suzi Quatro. Things were often contentious between Weymouth and Byrne, who made her re-audition to remain in the band when they scored a record deal. But her importance to the Heads sound is undeniable, starting with the iconic bassline to "Psycho Killer." (Weymouth, the only Francophone in the band, also helped write the French sections of the song's lyrics.) It's hard to imagine countless Talking Heads songs, from "Warning Sign" to "Crosseyed and Painless," without Weymouth's inimitable sense of phrasing.
Although Patti Smith and Blondie's Debbie Harry were the spotlight frontwomen of the CBGB's scene, Weymouth cut a unique figure that would soon become an archetype: the female bass player in an otherwise all-male band. A few years later, Kim Gordon of Sonic Youth and Kira Roessler of Black Flag followed in her footsteps. And over the next couple of decades, it became such a ubiquitous gender dynamic of alt-rock that it was sometimes sneered at as a cliché: Smashing Pumpkins, The Pixies, Superchunk, White Zombie, The Pogues, A Perfect Circle, the list goes on and on. Weymouth also took center stage in her side project with Frantz, Tom Tom Club, singing lead on the band's timeless 1981 single "Genius of Love."
4. The sleeper success of "This Must Be The Place"
Today, "This Must Be The Place (Naïve Melody)" is the second-most popular Talking Heads song on streaming services. But it took decades to catch on. In the '80s, the closing track to Speaking In Tongues was released as a single twice, underperforming both times. As the follow-up to the band's top 10 hit "Burning Down the House," it stalled at No. 62 on the Hot 100. But as the band's first real love song, it's become a leftfield wedding staple and an indie rock standard, covered by Arcade Fire, Iron & Wine, The Lumineers, Kishi Bashi, and many more. On television, the song has popped up in episodes of Northern Exposure, Grey's Anatomy, 9-1-1, Industry, and Little Fires Everywhere, among other series.
3. David Byrne powers through writer's block, arriving at a signature lyrical style
After the first two Talking Heads albums burned through the majority of the band's early live repertoire, they spent long hours jamming instrumentals to create 1979's Fear of Music. When Byrne had trouble writing lyrics to these intensely polyrhythmic grooves, producer Brian Eno suggested he write out a "table of contents" with themes for the album to address. That list of nouns became the titles of songs like "Mind," "Paper," "Cities," "Air," "Animals," and "Drugs." Byrne would riff on each topic, arriving at a distinctly Talking Heads style of lyricism — a combination of blandly objective descriptions, non-sequiturs, arresting imagery, and piercing insight.
2. The band's warped take on pop music becomes pop music
Talking Heads were, from the beginning, both the most experimental and the most pop of the CBGB bands. At their earliest gigs, they'd cover '60s bubblegum hits by the 1910 Fruitgum Company and the Troggs. They scored their own first Top 40 hit by covering "Take Me to the River," a previously obscure album track by R&B hitmaker Al Green. "Burning Down the House" arose after Byrne heard the title chanted at a Parliament-Funkadelic show. But Talking Heads' stiffly funky sound was always unique, as if they'd sidestepped attempts to become an authentic blues or R&B band and instead channeled those influences into something new.
Eventually, though, Talking Heads became part of the pop music firmament themselves, returning to the Hot 100 over and over in different forms. Jay-Z and Memphis Bleek sampled "Once In A Lifetime" for 1998's "It's Alright," Trick Daddy interpolated the obscure early Heads track "Sugar on My Tongue" for 2005's "Sugar (Gimme Some)," and Selena Gomez sampled "Psycho Killer" for 2017's "Bad Liar." Furthermore, Weymouth and Frantz's Tom Tom Club hit "Genius of Love" is one of the most-sampled songs in popular music, gracing huge hits by Mariah Carey and Latto.
1. The greatest concert film of all time, Stop Making Sense
Talking Heads, more popular than ever in 1984, decided to cap their peak creative period with a concert film, teaming up with director Jonathan Demme, then best known for 1980's Oscar-winning Melvin and Howard. But Stop Making Sense was anything but a conventional rock doc: There were no interviews, and the band didn't engage in stage banter or guitar hero poses. Instead, the beautifully staged film took a simple, striking aesthetic, letting the band's deeply creative songs and the joy of performing them speak for themselves.
Stop Making Sense doesn't have a plot per se. But it does tell the story of the band in its own oblique way, with Byrne performing "Psycho Killer" solo to open film before being joined by bandmates, bit by bit, until an expanded nine-piece lineup crowds the stage. It feels like all the musicians are having the time of their lives, with Byrne as the show's whimsical star, dancing with a lamp and donning his unforgettable "big suit" for the last few songs. In 2021, Stop Making Sense was selected by the Library of Congress for preservation in the United States National Film Registry.