Spoon ventures into uncharted musical territory with legendary dub producer Adrian Sherwood on Lucifer on the Moon, a dub-heavy new version of the long-running indie rock band's latest album, Lucifer on the Sofa.
The rework will be released on Nov. 4 on Matador Records. Sherwood's "reconstruction" of the album track "On the Radio" can be heard now and is accompanied by a video directed by frontman Britt Daniel.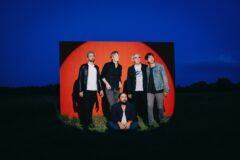 Daniel initially asked Sherwood to remix a couple of singles from Lucifer on the Sofa, with the only directives being to "avoid things that would not be possible on tape" and "add whatever you want to add — the less modern, the better." When all parties were happy with the first remixes, Sherwood was encouraged to keep working.
"It wasn't just a thing where you pick apart this and that and you stay on the grid and you add a delay," Daniel says of Sherwood, revered for his label On-U Sound and work with artists such as Jah Wobble, The Fall and reggae pioneer Lee "Scratch" Perry. "He added so much more instrumentation to the tracks that they became completely different versions of the songs. Not just remixes, but companion pieces."
Indeed, Sherwood drafted longtime collaborators such as drummer Keith LeBlanc and Living Colour bassist Doug Wimbish to record new parts for Lucifer on the Moon. "I got into the melody and the thoughts it evoked in me," Sherwood says. "It just evolved and we eventually found ourselves with a whole album."
After a busy year of touring, Spoon will wind down with a dozen dates through the end of 2022, beginning Oct. 6 in New Orleans and including hometown appearances at both weekends of the Austin City Limits festival.