Kids, don't try this at home! Death Cab for Cutie just shared an explosive (seriously) video for "Roman Candles," which is the first single off of their upcoming album, Asphalt Meadows.
What may initially seem like a homemade video of Death Cab performing the song, the "Roman Candles" video quickly escalates when someone ignites a spark on a wire behind the band. People run in to put gas masks on each band member, except for lead singer Ben Gibbard (I guess singing was more important than safety). As Gibbard fittingly sings "I used to feel everything like a flame / now it's a struggle to feel anything," the track bursts into flames, and as do the literal flames surrounding the band.
The video was shot in one take and was directed by filmmaker Lance Bangs, who has previously directed videos for Sonic Youth, Nirvana, and Kanye West.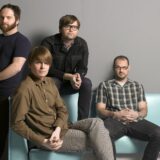 "We've known Lance for years and it was great to get a chance to work with him again," Gibbard said in a statement. "He took this concept I had come up with and made it better than we could ever have imagined. The dude is brilliant and a total blast to work with."
The band previously announced that Asphalt Meadows will be released on September 16. In July, they'll head on to their extensive summer and fall tour, which kicks off in Cincinnati.