Tianna Esperanza may be an artist on the rise, but she'd been holding on to one of her most powerful songs for nearly a decade.
In high school, a history teacher recommended she watch The Black Power Mixtape. The documentary, which looks into the history of the Black Power movement from 1967 to 1975, includes footage of the late civil rights activist and owner of the African National Memorial Bookstore, Lewis H. Michaux, whose bookstore focused on Black literature and became a gathering ground for activists of the era.
Michaux's words strongly resonated with Esperanza, and made her examine her relationship with her mixed heritage, as a biracial woman.
"I think I was just looking for something that included my Black history as well as my white history. I come from European immigrants, so they are white. But it's not quite the 'white' that I think people think of in that sense; English wasn't their first language," Esperanza tells SPIN over the phone. "With all that perspective, I was kind of yearning for some sort of Black mentorship and influence. And when Lewis came onscreen, I felt like his words were including all of me."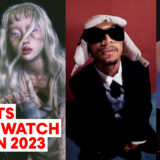 The impact of Michaux's words led to her writing "Lewis," which became her debut single under label BMG.
In that song, Esperanza, takes on a hip-hop influence, beginning the track with spoken word over a gentle beat, introducing Michaux's compelling legacy. With pared-down instrumentals, the focus is on her lyrics.
Much of Esperanza's music is tied to her own exploration of her identity. One that directly acknowledges her lineage is "Princess Slit and The Raincoat Prince." While "Lewis" gave a glimpse at her love for hip-hop, "Princess Slit and the Raincoat Prince" pays homage to her grandmother, Paloma McLardy, who performed as Palmolive, a member of the legendary punk bands The Slits and The Raincoats. It's a grittier song for Esperanza compared to the other singles, with her vocals transforming from soothing coos to snarls over thumping percussion.
Though Esperanza's sound is very different from her grandmother's, she still notes that McLardy strongly shaped her way of navigating the music industry. "There are a lot of timeless truths about being a woman in the industry. Unfortunately, a lot hasn't changed since sixty years ago [when McLardy was making music] in terms of what your obstacles are. So she's really helped me find a vision for my career," Esperanza says.
But Esperanza's most impressive track released so far is the title track, "Terror." It shows the depth of Esperanza's talent as both a writer and singer, beginning the song with a "Renaissance"-inspired sound, as her words starkly contrast her soothing tone: "Sometimes when I'm walking and a man looks at me, I think of all the ways I could make him bleed."She doesn't hold off on the macabre details: digging her keys into his eyes; cracking his teeth, liver, and spleen. Her voice then takes on a soulful tone, reminiscent of Amy Winehouse's, as she sings about terrors she's experienced, including the death of her brother and experiencing rape at an early age.
Putting out such personal work seems cathartic for Esperanza, who says, "I feel like telling a story like 'Terror' to someone one on one is very different from me than singing it in front of thousands of people, if that makes sense. I just think there's something about art in that way that feels solitary and special for me even when I'm sharing it with thousands of people."
Esperanza doesn't stick to one sound throughout her music; instead, she makes a point to experiment with combining her various influences that make up who she is as both an artist and a young woman who grew up with such an eclectic background.
"This [album] is a nice introduction to some of the different [musical] styles that I love and that I was influenced by. The last song [on the album] is kind of like an African influence," she says. There's a little bit of like—it's more American punk-leaning in my mind, 'Princess Slit and the Raincoat Prince,' but just kind of highlighting all these different influences and introducing people to where I'm going to go. This is really building a foundation for what comes next in my career."