When a band loses a drummer like Taylor Hawkins — whose intensely physical style of playing was essential to the band's sound — it's hard to put into words what's lost. With lead singers, you lose the words. With guitarists, the riffs. But with a drummer, the loss is like losing gravity altogether.
That's why Rockin1000's recent performance at the Stade de France is the closest to portraying the magnitude of Hawkins' musicianship, his contribution to the Foo Fighters, and how deeply he is missed by fans around the world.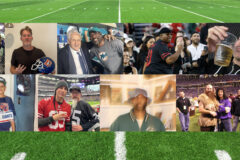 At the event last Saturday, 1,000 drummers from all over the world, came together onstage to perform the Foo Fighters' song, "My Hero." The result is powerful and heartrending. At this point, it's also the most appropriate tribute we've seen for the 50-year-old drummer's tragic death two months ago on March 25.
Rockin1000 is a sprawling network of professional producers, filmmakers, and sound engineers based in Italy, who organize events where thousands of musicians play simultaneously. (Per the organization's YouTube page, recruitment is "always open.")
Rockin1000 first performed the "Learn to Fly" cover with 1,000 drummers at the Parco Ippodromo of the small, agrarian city of Cesena, Italy in 2014. The response was so outsized that it got the Foo Fighters to fly out to play a show there the following year after the video garnered 32 million views on YouTube.