A little over two decades into his career and approaching his 45th birthday, Pusha T is a veteran working in an industry constantly searching for new talent, and a genre redefining itself as quickly as it grows in popularity. Despite that, Pusha's success comes from a discography decidedly contained by the single subgenre of "coke rap," and featuring a small, consistent set of collaborators. On It's Almost Dry, his fourth studio album, the Virginia rapper preaches the values, triumphs and losses of patiently walking this narrow path that has made his name synonymous with sinister raps about selling cocaine, and listed it among some of the most iconic artists of the past 10 years.
For the first decade of his career, Pusha was half of hip-hop duo Clipse, alongside his brother Malice. The two were brought together and produced by fellow Virginia Beach native Pharrell Williams, practicing slick punchlines about the drug dealing escapades of their youth over the pop-skewed production of William's own duo, The Neptunes. However, Clipse separated in 2009 as Malice turned away from the game toward religion, pressured by a federal investigation into the group that resulted in the arrest of their manager, Anthony Gonzalez. From there, Pusha became a solo artist, signing to Kanye West's G.O.O.D. Music the very next year. Pusha flourished on the roster and shined in collaboration with Kanye. His album DAYTONA, produced entirely by Ye, went to No. 3 on the Billboard Top 200, earning Pusha his first Grammy nomination for Best Rap Album.
It's Almost Dry pulls together these two halves of his career manifested in the beats of the two superproducers who oversaw them, with Kanye and Pharrell producing half of the album each. Playing out like a one-man Verzuz, Pusha moves deftly between Pharrell's outer-space soundscapes and Ye's on-the-nose vocal loops. Despite their audibly different production styles, the two artists occasionally mirror each other as they cater to Push's sinister style. On the Pharrell-produced "Call My Bluff," siren wails and chilling laughs echo throughout a distorted instrumental. Kanye crafts an equally-threatening sound on "Just So You Remember," bringing Pusha's menacing verses to the forefront with a stripped-down instrumental and a solemn a cappella sample serving as the chorus.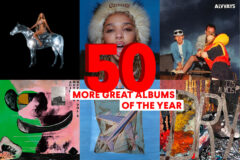 In trying to tell this whole story of his career — from rapping as a side project of his street hustles to being nationally recognized for his music — Pusha reflects bittersweetly on everything that changed for him, weighing his success against lost relationships and the lifelong impact of his drug-dealing past. Unable to measure the moral gaps of his actions enough to say what should or should not have been, he can only account for what was, in scenes of hollowed car doors and boats on the open water.
The album opens with "Brambleton," a deceptively straightforward story-time rap over a haunting instrumental from Pharrell. At first, the song seems to fondly address a former partner in crime, but it quickly becomes clear that its verses tell the story of Pusha's falling out with Gonzalez, who was sentenced to 32 years in prison before having his sentence shortened to 10 years after cooperating with federal authorities. After his release in 2020, Gonzalez spoke with VladTV in which he claimed "95 percent" of Clipse's raps were about his life. "Who knew your face being all across the news outlets," Pusha rhymes in a staccato flow. "Would mean forever, I would never talk to you bout shit." He also addresses Gonzalez's claim on the explosive "Let the Smokers Shine the Coupes," declaring "If I never sold dope for you, then you're 95% of who?"
"Dreaming of the Past," Kanye's debut on the album, is more sentimental in its namesake sample than in Pusha's boastful verses that sit comfortably in the pocket. What it misses in storytelling, however, it makes up for with a catchy hook in a triplet flow and hard-hitting punchlines. "I came up with Enzo drifters, so you gots to understand there's a difference," he raps. "There's window stickers and window lickers." Regardless, it cuts deeper to fond memories of chop-up-the-soul Kanye than lead single "Diet Coke," whose vinyl-squeaking vocal loop feels almost too much like a nostalgia pull.
Besides the prestigious names on production, the album also sees Pusha's second Jay-Z feature, after 2016's Drug Dealers Anonymous, on "Neck and Wrist" with Pharrell. Like Pusha on "Brambleton," Jay uses his verse to calmly pick apart actor and comedian Faizon Love, who also said that he faked his drug-dealing past. Adding to the album's history of fallouts, "Rock N Roll," featuring him and Ye, is their last collaboration together after a public end to their longstanding friendship.
But for all the failed friendships chronicled on the album, the return of Malice (after changing his name to "No Malice" as a gesture of faith upon retiring) on Kanye-produced closer "I Pray For You" is a glorious full-circle moment. "Tell me what I missed, new designer drugs and emotions I don't get," he opens as solemn church organs give way to scathing synths on the instrumental. Perhaps the greatest verse on the album, it feels like the masterpiece the album promises in its title, the story he paints drying on the canvas for a decade.