In this new feature, some of our favorite artists give us an insider look at how they travel to a city near you.
Date  April 20, 2022
Current city  Kansas City, MO
On our way to Des Moines, IA
Come see us until  June 25, 2022
Promoting  Conspiranoid EP as part of the Tribute to Kings Tour, performing Rush's A Farewell to Kings  in its entirety.
My favorite song to perform live right now  Right now my favorite song to play is our new one, "Conspiranoia."  It's always fun to play new songs but this one turns out to be extra enjoyable live.
This album was inspired by  This EP was inspired by the idea of wanting to have something new for this tour. What was going to be one new song snowballed into three.
I think fans will love the new album because It shows where the band is right now. It's a good snapshot of us just going in and having fun putting these songs together.
What I love most about our tour bus It's kind of like a rolling mini apartment. Imagine you're at home but you wake up in a different city every morning.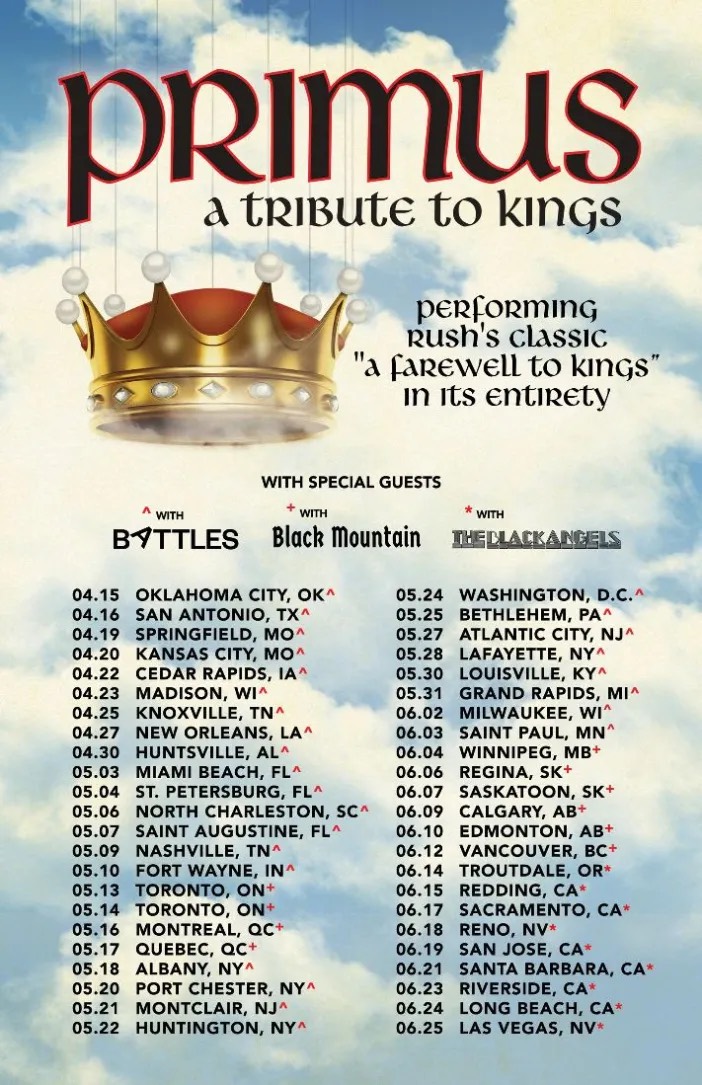 A big misconception about bands on tour  I think the biggest misconception about bands on tour is it's a crazy 24-hour party. The reality is it's more like 23-and-a-half-hour party.
Craziest story about a trip we've taken The craziest trip we have taken is easily the time the navigation took us onto a one-lane dirt road called Salmon River Road. That turned into an episode of World's Most Dangerous Roads.  We had to navigate a road the bus didn't fit on with a massive drop off inches away. Luckily I slept through it, but it sounds like we were inches from not making it out alive.
 Grossest thing I've ever seen on a tour bus You don't want to know.
Messiest person I tour with Myself.
The one thing I must have on tour that makes me feel at home My espresso machine. It's important to be super full of caffeine when you are stuck in a small metal tube flying down the highway.
 If I had one word to describe how I feel about touring, it would be Sorry, has to be two: Good times!
Primus recently-released their new EP Conspiranoid,  featuring their over-eleven-minute title track. The band also released the single "Zelensky: The Man With the Iron Balls" with Eugene Hütz of Gogol Bordello to rally support for the people of Ukraine. The track features Stewart Copeland, Sean Lennon, Billy Strings, and Sergey Ryabtsev.
Tickets for Primus's tour are on sale now.