Since the release of his debut solo single "Sign of The Times," Harry Styles has made it clear that the (one) direction he would be heavily inspired by classic rock. The McCartney-meets-Queen power ballad was just a jumping-off point—a marker of taste that was broader than his days as a One Directioner. All the while, he's remained genre-fluid, experimenting with psych-pop, funk, folk and indie-rock, but maintaining a pop ethos that would make The Beatles proud.
Evoking comparisons to a modern-day Mick Jagger (he even portrayed him on Saturday Night Live), Harry Styles has established himself as the gentleman rock star of the pop world. It's not just his talent: His charm, swagger. and kindness sets him apart from predecessors like Justin Bieber and Justin Timberlake, who secured a following by way of fuccboi culture. It doesn't hurt that he's a style icon (a king of glittery jumpsuits), can command a stage with hip thrusts and uses his platform to champion the LGBTQ+ community, which includes waving the gay pride flag at his sold-out arena tours. He's broken gender norms, he's respectful and treats his fans like friends. And it's more than a schtick. The authenticity is undeniable.
If Styles' 2019 album Fine Line was about sex and sadness, Harry's House is a beguiling mix of sex, sadness, falling in love, self-destruction and regret—the chaos spinning inside his mind. In the album's lead single "As It Was," he battles the latter in a confessional plea to himself "Answer the phone/ Harry, you're no good alone/Why are you sitting at home on the floor?/ What kind of pills are you on?"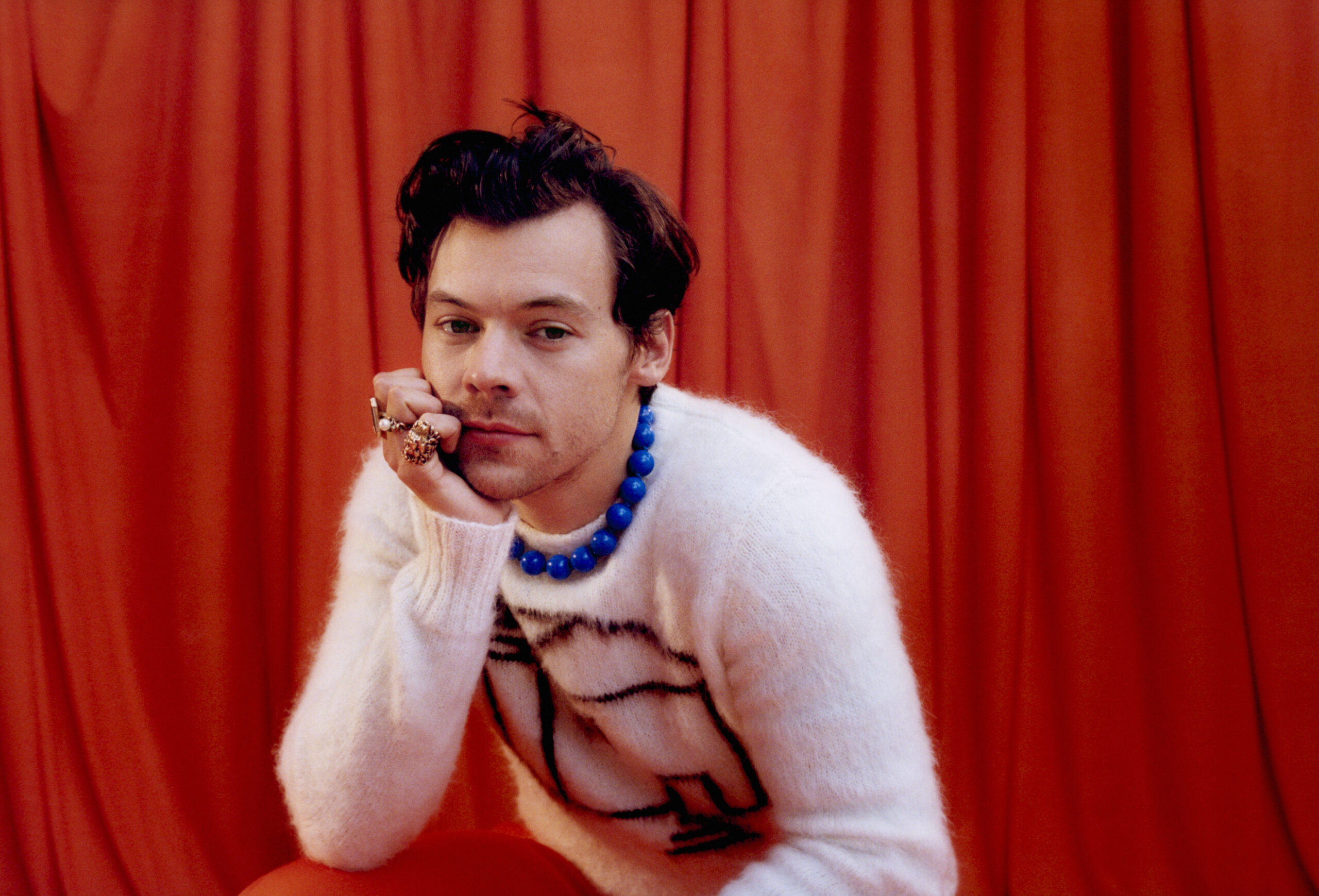 While opening the front door of his yellow house, he flashes forward from the '70s-tinged Fine Line to the '80s new wave, tearing out a page from Prince's playbook. In the bombastic opener "Music for a Sushi Restaurant," Styles channels the Purple One with his funky falsetto and a thrilling rock chorus, all the while musing about green eyes, fried rice, sweet ice cream and "blue bubblegum twisted round your tongue." The strutting pop anthem "Late Night Talking" captures a lovestruck Styles in one of his most tender moments. ​​"If you're feeling down /I just wanna make you happier baby," he croons. He explores his desire with the hazy, tongue-in-cheek "Grapejuice," as he celebrates the simple moments of sharing a 1982 bottle of red with a paramour. "There's just no getting through / Without you / A bottle of rouge / Just me and you," he confesses. The soulful swooning of "Daylight" sees Styles grappling with the confusing emotional territory of a crush. "If I was a bluebird, I would fly to you/ You'd be the spoon/ Dip you in honey/ So I could be sticking to you," he sings with a playful lilt. With an assist from John Mayer on guitar, the funk-inflected "Cinema" lands as a cheeky counterpart to "Watermelon Sugar." You got the cinema/ I bring the pop to the cinema," he teases.
Harry's House also opens a window for a glimpse of his L.A. lifestyle. The thrilling, space-pop "Keep Driving" is one of the most vulnerable moments on the record where Styles creates a supercut of his Hollywood escapades. "Cocaine, side-boob, a joker with a seaview," he reminisces. The massive synth-pop "Satellite" declares he's "in an L.A. mood" with a striking crescendo that gives "Happier Than Ever" a run for its money.
A nod to Japanese pop artist Haruomi Hosono who had an album in the '70s called Hosono's House, Harry's House has several moments that evoke the soundscape of the Laurel Canyon era. On the introspective, string-laden ballad "Little Freak," Styles exhibits a keen sense of self-awareness surrounding his missteps with an ex. "I disrespected you / Jumped in feet first and I landed too hard," he sings. In an interview with Zane Lowe, Styles envisioned "Matilda," as a personalized version of the classic Roald Dahl character grown up. While he plays coy about who actually inspired "Matilda," it's a lush acoustic ode to finding a chosen family that is a standout on the album.
Styles continues to lean into sparse arrangements with "Boyfriends," which evokes the delicate vocals of Simon and Garfunkel. On it, he ambiguously laments how boyfriends "take you for granted." As a grand finale, Styles makes a sweeping statement about letting "the one who got away" go with "Love of My Life." It's an offer of sheer vulnerability for an artist who is letting his guard down more.
Harry's House reinforces Styles' signature sensitivity in an authentic way and shows he's more than earned his place as one of music's most innovative artists. More importantly, he reminds us that he's a pop star playing by his own rules—and he's here for the long haul.