The pandemic was a blow to any artist who loves to perform live – and Greg Spero was no exception.
The 37-year-old Los Angeles-based musician had spent the better part of the last two decades recording and playing live, including a four-year run touring with Halsey – in which he played a sold-out Madison Square Garden and performed at Coachella – and leading the jazz band Spirit Fingers. But when everything came to an abrupt halt in March 2020, he quickly pivoted: instead of being a full-time performer, he focused on finding a new way to help performers earn money.
That desire pushed him to launch Pitch (formerly known as Weebid), a startup he describes as the "first fan-initiated crowd-funding platform."
The concept is simple: When a music artist joins Pitch, their fans are able to head to their profile and – you guessed it – pitch them ideas. Want to have your favorite band play in your small midwest town? Or have your favorite artist cover one of your favorite songs – or hey, even write a poetry book? You can post your idea to the artist's Pitch profile and pledge some money towards it; other fans can chip in, too, and when those pitches reach a certain dollar amount the artist is aiming for, the artist then follows through on the request.
"When the pandemic hit, I was like, I need to make this," Spero told SPIN over the phone. "I'm the only person in the world who would build this platform, and it needs to be built because this could change the world for artists."
One reason Spero was excited to pursue this daunting task? It allowed him to tap back into his passion for technology – something that began at a young age. Spero had taught himself HTML and started a web design company by the time he finished middle school back in the late '90s, helping build websites for his dad's friend's businesses in his hometown of Highland Park, Illinois.
Later on, after graduating with a music degree from the University of Illinois, Spero attempted to juggle working both in the tech world and as a professional musician. The combination didn't go well.
"I was thinking I could do both straight out of college. And I wasn't happy at either," Spero said. "I hated my life, because I was working eight hours a day on tech and eight hours a day on music, and I wasn't an expert at either of them. Nothing was growing in the way that I knew that I could grow something."
Spero said his life changed at this point when, at 23, jazz icon Herbie Hancock introduced him to Buddhism. (Spero met Hancock by slyly maneuvering backstage at one of his shows, after putting on a suit to make him "look like a big timer." When Spero asked him how to "bring out his greatest creative potential," Hancock jumped at the opportunity to tell him about his experience with Buddhism and meditation; the conversation lasted for four hours.) Soon after, an inspired Spero took a month-long backpacking trip to Thailand.
"I stayed with people who were living on a dollar a day and happy. They were happy human beings and I wasn't a happy human being," Spero said. "[I thought] 'something is wrong here.'"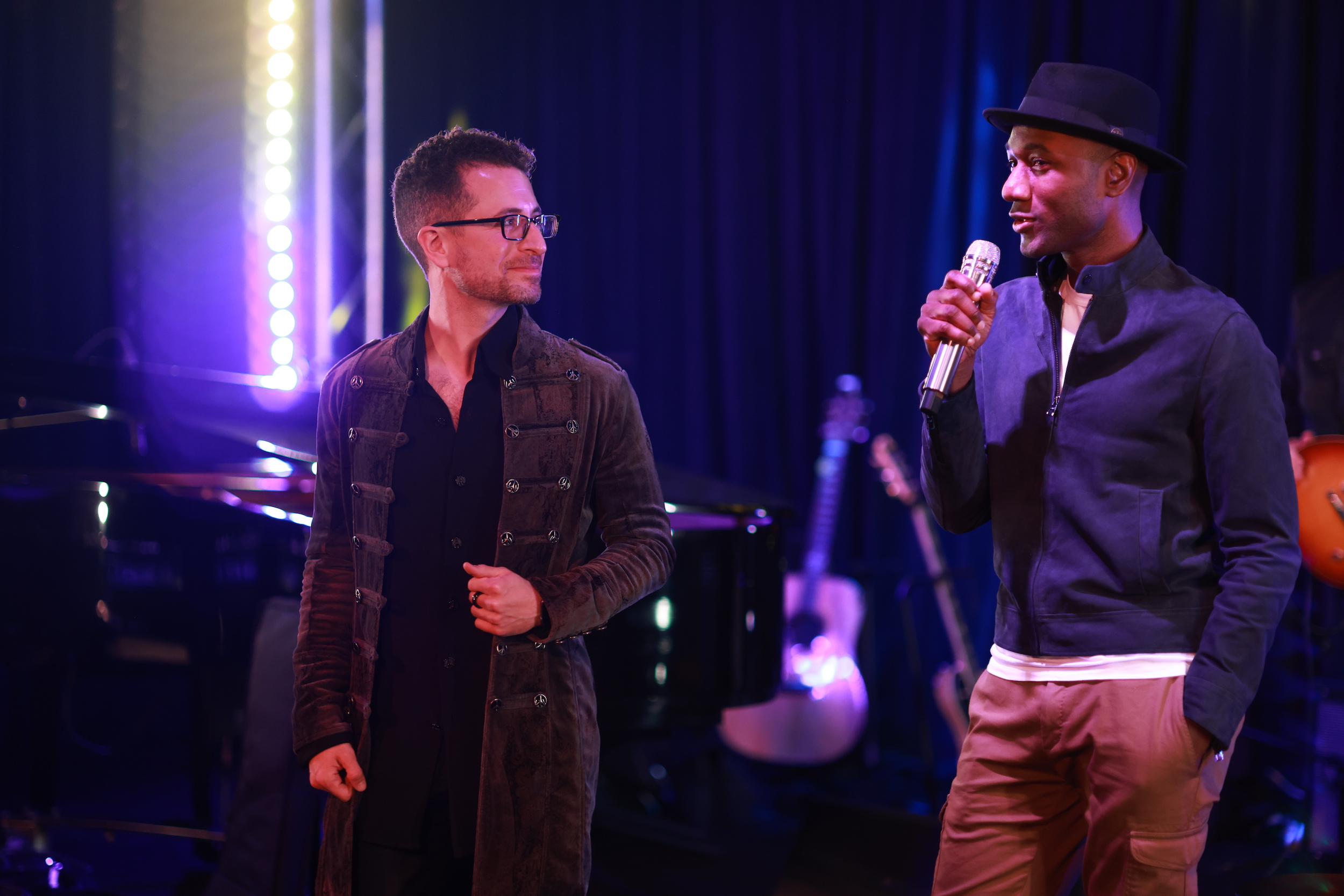 Upon returning to the States, Spero ditched his business life and devoted himself to music, fearing he'd "regret it" forever if he didn't.
Spero moved into his grandparents' basement and started practicing the piano religiously. That decision paid off for Spero, who spent the next four years of his life building a career within the Chicago jazz scene. After touring with artists like the late John Blackwell and winning the 2013 Best Jazz Entertainer award at the Chicago Music Awards, Spero moved to LA, feeling he'd grown as much as he could as a musician in Chicago.
A year of nonstop jam sessions with musicians around LA eventually paid off, with a mutual friend introducing Spero to Halsey just as her career was taking off. He spent the next four years as her keyboardist – a run that started with club shows in front of 80 people and culminated with a "Saturday Night Live" performance in 2018.
Those years were not only imperative for his creativity and sanity, Spero said, but also set the table for him to lead Pitch.
"I'm an artist before I'm a tech guy," Spero said. "And Pitch is born out of my own experience as an artist… I want to create and I want to empower creativity."
Pitch does this, Spero said, by creating a win-win scenario for both fans and artists. Fans are able to pitch pretty much any idea to artists – "anything stupid," including illegal or immoral or pornographic pitches, Spero said, gets pulled down by filters – and artists are able to execute the ones that jump out at them – and get paid to do so.
"Pitch helps create a new relationship with fans and others who want unique interactions," singer Aloe Blacc told SPIN. "The ability for a fan to make a request is helpful, because crowdsourcing ideas could highlight ideas that artists would have never considered. With Pitch, the artist gets to decide on the idea and what it is worth, while fans get the chance to pledge funds to make it a reality."
Beyond being one of the first artists on Pitch, Blacc also recently participated in the platform's biggest event to date. On March 31, Pitch hosted a live concert to benefit Ukrainians impacted by Russia's invasion. Blacc sang Marvin Gaye's "What's Going On" and was joined by 20 other musicians, including Macy Gray and Moontower. The five-hour event raised $36,000 for Ukrainian civilian relief.
"I am passionate about using my voice for positive social transformation…I wanted to be part of this benefit because my heart goes out to those who are suffering and in need of help," Blacc said. "I am happy that we were able to raise money that will go to support families seeking refuge from violence."
Other artists on Pitch include Herbie Hancock, Judith Hill, Eric Bellinger and Darryl Jones. Producer Quincy Jones is also on the platform and has received one of Spero's favorite fan pitches so far – for Jones to make an 8 bar piano sample for producers to use in their songs. Fans have pledged $2,238 towards the idea so far.
On the business side, Pitch gets a 10% cut of any pitches an artist follows through with. Compared to the exorbitant slices record labels take from artists – on top of the frustrations many artists have with streaming services like Spotify and Apple Music – Spero is optimistic this arrangement will attract musicians to the platform.
"Artists are really hurting right now," he said.
While the digital revolution, Spero said, has helped musicians reach their fans easier than ever before, it's also made their art less scarce – and as a result, less valuable. "Artists have more power than ever before, but they're making less money than ever before."
Pitch wants to change that reality, one fan idea at a time.