Death Cab for Cutie has unveiled "Roman Candles," the first taste of music from its next studio album, Asphalt Meadows, due out on September 16 from Atlantic. The track is a bit discordant (and brief) by Death Cab standards, as it rides a variety of loud and distorted noises underneath frontman Ben Gibbard's signature vocals in a succinct 2:10 running time.
Gibbard says the song "is about the crippling, existential dread that goes hand in hand with living in a nervous city on a dying planet, and that the only way to be in the moment is to let it all go. The lyrics were cobbled from a couple of different songs dealing with my general sense of anxiety — the feeling that the fabric that weaves a functioning society together was crumbling during the pandemic."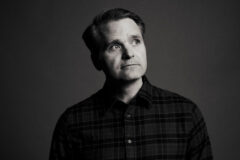 Asphalt Meadows, the band's first full-length since 2018's Thank You for Today, was produced by John Congleton, best-known for his work with St. Vincent and Sharon Van Etten. Death Cab will support it with an extensive summer and fall tour, beginning July 7 in Cincinnati.
This year marks the Seattle-reared group's 25th anniversary, which was partially celebrated with last year's 20th anniversary reissue of its album The Photo Album. Gibbard also executive produced the recent star-studded tribute project Ocean Child: Songs of Yoko Ono, which features David Byrne, The Flaming Lips and Japanese Breakfast, among many others.