Last year, news broke by none other than "Weird Al" Yankovic that not only was he getting a biopic, but Harry Potter star Daniel Radcliffe would be playing him (Evan Rachel Wood will play Madonna).
Today, a teaser trailer for the film, aptly titled Weird: The Al Yankovic Story gives a glimpse into that full transformation. In just under a minute, Radcliffe's transformation into the parody king is complete. Sporting Yankovic's '80s look (glasses and curls), the trailer sees Radcliffe's Yankovic perform in front of a large number of fans before cutting back to trace his rise.
"Anybody got an accordion," the character asks before being handed a number of them.
Yankovic co-wrote the film's script with Eric Appel, who is directing the film.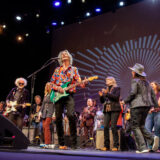 In 2020, we kicked off our Artist x Artist franchise with Yankovic and comedian/musician Jonah Ray. In their lengthy conversation, the two discussed their friendship ("a close personal friend"), Yankovic's career and a whole lot more. You can watch the entire episode here. Additionally, Ray how they met and his admiration for the parody musician in an essay as well.
Weird: The Al Yankovic Story will be out this fall on the Roku Channel. No date has been set for the release.