The Smile, the band featuring Radiohead's Thom Yorke and Jonny Greenwood, and Yorke himself debuted new music tonight (April 3) in the BBC show Peaky Blinders. The Smile's "Pana-vision" and Yorke's instrumental "That's How Horses Are" are both available now on streaming platforms through XL Recordings.
"Pana-vision" is the fourth track to emerge from The Smile and features a spooky Yorke piano melody augmented by string accompaniment during the choruses. A video featuring art from longtime Radiohead collaborator Stanley Donwood that has been animated by Sabrina Nichols can be found below.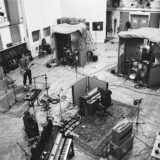 The Smile, which also features Sons of Kemet drummer Tom Skinner, has not revealed whether it will be releasing a full-length album anytime soon, but it will tour extensively in Europe in the weeks to come, beginning May 16 in Zagreb, Croatia.
Yorke's solo track "That's How Horses Are" is an instrumental with shades of revered 19th century composer Erik Satie. It is a companion of sorts to his recently released one-off "5.17," another showcase for his ethereal voice and minimalist piano playing.
As for Radiohead, the group has not performed live since the summer of 2018. Last fall, it released the collection Kid A Mnesia in celebration of the 20th anniversary of the albums Kid A and Amnesiac.