You probably wouldn't have known it by looking, but The Head and the Heart were pretty burnt out following the 2019 release of their fourth album, Living Mirage. After a few stops and starts, co-founding member Josiah Johnson left the band for good during the sessions, and the remaining members were struggling so hard to communicate with one another that they hired a group therapist to help them straighten things out.
Although Living Mirage scored the Seattle-reared band its third straight No. 1 on Billboard's Americana/Folk Albums chart, the project brought the sextet to a crossroads: keep doing things the same way and risk internal implosion, or continue putting in the therapy-inspired hard work to stabilize its inter-band dynamic and begin a proverbial new chapter.
In pursuit of the latter option, the group drafted a host of fresh collaborators to help it build Every Shade of Blue, which arrives today (April 29) on Warner Records. The album was largely produced by Grammy-winning songwriter/producer/engineer Jesse Shatkin, best known for his work with artists such as Sia and Pink, with additional assistance behind the boards from Andrew Sarlo (Big Thief) and John Hill and Sammy Witte (Florence + The Machine, Portugal The Man).
Together, they crafted 16 songs that nudge The Head and the Heart's vintage singer/songwriter vibes into fascinating new sonic territory, including the programmed drums and multi-tracked falsetto vocals of recent single "Tiebreaker" and "Same Hurt," the shiny, catchy pop of "Starstruck" and the electro-tinged "Paradigm." Ahead of a North American tour that begins May 20 in St. Petersburg, Fla., group members Jonathan Russell and Charity Rose Thielen spoke to SPIN over the phone about the unexpected benefits of the pandemic pause and how Every Shade of Blue has laid the groundwork for the next phase of The Head and the Heart's career. 
SPIN: This record was made in the throes of the pandemic. Was it a challenge to decide whether to address this one way or another in the music?
Jonathan Russell: Some songs were written before the pandemic, but on the songs written during it, I tried to encapsulate the atmosphere we all felt, without having to nail a sign to our foreheads saying, like, remember this? It's a pandemic! Being subtle, or avoiding it and pretending it didn't happen, also felt impossible or just off. In a way, I think the reason a lot of us get into this business stems from something you don't necessarily want to be right on the nose with all of the time anyway. I've been using songwriting to get me through trauma since I was 16. I've always been an observant person, and growing up in a tumultuous household took a toll on me. So I used writing as an outlet, which one day turned into songwriting. I think I've always created a veil, but also one you can see through. I don't know that the pandemic was any different for me, as a songwriter.
Charity Rose Thielen: A couple of the songs were written in January and February 2020, like "Don't Show Your Weakness" and "Shadows." Thematically, they deal with things on a micro-level that when you zoom out can apply to the macro: struggle, and finding hope through difficulty. In a very overly simplified phrasing, that's so much of life and it was heightened during the pandemic, no matter who you are. Timeless concepts, when you're really connecting to your humanity, will connect to the greater common humanity. It just happened timing-wise to be kissing the beginning of the pandemic, but not necessarily being in it.
Beyond that, what was on your collective minds as you assembled the material?
Russell: The interrelationships of this band leading up to when we made this record, in terms of what we were going through as individuals and being connected to that. Every time you make a record, you create a pivot or juxtaposition of what was previously done, whether it was sonically or subject matter or whatever. I never really understood what I meant by "living mirage" until now [Laughs]. I feel like it was a bit of a mirage in terms of how this band was holding onto its collectiveness. In terms of our communication, there were so many cracks in the foundation that we started to finally work on towards the end of 2019. In a strange way, the silver lining of having all this time off and not being on the road gave us a choice. We could have continued on and left those cracks the way they were, but we made a choice to face ourselves in the mirror and really be honest with ourselves, and start putting in some work with ourselves and one another.
Thielen: I think that's a poignant realization on your end. Certain of us humans are maybe better at compartmentalizing things than others, and performance can be independent of relationship. One person may be more of an individual versus a community, like how you see and move through the world. I feel like that was a bit louder in our past and on Living Mirage. On this album, we started to turn towards each other and not avoid the challenge. We really embraced the fact that creativity in music is a product of authentic relationships. They're at the heart of it all.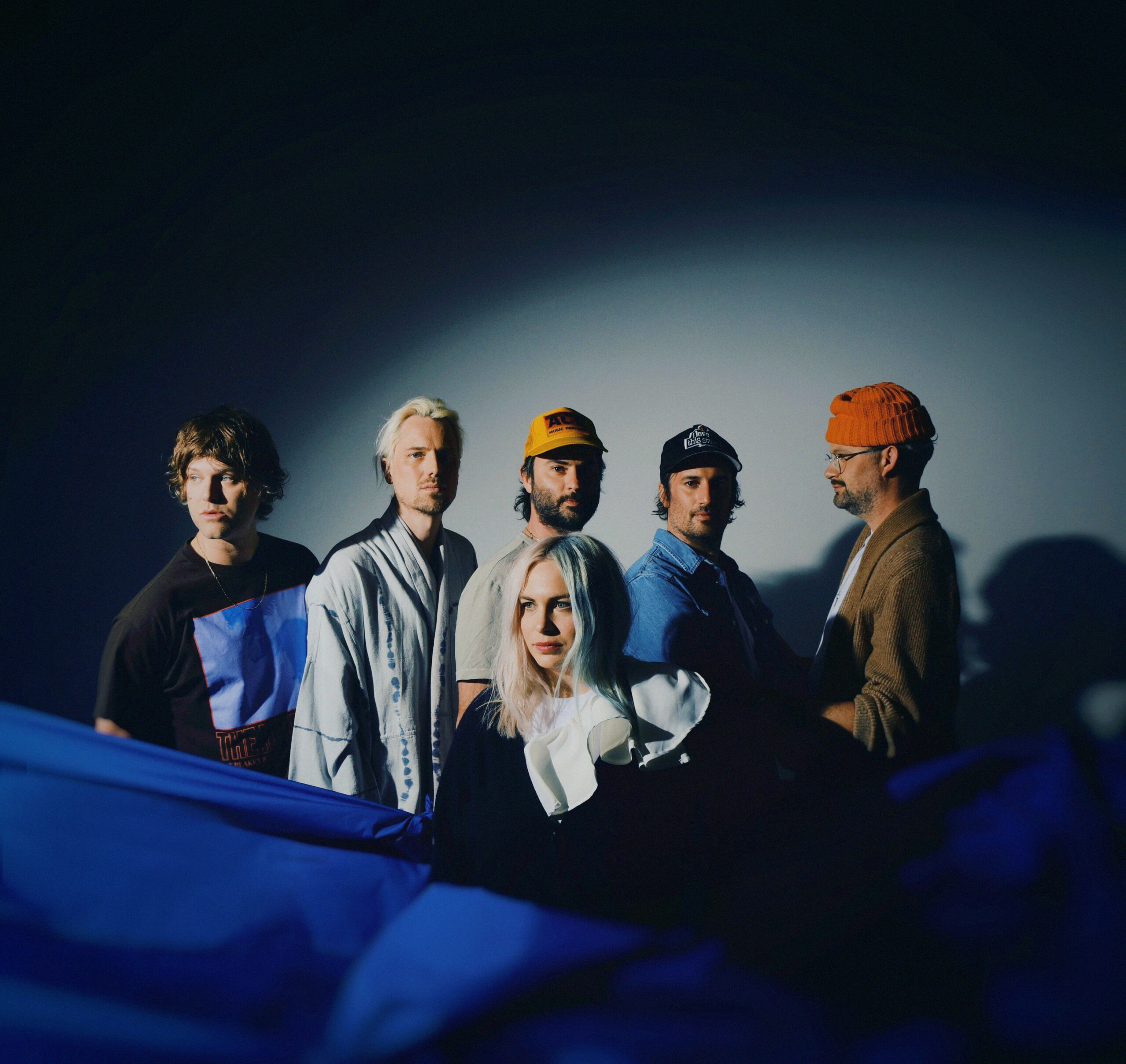 You worked with some new producers on this album, like Jesse Shatkin and Andrew Sarlo. What did they bring to the project?
Russell: I met Jesse in Los Angeles when he was doing a session I was in. He would champion my freak flag in a way that no one had ever really allowed me to do before. "Tiebreaker" is the first song I did with him. It was gibberish for months. But that vocal approach came out of Jesse having the most unexpected answers to my musical questions. We kept pushing each other into this place that didn't feel previously explored, at least by me. Sometimes when you do that with other artists or friends, you kind of laugh and then it dies. You're like, let's get serious. And then you do something else. I was just so excited to have someone not see anything as off the table. That kind of energy is what drew me toward Jesse on an individual level. The greater picture would be fun to get to because that song just existed in a vacuum for a little while. We weren't yet working on this record. When we started talking about how to make this record, Charity brought Andrew Sarlo to the table.
Thielen: Without necessarily realizing it or being very conscious about it, we set up the future record in reaction to the previous one. In my mind, the reaction was to swing the pendulum to the other side. Andrew produced the early Big Thief records that are so brilliant, and I was so, so excited to start a creative process working with someone like him. We originally were going to do six songs with him, but we couldn't get together in person. This was in April 2020. He'd done a little bit of remote recording at that point, and we all wanted to continue, so we did it with him remotely. We still haven't met him in person physically or worked with him in person. I'm so intrigued to do that. Working with him felt really satisfying to me creatively. Later in the year, Jon brought up having Jesse be more at the helm of the album. I wasn't necessarily drawn to that on an individual level, but I was also intrigued at the same time. He'd only worked with one other band, back in 2014. He's used to working with solo artists who have a clear vision. We weren't in his world and he wasn't in ours, so what's this going to create? We're a democratic band, so you kind of have to have a skillset to field those dynamics. Jon intuited that Jesse would be a brilliant person for that job on the music side, and he really was.
Russell: I find it to be both beautiful and challenging every time we make a record. Charity was more drawn to the aesthetic of Andrew, and I was waist-deep in the river of Jesse Shatkin [Laughs]. How do we blend this magnetism that individuals within this band might be having, that are pointed in very different directions? Inevitably, there's growth, patience and tolerance. You learn a lot through a situation like that.
Jesse produced "Tiebreaker," which to my ears is maybe the most sonically out there Head and the Heart song to date.
Russell: That makes sense to me. I believe that [Laughs]. With Living Mirage, there were songs like "Brenda" where we were like, ugh, can we get away with this? By the time the record was out, I thought we didn't go far enough. I can feel our insecurities. We didn't lean into it, and it bummed me out. When "Tiebreaker" was coming into fruition, I was like, this is fucking weird, and I'm not giving up on it. We don't have to make an entire record like this, but I have to see this one through. What ends up happening in my mind, as maybe the one who tends to look for the new frontier whenever it's time to write again, inevitably I get a little too protective of an idea. When I let that go in terms of where it will lead with the band around it, it's so much better and unique. That song is like a circus. There's no way we would have done it without all of us being brought into the song.
Now that the album is out, what makes you most proud about this collection of material?
Russell: The representation of everyone in this band being at the forefront, more so than maybe any record in our past. Some of the things this record showed me are seeds that came from the process but haven't had time to sprout yet. There's something about where we're at right now, especially midway when we were trying to finish this record. Do we want to do this? If we do, we really need to revisit how we've been doing it, how we want continue doing it and how we want to switch things up. I felt like if we weren't going to change anything, this might have been the last record. In a strange way, our crossroads and the option of time off helped us work on our relationships and ask those hard questions and be honest and direct. We learned how to say things we hadn't necessarily said before. It felt like an overhaul from the inside out — a rebirth, if you will.
Thielen: We were a bit in denial in maybe asserting that our rebirth was on Living Mirage, but it was just that — a mirage. This album is actually a crossroads for the band. Something I realized through this process, and having the pause too, was that I'm ready to pridefully embrace our band name, which I didn't come up with. The more we actually embrace and accept that we are The Head and the Heart, and that we have these extremes, we will be at our healthiest. It's hilarious. I've realized it's a brilliant band name, especially for us [Laughs].
Russell: It only took us 12 years to grow into it.