Red Hot Chili Peppers have been added to this year's New Orleans Jazz Fest lineup. The band will be replacing Foo Fighters, who dropped off following the death of drummer Taylor Hawkins.
The Chili Peppers join a lineup that includes The Who, Stevie Nicks, Jimmy Buffett, Lionel Richie Luke Combs and hundreds more artists. The festival takes place between April 29 and May 8.
Last week, the Chili Peppers released Unlimited Love, their first album in six years. Ahead of its release, the band was honored with a star on the Hollywood Walk of Fame. The night of the album's release, the band played an intimate show down the street from their star at the Fonda Theater. That night, Red Hot Chili Peppers were joined by their friend and former producer George Clinton for a version of "Give It Away."
Their appearance at Jazz Fest will take place on Sunday May, 1. The band will kick off a stadium in Europe in June before coming to the U.S. in July.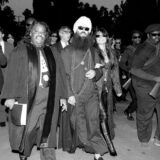 Foo Fighters have canceled all tour dates and activities following Hawkins' death. The group took home three Grammys in the major rock categories last weekend. A number of artists have paid tribute to the drummer in the days following his death.