"Can't stop / Addicted to the shindig" ("Can't Stop" – Red Hot Chili Peppers)
It was only 10:30 a.m. on a weekday but a party was in full swing in the heart of Hollywood Thursday morning when approximately 2,500 Red Hot Chili Peppers fans gathered to witness the seminal Los Angeles rock quartet and Rock & Roll Hall of Famers — Anthony Kiedis, Flea, John Frusciante, Chad Smith — receive a star on the Hollywood Walk of Fame.
Though it was an unusually cool and cloudy day in Los Angeles, the atmosphere preceding the ceremony, right outside Amoeba Music (where RHCP will play a free in-store show next week), was warm and bright, with the USC Trojan Marching Band adding to the festivities with a medley of Chili Peppers hits including "Otherside," "Dani California" and "Under the Bridge."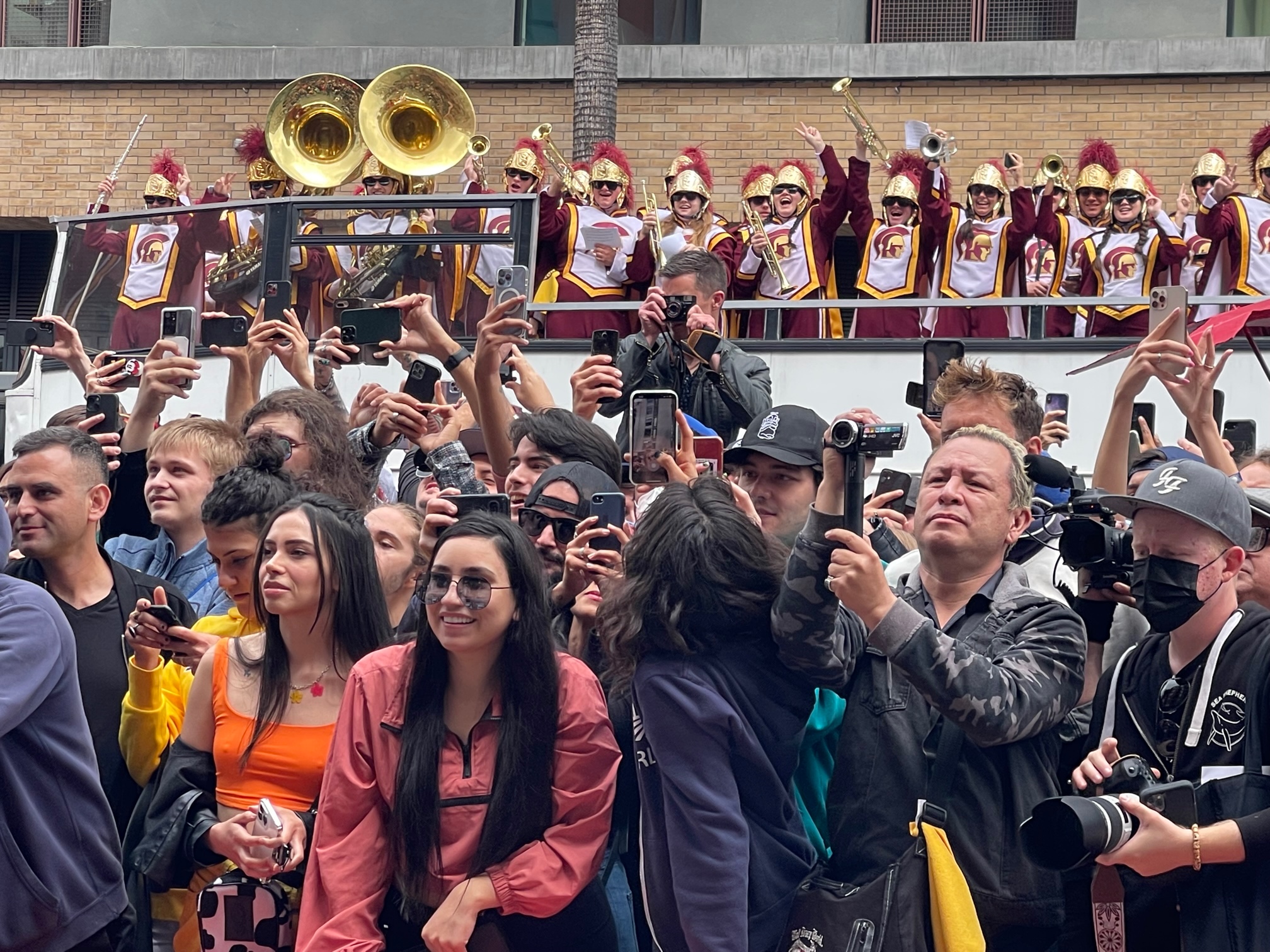 While the crowd danced and cheered, one special "fan" was seated in the band's VIP section. 79-year-old Peggy Idema, Kiedis's mom, flew in from Michigan to surprise her son. "He doesn't know I'm here. It's something I couldn't miss," said Idema. "I could not be more proud. I'm overwhelmed but in such a beautiful way. My heart is so full right now."
"You know, he did not sing as a child. He did entertain though," she added. "Anthony wanted to be a marine biologist. This is kind of a far cry from that. (Laughs) I loved it when he started singing."
By the time the ceremony started at 11:30 a.m., the LAPD had shut down the block to accommodate the massive crowd. Nicole Mihalka, Chair of the Board of the Hollywood Chamber of Commerce, introduced "our hometown heroes," noting RHCP's hit "Californication" and its "nod to the star on boulevard."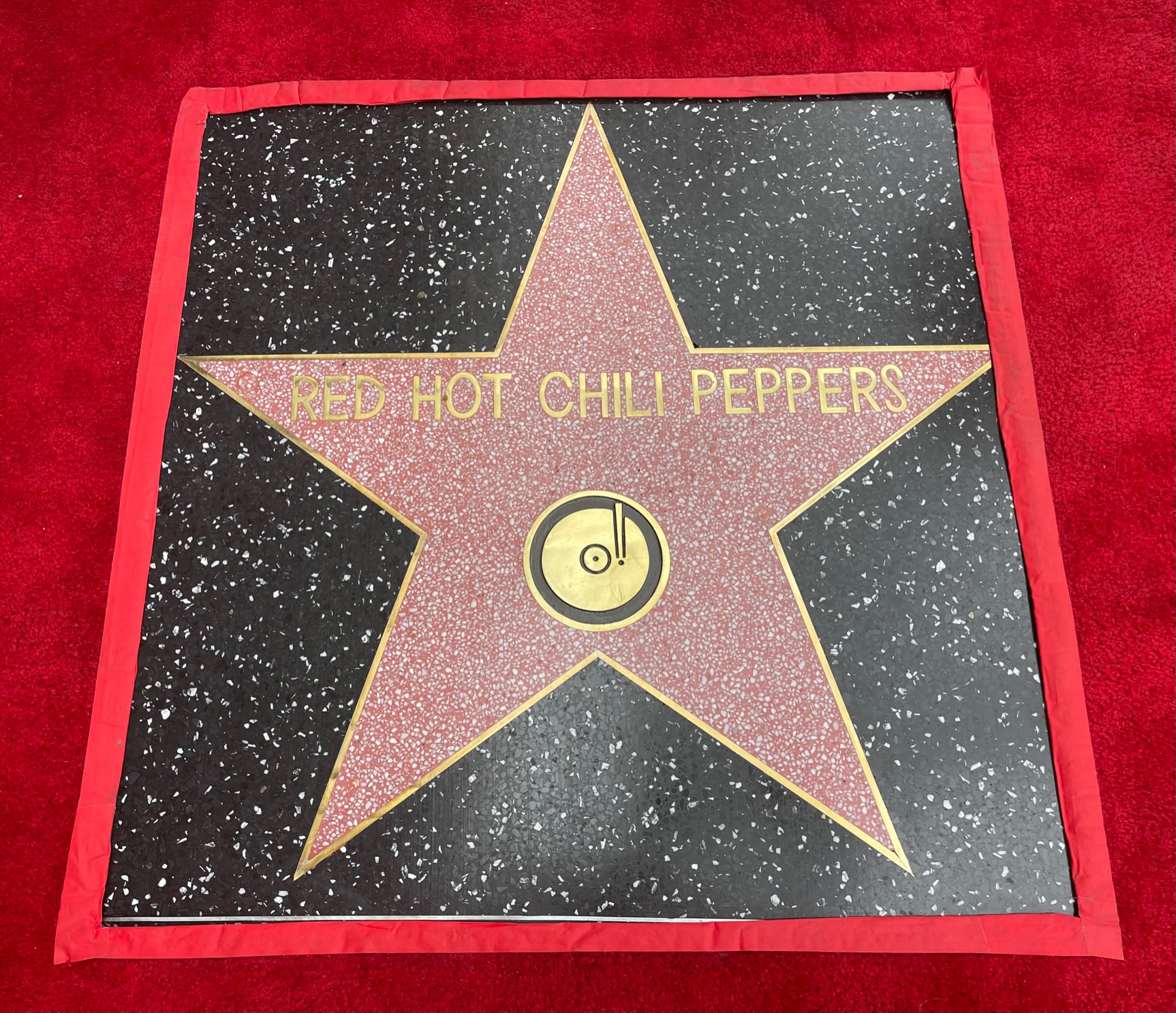 Following Mihalka's remarks, the Chili Peppers were honored by musician Bob Forrest, George Clinton ("I always knew they'd be the most successful group in the world…they had that fire in their eyes when I looked at them") and Woody Harrelson, who called the band "The greatest guys making some of the greatest music and the greatest live band in the world." Harrelson also added some levity, joking, "They were the first people to really make the common ordinary sock a central part of the fashion wardrobe."
When the Chili Peppers finally addressed the crowd, they were met with screams from their adoring fans. Frusciante, wearing a brown suit and grey sweater, said he moved to Hollywood in 1987 and lived a block away from the ceremony, before thanking fans, friends and his bandmates: "This family has made me what I am."
In stark contrast to Frusciante's muted outfit, the characteristically flamboyant Flea wore a tie-dyed purple and blue suit, yellow t-shirt, and colorful sneakers. He talked about his fondness for Hollywood Blvd, where he said he's spent a lot of time, including panhandling at 11-years-old. "I know this street inside out and this street knows me, and whenever we've traveled around the world, this street has always been a part of me. I'm grateful that now we can be a part of it," he said.
Smith marveled at the huge fan turnout, expressed love for his bandmates, and paid tribute to former Chili Peppers including Hillel Slovak (who died in 1988), Jack Irons, Dave Navarro and Josh Klinghoffer. "They're all part of it and part of the reason we're here today," he said. Smith also gave a shoutout to Taylor Hawkins: "He's flying around. I love you, Taylor. He'd laugh and make a smartass comment about this whole thing."
Speaking last, Kiedis, wearing a red satin bomber jacket and black pants, attributed the band's success to their chemistry. "To me, this is not a story of individuals," he said. "I love Chad, I love Flea, I love John greatly. They're amazingly talented – Flea's at one with the bass, John is my favorite guitar player of all time and Chad Smith is the finest drummer in the land. But, really, something happens when we come together which is much greater than the individual parts. The sum total of our parts is that we were able to find something that we love doing and communicate with the entire world."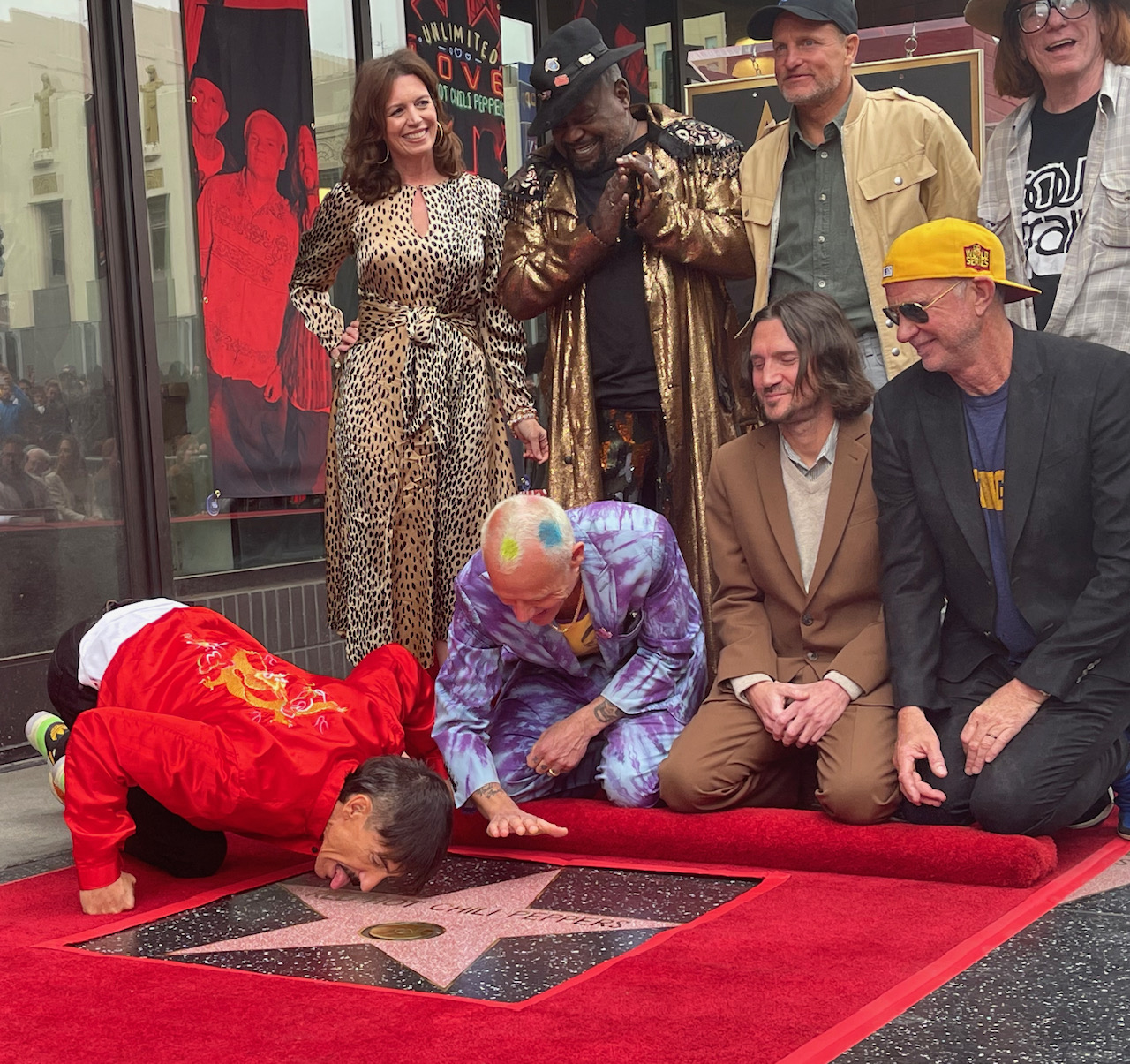 After the speeches, it was time for the main event: the unveiling of the Red Hot Chili Peppers' star, the 2,717th star on the Hollywood Walk of Fame. The band were all smiles as they posed for photos, with Kiedis kneeling down and pretending to lick the star. Moments later, he stood up, planted both feet on it and quipped, "May as well start stepping on it."
The Red Hot Chili Peppers, who released Unlimited Love (their 12th studio album) today, embark on their 2022 Global Stadium Tour in June.