In case you missed it, Red Hot Chili Peppers have a new album out. They received a star on the Hollywood Walk of Fame on Thursday and down the street on Friday night at the Fonda Theater, the band played their first proper show with John Frusciante.
Ahead of the encore, the Chili Peppers brought up none other than George Clinton, who also appeared at Thursday's ceremony. Dr. Funkenstein, who produced the band's second album Freaky Styley, joined the band for set closer "Give It Away."
The set featured the debuts of "Here There After" and "Aquatic Mouth Dance."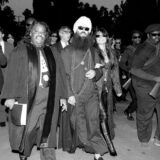 Check out where Unlimited Love ranks among the best Red Hot Chili Peppers albums.
In addition to playing the Fonda, the Chili Peppers appeared on Late Night With Jimmy Fallon and Jimmy Kimmel Live, where they played a pair of songs from their new album.
Unlimited Love is out now on Warner Records.
See the full setlist from the Fonda below:
Red Hot Chili Peppers Fonda Theater Setlist:
These Are the Ways
Snow ((Hey Oh))
Here Ever After (Live Debut)
Suck My Kiss
Aquatic Mouth Dance (Live Debut)
Hey
Can't Stop
Your Song (Elton John cover) (solo by John)
Not the One
Black Summer
By the Way
Encore:
Give It Away (with George Clinton)