Pavement is celebrating the 30th anniversary of the album that started it all, Slanted & Enchanted, which was released on this day 30 years ago on Matador. To celebrate, the band and label are reissuing vinyl and cassette pressing exclusives in honor of the anniversary.
On August 12th, a limited-edition run of the original LP on red, white and black splatter vinyl will be available for purchase. There will also be a cassette tape called Courting Shutdown Offers, which is a replica of the tape Pavement used to pitch Slanted & Enchanted to labels.
The second season premiere of Matador's Revisionist History podcast was also released today and features Pavement's Stephen Malkmus and Spiral Stairs who discuss "preparing for their upcoming reunion tour, dropping out of college to tour with Sonic Youth, and writing "In the Mouth a Desert" after an Earth Day spent tripping on mescaline," according to a release.
The band will be on tour starting this summer, with dates spanning worldwide through the spring of 2023. This tour marks the first time Pavement has toured in over 10 years.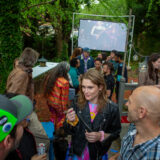 PAVEMENT ON TOUR
6.02.22 ­– Barcelona, ES @ Primavera Sound
6.10.22 – Porto, Portugal @ NOS Primavera Sound
9.07.22 – San Diego, CA @ Balboa Theatre SOLD OUT
9.08.22 – Los Angeles, CA @ Orpheum Theatre SOLD OUT
9.09.22 – Los Angeles, CA @ Orpheum Theatre SOLD OUT
9.10.22 – Los Angeles, CA @ Orpheum Theatre SOLD OUT
9.12.22 – San Francisco, CA @ The Masonic
9.13.22 – San Francisco, CA @ The Masonic
9.14.22 – San Francisco, CA @ The Masonic
9.16.22 – Troutdale, OR @ Edgefield Amphitheatre
9.17.22 – Seattle, WA @ The Paramount Theatre SOLD OUT
9.19.22 – Denver, CO @ Paramount Theatre SOLD OUT
9.20.22 – Kansas City, MO @ Uptown Theater
9.21.22 – St. Paul, MN @ The Palace Theatre
9.22.22 – Chicago, IL @ Chicago Theatre SOLD OUT
9.23.22 ­– Chicago, IL @ Chicago Theatre
9.24.22 – Detroit, MI @ Masonic Cathedral Theatre SOLD OUT
9.26.22 – Toronto, ON @ Massey Hall SOLD OUT
9.27.22 – Toronto, ON @ Massey Hall
9.28.22 – Boston, MA @ Boch Center Wang Theatre SOLD OUT
9.30.22 – Brooklyn, NY @ Kings Theatre SOLD OUT
10.01.22 – Brooklyn, NY @ Kings Theatre SOLD OUT
10.02.22 – Brooklyn, NY @ Kings Theatre SOLD OUT
10.03.22 – Brooklyn, NY @ Kings Theatre
10.05.22 – Philadelphia, PA @ The Met SOLD OUT
10.06.22 – Washington, DC @ Warner Theatre SOLD OUT
10.08.22 – Atlanta, GA @ The Eastern SOLD OUT
10.09.22 – Atlanta, GA @ The Eastern SOLD OUT
10.10.22 – Austin, TX @ 3TEN SOLD OUT
10.11.22 – Austin, TX @ ACL Live at Moody Theater SOLD OUT
10.17.22 – Leeds, UK @ O2 Academy Leeds SOLD OUT
10.18.22 – Glasgow, UK @ Barrowland Ballroom SOLD OUT
10.19.22 – Edinburgh, UK @ Usher Hall
10.20.22 – Manchester, UK @ O2 Apollo
10.22.22 – London, UK @ Roundhouse SOLD OUT
10.23.22 – London, UK @ Roundhouse SOLD OUT
10.24.22 – London, UK @ Roundhouse
10.25.22 – London, UK @ Roundhouse
10.27.22 – Paris, FR @ Le Grand Rex
10.29.22 – Copenhagen, DK @ Vega
10.30.22 – Oslo, NO @ Sentrum Scene
10.31.22 – Stockholm, SE @ Cirkus
11.2.22 – Aarhus, DK @ VoxHall
11.4.22 – Bremen, DE @ Pier 2
11.5.22 – Berlin, DE @ Tempodrom
11.7.22 – Brussels, BE @ Cirque Royal
11.8.22 – Amsterdam, NL @ Royal Carré Theater
11.10.22 – Dublin, IE @ Vicar Street SOLD OUT
11.11.22 – Dublin, IE @ Vicar Street SOLD OUT
02.15.23 – Tokyo, JP @ Tokyo Dome City Hall
02.16.23 – Tokyo, JP @ Tokyo Dome City Hall
02.18.23 – Osaka, JP @ Namba Hatch