There's a revealing lyric in Momma's standout new song "Speeding 72" that says a lot about the members of the New York-by-way-of-Los Angeles quartet: "Meet up on a Sunday, filling up the ashtray / Nothing gets in our way, always in a new place / You can catch us around, listening to 'Gold Soundz'."
That reference to a road trip soundtracked by a 1994 Pavement song would seem pretty on-brand from a bunch of wizened old indie heads, especially with the beloved Stephen Malkmus-led outfit about to tour this year for the first time since 2012. But for a group of musicians like Momma's Allegra Weingarten and Etta Friedman, who were in diapers when Pavement initially broke up in 1999, it has a much deeper meaning.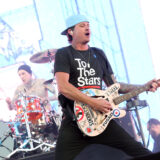 "Allegra and I listened to so much Pavement as teenagers," Friedman tells SPIN over Zoom. "I feel like it was one of our biggest inspirations in terms of lyrics and visuals." Indeed, Friedman, Weingarten and producer/bassist Aron Kobayashi Ritch spent big bucks buying tickets for Pavement reunion shows this fall, but Momma's own fall headlining tour schedule (in iconic clubs such as New York's Music Hall of Williamsburg and The Echo in Los Angeles ) proved incompatible with the itinerary.
And while it will be disappointing not to hear "Gold Soundz" live and in the flesh, it's surely a good problem to have for Momma, which is on the ascent thanks to a recent stint opening for fellow buzz band Wet Leg and the strong response to recent singles "Medicine" and "Rockstar" from its upcoming album, Household Name. Produced by Kobayashi Ritch, the project arrives July 1 on Polyvinyl/Lucky Number Music and conjures a beguiling, refreshing sound somewhat akin to Hayley Williams fronting Pinback with distortion pedals.
Weingarten and Friedman met and bonded over music in high school in the mid-2010s in Calabasas, Calif., teaching themselves how to play instruments while obsessively listening to their favorite bands. Their enthusiasm for sharing new musical discoveries shines through even over Zoom, as they spontaneously rattle off recent obsessions with beabadoobee, The Dandy Warhols, The Damned and Bombay Bicycle Club. "I think we'd only had one sleepover before we picked up our guitars and started writing songs," Weingarten says with a laugh. "Then we did that for the next two years."
"Our earliest songs would start with Allegra's verse, or her experience with the topic. The second half would be my verse and my point of view, and then we'd come together on a chorus," Friedman observes. "Now, we're so in touch and in tune with each other that, as much as we do still have very different experiences in life, we're more symbiotic with one another, where everything can play out and have its space. It's not as separate within one song."
The duo released two prior albums in small indie labels in 2018 and 2020, but Household Name is a giant leap forward full of delightfully heavy dropped-D riffs, irresistible melodies, winks and nods to life in a band (ie., drummers who insist on listening to nothing but "Hummer" by Smashing Pumpkins in the van) and Weingarten and Friedman's seamless vocal harmonies.
It's often hard to distinguish between who is singing what or even whether the spiky riffs are being played on guitar or bass, a stylistic curiosity inspired by the instrumental interplay of Pinback's Rob Crow and Zach Smith. "The way Etta and I like to write guitar parts is so you can't tell when one person is switching from chords to lead," Weingarten says. "We listened to a lot of Pinback when we were making this record," Kobayashi Ritch offers. "We even stuck foam under the guitars to emulate the sounds of those records."
Indeed, Kobayashi Ritch's creative production touches evince the forethought that went into writing and arranging the material with the finished product top of mind, like the blend of real drums and breakbeat samples on "Brave" and the acoustic verse/fuzzed-out chorus structure of "Rockstar" ("The classic '90s move," Kobayashi Ritch admits). "This is genuinely how we've always wanted to sound and present ourselves," Friedman enthuses. "I can't wait to see what happens once everyone can hear it."