L7 are celebrating big for the 30th anniversary of Bricks Are Heavy. The band announced a reissue of their third record and a tour of the U.S. throughout October.
On April 14, 1992, Bricks Are Heavy released via Slash Records. The 30th anniversary reissue is slated for release on September 30, which will include all 11 tracks remastered by Howie Weinberg (Ramones, Pixies, Metallica).
"After all these years," L7's vocalist and guitarist Donita Sparks says, "we began thinking it is strange that we have never received a proper accounting of actual sales to date for this record. We were so close to Certified Gold 30 years ago, surely we have crossed the line by now."
Produced by Butch Vig (Nirvana, Garbage, Smashing Pumpkins), the reissue will release via Licorice Pizza Records. It is available for pre-order now.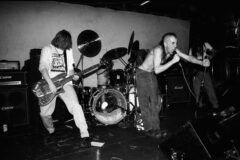 L7's Bricks Are Heavy North American fall tour will feature the entire seminal album performed in full for the first time ever, which kicks off October 3 in Nashville. They'll even include fan favorite "Shitlist." Tickets go on sale at 10 a.m. PST on Friday, April 15 via the band's website.
L7 Tour Dates
10/3: Nashville, TN @ Brooklyn Bowl
10/4: Atlanta, GA @ Masquerade (Heaven)
10/6: New York, NY @ Irving Plaza
10/7: Brooklyn, NY @ Warsaw
10/9: Boston, MA @ Big Night Live
10/10: Philadelphia, PA @ Union Transfer
10/12: Toronto, ON @ Opera House
10/13: Columbus, OH @ Newport Music Hall
10/14: Detroit, MI @ Saint Andrew's Hall
10/15: Chicago, IL @ Metro
10/17: Minneapolis, MN @ First Avenue
10/19: Denver, CO @ Summit
10/22: Vancouver, BC @ Rickshaw Theatre
10/23: Seattle, WA @ Neptune Theatre
10/24: Portland, OR @ Revolution Hall
10/27: Los Angeles, CA @ Regent Theater
10/28: Los Angeles, CA @ Regent Theater
Bricks Are Heavy Track List
1. Wargasm
2. Scrap
3. Pretend We're Dead
4. Diet Pill
5. Everglade
6. Slide
7. One More Thing
8. Mr. Integrity
9. Monster
10. Shitlist
11. This Ain't Pleasure