Welcome to the latest edition of The Offramp! Each month, rock writer Corbin Reiff will highlight some of the most dynamic artists and projects going on in music today. Throw on the turn signal, crank up the stereo and enjoy the ride!
As 2019 ticked into 2020, Kurt Vile had had enough. The Philadelphia-based singer-songwriter spent the better part of the last decade on the road, playing packed shows with his band the Violators. He's also been relentless in his pursuit of new music, working with a myriad of different collaborators, while hitting up various recording studios across the country to lay down his latest sonic imaginations.
The results speak for themselves. During that time, Vile has steadily amassed one of the most engrossing discographies in all of indie rock. His solo albums like Smoke Rings for My Halo, Wakin' on a Pretty Daze, and B'lieve I'm Goin' Down are widely considered to be classics of the genre. That's in addition to his collaboration record with Courtney Barnett, Lotta Sea Lice, his work on a Velvet Underground, and a whole litany of other projects that have called for his time and attention.
So yeah, by 2020, Kurt Vile was definitely burnt out, and desperately in need of a break. Then the pandemic hit. Unexpectedly, Vile had all the time in the world. "It was what needed to happen for me," he said over the phone from his home in Philadelphia. "I wanted to stop anyway. I was planning to do some version of that, but easier said than done. You get an offer. You agree to all these things. Me, personally, I needed some kind of reset. For sure, I wasn't happy."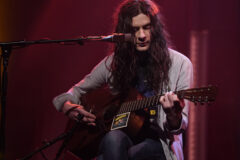 It didn't take long for the father of two to settle into full-blown domesticated Dad life. He went for long walks in the woods around his home in the pastoral Mount Airy neighborhood. He read. And then, he started writing songs. Vile already had a few tracks in the can from a pre-pandemic recording trip with the Violators to San Francisco, but a large portion of what became his sprawling, eighth solo album – and his first on a major label – Watch My Moves was curated right inside his home studio.
Like many of Vile's previous projects, Watch My Moves is packed with sprawling compositions that combine clever, lyrical insights, with an eclectic array of heady, zone-out-inducing jams. It's the kind of record that you fall into and disappear, while Vile's howling guitar washes over you like a hazy miasma across 15 different tracks.
There are songs about his neighborhood, in Mount Airy. There are songs about mental horror movie marathons. There are songs about opening up for Neil Young in front of 80,000 people in Quebec. You can get a sense of Watch My Moves from the first listen. But the deeper revelations don't fully unveil themselves until much, further investigation. That's just how the Vile likes it.
"I know this record is the most honest version of myself and I'm really proud of it," he said. "It's my own version of a masterpiece, but it's very raw at times. I think it's going to really just grow on people."
Recently, I had the opportunity to talk to Vile about what he did during his time away from the stage, his longstanding affinity for Neil Young and Bruce Springsteen – whose song "Wages of Sin" he covered on Watch My Moves — and how the hell he ended up in the woods, wearing an alligator mask on the cover of his latest record.
SPIN: What were these last few years like for you?
Kurt Vile: I've been home for a couple years straight, with the family being a normal dad. I went over to L.A. a few times. Did a lot of recording here in Philly, in my home studio, and over in L.A. Writing music every day, whatever. Lately, I'm in the rush to write music. I got one double album in the can and probably three albums on the cutting room floor left behind. Maybe I'll come back to it. Maybe I'll just keep going. Who knows? Who cares? It's just my life.
You released your last album Bottle It In in 2018 and toured a bunch right after that. What was your initial idea of what those next couple years were going to look like and how did that get interrupted by the pandemic?
I'll tell you what, I remember getting Bottle It In in by the skin of my teeth. That was no easy feat. I'm proud of that record. I think that record's underrated. It's a deep, sprawling record. Anyway, I remember going to start rehearsals with the Violators and just being so under-prepared, even though we had plenty of practice. I felt like I was just thrown into the universe, just ready to just explode. Slowly but surely, we got tight over in Europe. By the end of it, we played Hardly Strictly Bluegrass festival ("one of my favorites") in San Francisco. And I booked some sessions at Stinson Beach to record with Cate Le Bon.
This is November of 2019, mind you, after a bunch of touring. She produced five songs. It came out good. "Jesus on a Wire" came out of that session. But then as soon as I got home, I got kind of sad because I was like, "Wait, I didn't really have the Violators record while we're out there on the road." So I told my manager and he was like, "Well, we got this one offer for this random festival in Joshua Tree (in January 2020)." We played the show and then we went to the studio with Rob Schnapf. The first song we recorded was the Springsteen cover, "Wages of Sin."
Wow, nice.
The very last thing we did was "Cool Water," and that was like the Violators at our peak, post all that touring, and we got this masterpiece. I knew "Cool Water" was going to make the record. And then I went home. Then came winter, and that's when the pandemic hit. I had some good stuff in the can, and I knew I was going to make a record from home more or less anyway. If I didn't have those songs in the can, maybe I'd been more stressed out. But honestly, I took advantage and just disappeared and lived a normal life.
I was gonna ask you about that Springsteen cover, "Wages of Sin." My introduction to your music was a different Springsteen cover you did of "Downbound Train" over a decade ago. What made you decide to cover Springsteen again on this album? And what is it about these songs, "Downbound Train" and "Wages of Sin", that made you want to add your own interpretation to them?
Well, they're both pretty deep. But "Wages of Sin," in particular, that whole three-CD collection Tracks, hit me hard. I would go to songs like "Janey Don't You Lose Heart," and "Restless Nights." "Wages of Sin" was another one, and I tried to do a version of that with the original lineup of the Violators back around 2007. It was cool, but I haven't heard it since then. I turned my latest bandmate, our drummer Kyle Spence, onto it. And he's like, "Oh, we should do our own version, an updated version." Part of it too, was around that time, Springsteen had released a new album, Western Stars and I loved it. That made me excited too because that was my favorite album of his in years. It was sort of like my Valium on the plane. I turned that on and start with "Hitch Hikin.'" I love that song.
Springsteen, when people ask me…he's like a member of my family. Sometimes we talk, sometimes we don't, but he's like my brother. He'll kill you with a song. "Wages of Sin" spoke to me. Like the song itself was like a member of my family. And I just knew nobody was going to do it anytime soon, so I better grab it just in case somebody does.
You mentioned how tight you got with the Violators on that last tour. Is there any impulse for you to put out a live album someday? Or a live music collection?
I mean, sure. A lot of times, what I don't like about it is you feel really good about the concert, then you hear it back and you can hear it in all this raw out of tune-ness and I think my vocal wasn't as good. But that said, I think we get better live all the time. Early on was a different, raw thing that we never be able to touch again. So I'm not putting down the old style either, but these days, my favorite artist is Sun Ra. And one thing he did was record everything. And I've been recording everything since then. Record my rehearsals, and we recorded most of the beginning of the Bottle It In tour, but I'm going to make sure that we are recording everything. I'm not afraid of it anymore. I'm going to keep listening and seeing what needs to be improved. So yeah, sure, maybe one day there'll be a live album. Who knows?
Speaking of Sun Ra, you invited his tenor saxophonist James Stewart play on this album, on the song "Like Exploding Stones." How did you get Sun Ra, and how did James add his saxophone to this album?
We invited him and he came over. Next thing you know, he's on the record. Next thing you know, he agrees to be on the video and wear his Sun Ra outfit. It was pretty surreal. Me and my wife saw him with the Arkestra in like December of 2019. He was just magnetic to look at, James himself. And I was like, "Man, that guy's got such good tone and flow and notes." The way he was playing, et cetera, it's just right in my wheelhouse or something. And I just put it in the back of my pocket. I was hoping one day we could work together. And then next thing you know, I signed to a jazz label and the head of Verve just got in touch with him. I assumed he lived in Philly, but he lived in Trenton, close enough. But the Sun Ra house is around the corner from where I live.
I've never been to Philadelphia, but it seems most of my favorite bands are all from Philadelphia. Why does it seem to be such an incredible place for songwriters to exist and make music?
Well, I feel lucky because I'm from here and I'm vindicated that I never left because I just feel I've come into my own more than ever. We moved to a part of the city — It's not a suburb, they've been saying it's a suburb but I don't know how that got out there – but it's just got lots of trees. Mount Airy. It's got mountainous areas and trails along the Wissahickon.
I think I'm lucky because certain people who lived in New York, like Ted Young, who engineered the two albums I did with John Agnello, Smoke Ring for My Halo and Wakin on a Pretty Daze, he moved from New York to Philly and next thing you know, he's recording with me at my house. It's a huge step up. More and more people, I feel like are coming here. And now, we got a real crew going. People that have done my videos. My buddy Drew has been involved in all the videos and he's a Philly guy. We've been filming a lot of documentary-style things. I don't know, just keeping it local. It feels good.
You mentioned that you recorded at home for a lot of this record. Tell me a little bit about your home studio as a recording space, as a creative environment for you. What was important for you to put in that space and how this album kind of came out of there?
I've always had recording equipment, but I just upgraded and just got the right people to be in my circle to help me. Most of my bandmates record professionally one way or another, and I just knew it was time to upgrade and get fully functional on my own. I was trying to do that anyway, before the pandemic hit, that was the plan. I just got deep into to getting back to where I'm recording myself, but a little bit of more high fidelity. Just to have my guard completely down while being at home, it's a long time coming. It's something every artist should ultimately be able to do. I think just always be thinking about getting your music down any way you can, that's sort of the key.
Were there any songs in this particular album that were recorded in that lo-fi, four-track, Nebraska album style?
"Flyin Like A Fast Train" started out on a four-track cassette and ended up in the Hi-Fi system. Like a year later, I ended up recording lead guitar onto it through the console and everything else, and then Rob Schnapf mixed it in his studio. But that's the beauty, you know?
I thought that was an interesting dichotomy. This is your major-label debut as it were, but it was recorded in a way that's pretty similar to how you did in the beginning of your career, in a home studio environment. Did making this record feel like kind of getting back to this original version of yourself, when you were making those demos all those years ago?
I feel like I'm always doing that. I think it's about staying true to my roots all the time, for sure. I remember everything, so I can tap back into all the different versions of me at any time. I'm a nostalgic person. But also, I'm always looking forward, thinking ahead about how I can not repeat myself exactly. I'm always aiming to make my best record yet. I've been thinking obsessively about this record the whole time. That's always my goal: to stay true to my roots and don't forget who I am and who are important to me, even though sometimes I get stuck, and I don't talk to people for a while because I'm just stuck in my own world. But this album wasn't just recorded at home, it was recorded at Rob Schnapf's studio in L.A.
You've worked with Rob on several projects now.
The first thing we recorded together was "Pretty Pimpin'" and we hit it off. But now, we're closer than ever. Just buddies. He doesn't get in the way, unless you want him to. He's just a good listener. Early on, I remember I recorded the song "Wild Imagination," which is the last track on b'lieve i'm goin down. I really like that song. And I remember that was early on I was nervous and I did the three takes really quick. And I was like, "I don't know. I guess go with the first take and we'll just add to it because I don't know." And he's like, "Nah, second take is the one." And then I listened back, sure enough, he was right. So he is there listening, staying out of the way, and he was just positive. He'll just roll with you. In the old days, we'd be drinking lots of Modelos together and just whatever. And now, I don't drink anymore and he still does. What are you going to do?
Like so many other people, you've been in the cycle of album/tour/album/tour for years. What was it like just to be home with your family, chilling, without anywhere to go for such a long span these last couple of years?
It was actually totally great and it's still great. Needed it. We've always been close, but I don't know, it was what needed to happen for me.
What do you mean? Why did it need to happen?
Well, I could feel it coming on anyway, but it would've been weird. I wasn't necessarily happy. I was not happy constantly just ping-ponging and just traveling nonstop. It went past that. I think we were just traveling, even not touring. And I wanted to stop anyway. I was planning to do some version of that, but easier said than done. You get an offer, you agree to all these things. Me personally, I needed some kind of reset. For sure, I wasn't happy.
In what ways did you reset? Did you kind of take more walks in the woods, read some books? What did that look like?
I would do that as much as I could anyway. I'd be writing music all the time or reading or just be with the family. Do what needs to be done. But ultimately, it's living normal life.
On the first track, "Goin On A Plane Today," you sing about opening up for Neil Young. What would a young Kurt Vile think about realizing a dream like that, if we went back 20 years, 25 years ago?
That's exactly what I say in the song. I say, "Imagine if I knew this when I was young too. I mean, I liked Neil Young back in my teens, but I got obsessed in my 20s at some point similarly. I loved his music anyway, but then you read [Jimmy McDonough's biography] Shakey and then you realize, he's the God. He's God.
You have a tendency to record long on some songs. "Exploding Stones" for instance is a seven-minute song. "Wages of Sin," is a seven-minute song. "Bassackwards" off Bottle It In is another great long jam. When you're feeling it, what's the point where you realize it's time to hit the stop button?
Well, honestly, a lot of times I don't necessarily know when to stop. I just keep going because I'm feeling it. I think it's also my personality. I don't think everybody can pull it off and some might argue that I can't always pull it off. That's fine. But I think "Bassackwards", I just was locked in the groove and going for it. I mean, I could have cut some out of that song, but I just didn't end up doing it. Same with "Bottle It In," that's my favorite long song of mine. I didn't know it was going to be that long either. I was just trying to make sure I got all the lyrics right. It's hard to get rid of stuff sometimes if you're feeling that. I think it's also just my personality, you know? I don't even know if everybody could pull it off.
"Ramada Inn" off Psychedelic Pill?
My bandmate, Kyle, that's his favorite. He played that a lot on the Bottle It In tour. I would say subliminally, "Like Exploding Stones," when I laid it down with a demo, it sounds exactly like the recording of just me strumming and singing it. I say subliminally, there's some Psychedelic Pill influence in that song as it were.
I gotta ask you about the cover art for this album. You're wearing the alligator mask. I believe it's your two daughters sitting there beside you. How did you end up choosing to go with that image?
It had just been Halloween and I was really enjoying the fact that I was home two Halloweens in a row. It seemed like in particular, I'd always be on the road during Halloween. My daughter, Delphine, she was really pushing me. She's like, "You got to figure out what you're going to be for Halloween." And, I was like, "I don't know." Finally, we decided on this alligator. She picked out the mask, it showed up, and then I went out.
I was excited because I was going to work with Geoff Gans to do the art. He's done all of Bob Dylan's art since Time Out of Mind. I was like, "Well, I don't know what I'm going to do, but I do know I'm sick of every album cover looking the same. Like, this dude with long hair and a guitar, blah, blah, blah.
And then my wife went away, so I had the girls. I just had my friends take documentary footage of us going into the woods with my daughters because they were dressed up for Halloween as well. So I was like, "Well, we're going to videotape, and we'll either get an album cover or we'll get some hilarious footage of us trying to get an album cover." And it just turned out. First shot.
You've got 15 songs in this album. You also mentioned you've got another three albums worth of material perhaps in the wings? What do you think the chances are we're going hear some of that stuff in the next year and a half, two years?
I have so much material that I'm afraid I'm going to lose all that stuff and I got to get it out there. There's always stuff leftover. There's hundreds or thousands of things and it's crazy. I don't know. You'll hear some of it. You'll never hear all of it.
You've been sitting on this music for a while now. How do you feel about it now and how excited are you for people to actually finally hear these songs?
I'm always excited. I know this record is the most honest version of myself and I'm really proud of it. It's my own version of a masterpiece, but it's very raw at times. I think it's going to really just grow on people. I can't tell you how it'll do with all the feedback, but it doesn't matter at the end of the day, because I know it's solid and it's for my fans and it's for me. And it's the best I can offer.
When you say it's the honest Kurt Vile, what do you mean by that? Who is the honest Kurt Vile?
It's me, man. It's me.