If Laurie Anderson and Art of Noise had a love child, it might resemble I Speak Machine, the experimental music and audio-visual project of vocalist Tara Busch and filmmaker Maf Lewis. Thoroughly original in its own right, I Speak Machine has spent the last decade stirring our subconscious and defining the conventional, combining music technology and vintage synths with striking, can't-look-away visuals that reflect and imprint themselves on our deepest and darkest dreams.
It's saturated, cinematic and unforgettable. And bloody. Sometimes I Speak Machine gets very bloody. "Visually it gets right to the point, which is to unsettle and release," frontwoman Tara Busch explains. "The image of blood dripping and splashing is what this music looks and feels like, if that makes sense." She notes her love of horror films as a direct influence: "something like the prom scene in Carrie, the elevator hallway in The Shining…I love how cathartic, primal and theatrical it can be…There's a very satisfying, blatant element to it, it looks beautiful and unnerving, yet a lot of people do not like to look at it." Along with its score, The Shining's "atmosphere, the characters, the insanity, absurdity, the dark humor" are a constant inspiration.
The video for the title track from their new album WAR (April 22) portrays Busch under a sheet of plastic, a bright faux-hemoglobin-rich liquid reverse-dripping from her face. "I shot a very simple high frame rate video of blood dripping onto Tara under a plastic sheet," Maf Lewis says of the strategic operation rigged for the perfect splash. "I built some makeshift rigs and a contraption that fit around my camera lens out of syringes and tubes with holes poked in to deliver the blood. The video of the blood was reversed in the edit. I further separated the two shots with color. I went with a very sharp black and white look for Tara's movements, offsetting the clinical, almost science-fiction look for the slow-motion reverse blood."
For I Speak Machine, the music and the audio-visual all work together, a powerful and intentional cog, a relentless soldier for the surreal. It should be no surprise that, according to Busch, it started out as a "live-film-score-centric project," noting the influence of composers Wendy Carlos, Mica Levi, Goblin, Clint Mansell, Krystof Komeda, and John Carpenter. "There was quite a bit of filtering in of other vocal influences that shaped me more as a singer," she explains, referencing Doris Day, Peggy Lee, Judy Garland and Maria Callas. "Like me, it doesn't really have much of a grey area," Busch says of her music. "I think as I'm middle-aged Gen X, I have a lot of life experiences to pull from… So, one could say it's an industrial horror/black comedy soundtrack with 40-something era Judy Garland (if she also had a few higher octaves she could hit on a good day) at the helm. A bit demented at times, and others quite…celebratory and cathartic, yet hanging on by a thread. I like to think there's a gratefulness to it as well."
Though released in 2022, the new album, WAR, has been "brewing" for nearly two decades. "I spent the past 10 or so years pursuing film music, mainly horror and sci-fi film with I Speak Machine and before that I was in various musical projects ranging from downtempo electronica to rock/grunge (when I was in my early 20s). In the meantime, I began to struggle with depression and panic attacks and had a long-running alcohol dependency problem to face. I constantly felt like I was in the midst of an endless personal battlefield. The only way out was a sort of creative bloodletting, and it came out in a rather dense yet tongue-in-cheek manner. I think part of me feels very awkward opening up about these things in 'real life' so I feel fortunate to have music to turn to to get the lead out and keep me somewhat calibrated."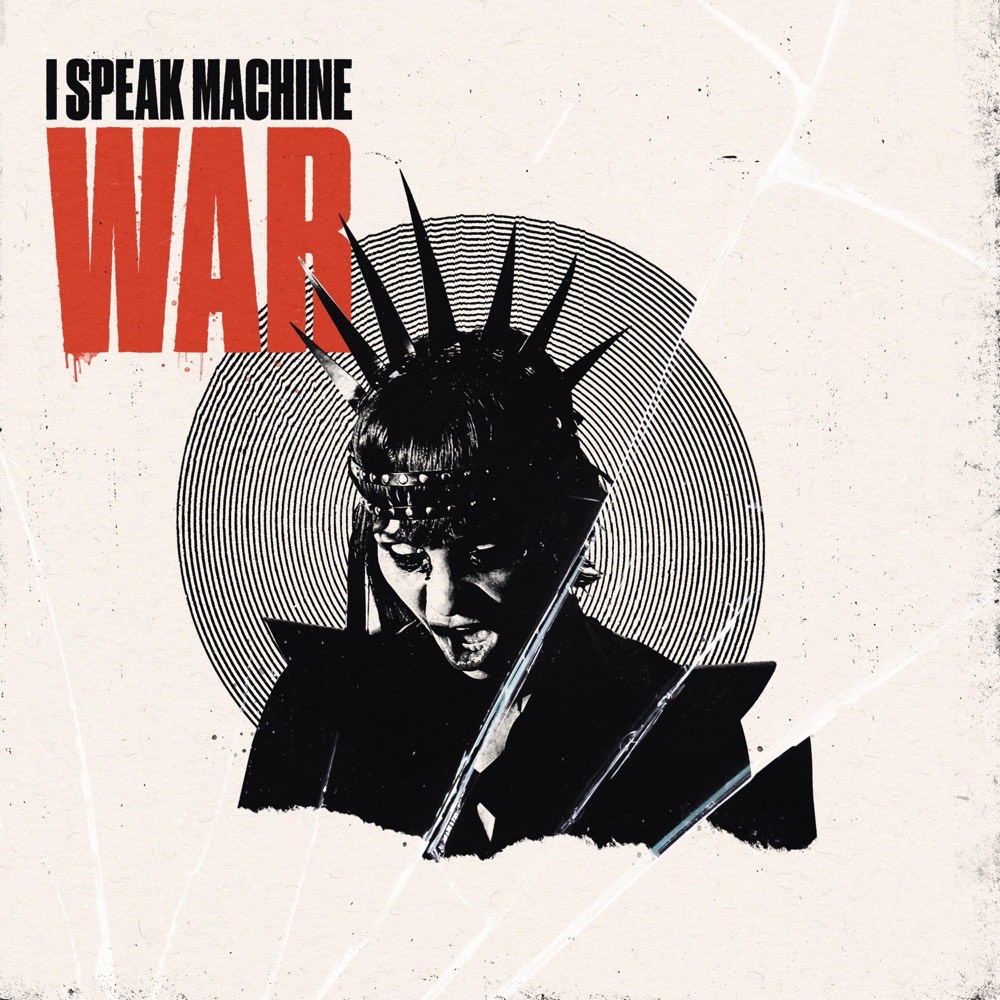 As with all true artists, I Speak Machine awakens our sleeping subconscious and helps us consider our own humanity. "The sound naturally progressed toward a sort of 'caricature' of things that were indeed very dark for me and took a very loud, aggressive and 'performable' turn. I knew I needed to be able to perform and share this — to come out from behind the synthesizers, open my mouth and sing these songs. Hence WAR. I also had no interest in producing this album alone, and did not want to succumb to the pressure that (especially) women in music have bestowed upon them — to prove they can do EVERYTHING or it's assumed they've done nothing. I know I have my strengths and weaknesses whereas I know several women that indeed do it all brilliantly. I do not. I wanted to collaborate; I knew I couldn't get there by myself." She brought in Dean Honer of I Monster and The Moonlandingz to co-produce.
The first song for WAR was "Santa Monica," the "I am just a star lyric" coming to her while riding her mountain bike in Cardiff, Wales, hoping to hold onto the lyric until she got home. "That part sort of went back into my head in a dormant state until I came across a Judy Garland performance from 1964 a few years ago which really inspired me to finish writing it," she says. "Meanwhile, I was messing with a sequence on my Oberheim TVS-1, a lovely old synth I have and realized that aforementioned 'I am just a star' vocal from so long ago would fit beautifully…and built the verses from there." Other tracks, like "The Metal of My Hell" and "Left for Dead" were developed from unused film cues.
Now, at 48, Busch describes I Speak Machine's new music as an "anthology" of where she is right now in her life. "It feels more specific to me than anything I've ever done, and also, considering the world fever-pitch level chaos right now, I wanted to give something that might bring some joy." Recently on tour with Gary Numan, someone told her she reminded them of a more dog-friendly Cruella de Vil. "So far I've had a fair share of Hazel O'Connor, Nina Hagen and Siouxsie, Goldfrapp (probably for the high notes) and Peaches comparisons, but the one I was most surprised by was a Lux Interior and a Mike Patton comparison (both exciting to me).  And one person online said my attire had rendered me an 'evil Statue of Liberty,'" she reports. She seems to delight in all of it.
Theatrics aside, I Speak Machine is a deeply provocative and personal project, exemplifying artistic freedom, extending the boundaries for all things creative, reflecting back on all of us like a thoroughly thrilling Rorschach test.
"I hope it makes people feel less alone, a sort of cocktail of joy, comfort and discomfort, hysteria and catharsis," Busch says, of her music. "At this stage in my life, I'm ecstatic and grateful that people listen and watch. It's magical."