Hot Chip are back with their first album of original songs since 2019's A Bath Full of Ecstacy. Titled Freakout/Release, the band released its first song and opening track, "Down."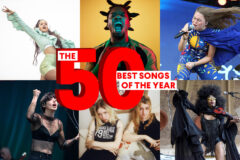 The writing process for "Down" kicked off the creation process for what would be the new record. It is anchored around a sample of "More Than Enough" by Universal Togetherness Band. The Shining-referencing video was directed by Douglas Hart and Steve Mackey.
In a new chapter of the band's discography, Freakout/Release is out on August 19 via Domino. It is Hot Chip's eighth studio album, which was written and recorded in East London. It follows their 2020 compilation album Late Night Tales: Hot Chip.
Hot Chip is performing tonight at San Francisco's The Warfield. They're currently embarking throughout North America, and you can see them at Coachella this coming weekend. The band will perform for U.S. cities until early June, and then they'll head over to the UK and Europe until October.
Hot Chip Freakout/Release Track List
1. Down
2. Eleanor
3. Freakout/Release
4. Broken
5. Not Alone
6. Hard To Be Funky feat. Lou Hayter
7. Time
8. Miss The Blues
9. The Evil That Men Do feat. Cadence Weapon
10. Guilty
11. Out Of My Depth
Hot Chip Tour Dates
April 19 – The Warfield, San Francisco, CA
April 22 – Humphrey's Concerts, San Diego, CA
April 23 – Coachella Festival, Indio, CA
April 24 – The Van Buren, Phoenix, AZ
April 26 – Mission Ballroom, Denver, CO
April 27 – Sunshine Theater, Albuquerque, NM
April 29 – House of Blues, Dallas, TX
April 30 – Stubb's Waller Amphitheater, Austin, TX
May 2 – Brooklyn Bowl, Nashville, TN
May 3 – Tabernacle, Atlanta, GA
May 5 – The Orange Peel, Asheville, NC
May 7 – Pulso GNP Festival, Mexico City, Mexico
May 9 – House of Blues, Boston, MA
May 10 – Avant Gardner, Brooklyn, NY
May 11 – Brooklyn Bowl, Philadelphia, PA
May 13 – Stage AE, Pittsburgh, PA
May 14 – Radius, Chicago, IL
June 3 – Junction 1 Summer Series, Glasgow, Scotland
June 5 – Forbidden Fruit, Dublin, Ireland
July 8 – Cruilla Barcelona, Spain
July 15 – Super Bock Super Rock, Lisbon, Portugal
July 16 – Beat Herder, Clitheroe, UK
August 6 – Wide Skies & Butterflies, Norfolk, UK
September 2 – Cala Mijas Festival, Malaga, Spain
September 21 – o2 Academy Brixton, London, UK
September 22 – o2 Academy Brixton, London, UK
September 23 – o2 Academy Brixton, London, UK
September 24 – o2 Academy Brixton, London, UK
October 1 – Tempodrom, Berlin, Germany
October 2 – Live Music Hall, Cologne, Germany
October 3 – AB Ballroom, Brussels, Belgium
October 5 – Tivoli Ronda, Utrecht, The Netherlands
October 8 – Olympia, Paris, France