It was just two months ago that Claire Cottrill was serenading a New York City crowd in the middle of a makeshift living room. The affair would have been low-key except for the fact that the indie-rock star— who goes by Clairo—was performing for nearly 6,000 people at Radio City Music Hall. "I remember soundcheck was pretty unbelievable⁠—just seeing the entire venue empty was was very intimidating," Clairo says over the phone from Seattle ahead of her show at the Paramount Theatre.
The night was a landmark moment for the 23-year-old musician who had released her sophomore album, Sling, nearly a year ago. "Coming into touring, it was really beautiful to be able to see how different songs affected people," she explains. "It still shocks me when people know the words to some of these songs even though the record has been out for a long time." She was surprised to hear fans singing along to tracks like "Wade," "Harbor" or "Little Changes." "I guess you just never know which ones are people's favorites until you tour," she laughs.
The album, released last July, was notably a departure from the singer's masterful debut Immunity. Influenced by the isolation of the pandemic, Clairo sought comfort in her family home in Atlanta. There, she leaned into the past, trying to learn more about her mother and the sacrifices she had made throughout for her family, and finding comfort in 1970s folk artists like Karen Carpenter and Joni Mitchell. "When the record was first written, and when I was first talking about it, I did think a lot of it was about—and a lot of it is still about⁠—growing pains into adulthood, raising my dog Joanie and finding new perspectives through my mom," she says of Sling. "But a lot of it, too, is about finding comfort wherever you find it—revisiting things from your childhood, having intimate moments for yourself and being able to self-regulate."
The result was a Jack Antonoff-produced record that showed Clairo embracing an even more tender sound and finding solace in the quieter moments in life. Working with the Bleachers musician helped Clairo really let go. "There are so many things I wanted to experiment with on Sling that he was all for," she recalls. "He's great at directing, but he's also great at making you feel and know that it's your record and your song. He was down to make something that he had never made before, which I think was really important for both of us. "
After having several months to sit with her personal, second album, Clairo spoke to SPIN about the significance of working with a female engineer, why she's considered stepping away from music and the impact of playing Radio City Music Hall.
SPIN: Sling came out during the pandemic and you weren't able to tour it for months later. What was it like for you to have to wait for people to hear it live?
Clairo: It was definitely different. The record was out for a long time before I even really knew how it resonated with people, which I think was a different experience than my first record. I had my idea of what songs people would gravitate toward, and I was completely wrong. It's a really cool thing to be able to see how some of the slower songs or some of the songs that I thought people may not care as much about are sung back to me so loudly every night.
I felt like your setup for the Radio City show was so interesting. It felt like a living room.
That's what we wanted! I'm glad you felt that way. Turning the stage into this living room was really important to the sound because I wanted it to feel comfortable. I wanted the show to be surrounded by comfort, understanding and softness. The rugs that we added are all really beautiful, and playing the piano was a new thing for me, which feels really intimate because I'm learning it as I'm going. The lighting is very similar to the lighting that I have in my own living room. A lot of it was just reconnecting back home. That's why it was really important.
That's definitely like something I really loved about the show. You've previously discussed the possibility of retreating from music. After releasing Sling and touring it, is music something you still want to stick with?
That's something I'm thinking about a lot of late. I do think that going back into touring really did change my perspective. Maybe being away from shows for so long and not having that human connection added to my feelings toward leaving. But I do think that eventually I'm gonna have to pull away. I love making music and I think that's something I'm gonna always be doing, but I think "being" or "having" Clairo as a career is something that I don't know if I want forever. There's a lot of things I need to learn about myself in terms of what other things I'm good at or what other interests I have. I don't know if it means leaving forever. It may just look like a long break. But I think that it's important for me to find other things that complete me because music has been everything for so long that I sometimes wonder what else like I offer as a person. and I think that's okay. I think it'll more so just look like a long break because I really do enjoy making music and touring and having that connection. It's also healthy to want to explore other things that being a human offers. I never finished school, and there's a lot of things that I left with a question mark that I'd love to revisit.
That totally makes sense. Would you want to be behind the scenes more in music as a songwriter or producer?
Absolutely. Maybe that's where my heart lies. I don't know. But I have to try, right? I haven't really given that a clear chance, and I realized that a lot of what comes with being the face of your own music career are things that I don't know if I fully understand or love for myself right now. I've always wanted to produce for other people see what that feels like or write songs from the people. I love the feeling of being collectively a part of something, I just don't always love being at the forefront of it. But at the same time, there are ways that I can change the way I go about my own work to make myself feel more comfortable. I'm figuring it out in real-time, which is difficult.
If you weren't making music, what would you be doing?
I've always wanted to be a teacher for kindergarteners or first grade. I always remember my art teachers from when I was a kid, and I really, really loved that connection. Being a music teacher for young kids would have been really awesome.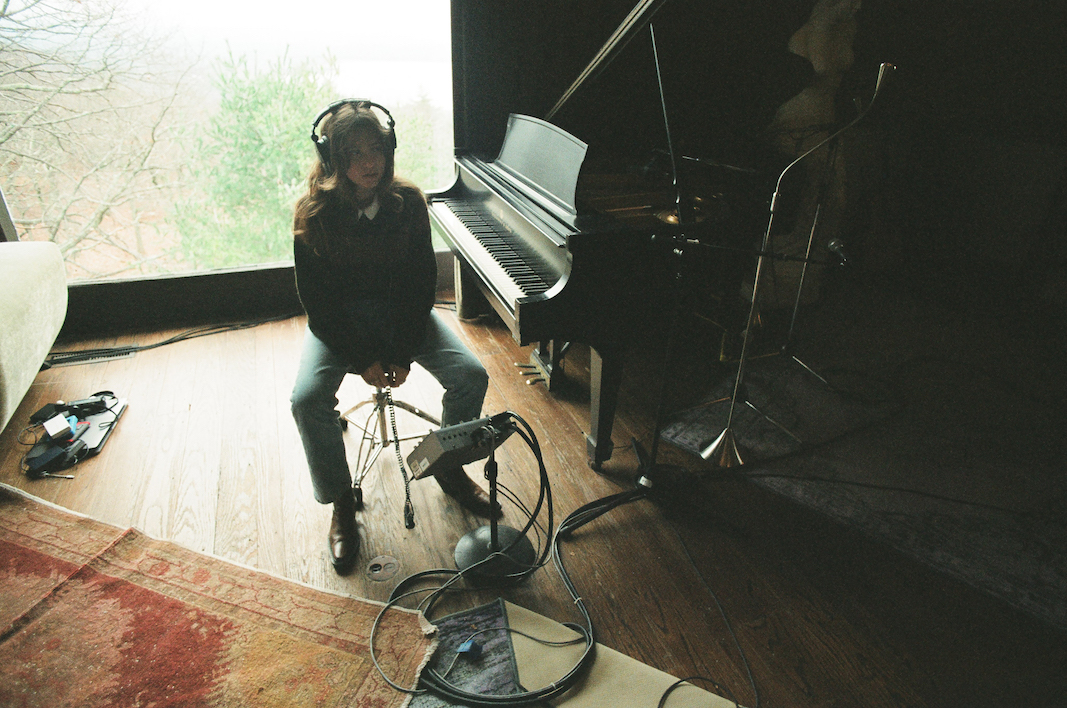 On Sling, a handful of your songs—like "Blouse"⁠—were about the harrowing experiences of working in a male-dominated industry. How do you feel like these songs changed the conversation or took a step forward against sexism and inappropriate behavior in the music industry?
I did feel that it opened up the conversation. I learned a lot through other people coming forward or talking to me about their own experiences and making connections through that common thread. I don't know if I stopped experiencing misogyny, but it was the first time I truly talked about it happening to me, which was a cool step for me. It felt good to write about something that was real in my life and is real and so many other people's lives. To have that song be the only single for Sling was a cool moment. I did feel more connected to not only listeners coming forward and sharing, but also the artist community.
Did you get any apologies after putting that song out?
Wow, that's a big question. I don't think so. But at the same time, I didn't feel like I necessarily required one in my own experience. "Blouse" was a representation of a lot of small experiences. It wasn't necessarily about anyone in particular, so there was no one to really look at or expect an apology from. It was mainly about small experiences that women do experience in music. I felt like writing was my own apology to myself for what I had experienced or what other people had experienced.
You worked alongside Laura Sisk on Sling. What was your experience working with a female engineer? There are so few that get spotlighted.
It was so amazing. I've only worked with two female engineers this whole time, and Laura was one of them. It was so wonderful to have another woman in the room. It made me feel understood. It made me feel closer to the work. She's so clear and concise but also so kind and empathetic. When we were tracking vocals together, Laura would teach me how not to apologize after doing the wrong takes or messing up. She was just very open-minded. It was really comforting.
Why was it so important for you to have a female engineer working with you, especially on this record?
Well, Jack [Antonoff] works with Laura a lot. So, Jack had brought Laura up to the studio. Laura and I had met a couple of times before that. It was just a totally new way of experiencing recording music.
How so? How did she make you feel more comfortable?
Just her overall energy. She's really kind and understanding. It does help to have another woman in the room when you are writing about primarily female or female-identifying experiences. It just helps. She can nudge you along your own insecurities with it. She can help you feel more confident when you are singing or tracking vocals or singing with emotion about something personal. It adds a softness to the room and a really strong bond. You have to trust the person that you're working with so much. Especially with engineers, that trust and that bond is really important. By the time you've worked together for so long or for a month, you don't even have to say "that take was the right one," they just know. That unspoken energy is just very clear with working with a female engineer.
What did you learn from working with Jack?
He is so funny. When we started working together, I was really intimidated, of course, by his track record and everything that he works on and his level of success. I was nervous that I wasn't gonna meet a certain standard. But he's so down to earth. He's very free and open about whichever way a song can go, which made me feel comfortable. He cares about it just as much as you do.
Have you started writing new music yet or thinking about the direction the sound will take?
Totally. I mean, I say I'm taking a break and then I start writing again. So, I don't know when this break is ever gonna truly happen. But I have started, and it feels so good. I think it's gonna end up being a blend between the first two records, which feels right. But I'm also going to let this one simmer for a bit. Both records kind of exploded in time. They haven't taken very long, so I want to see what it's like to take a long time with a record⁠—or at least a longer time with it. But I think taking a longer time may just be the type of break I'm looking for.