In a recent scouring of '70s archives, Minneapolis' WCCO television station unearthed a compelling video with an all-too-familiar face — an 11-year-old Prince vouching for higher pay for educators.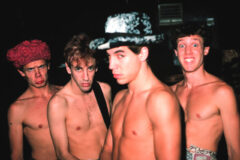 The station's production manager Matt Liddy came across the clip while reporting on a recent teacher's strike that occurred in the city earlier this year. When Prince's small but notable face appeared, Liddy asked his co-workers, "I'm not gonna tell you who I think this is, but who do you think this is?" The news team brought in a specialist to restore the video's audio and footage plus a historian along with a childhood friend of Prince to confirm that the young star was in the video.
"I think they should get a better education too cause, um, and I think they should get some more money cause they work, they be working extra hours for us and all that stuff," the young Prince says in the video.
Prince was attending Lincoln Junior High School when the video was shot in April 1970.
In other Prince-related news, the artist's estate announced last week that they're releasing a live show of his from 1985. The set, which took place in Syracuse on the Purple Rain tour, is one of the best of his career.