"A little bit stunning, a little bit shocking, a little bit funny, and a little bit heartfelt." That's how drag and recording artist Alaska Thunderfuck 5000 describes her music, and how we would also describe her–only putting 'heartfelt' at the forefront. In completing her 5 Albums I Can't Live Without feature with us last year, she said she's best known for "being from outer space," and with her meteoric rise to media fame, we're believers. This glorious superstar's yet-to-be-released fourth studio album Red 4 Filth teased us with several pre-release singles, including the early-2000s rave-inspired "XOXOY2K".
Of all of the songs on her new album, she tells us that "22," written by Jay Stolar, JBACH, Chester Krupa & Justin Honard (aka Alaska), is the most personal. "We wrote it as a letter to what I would say to my younger self," she tells me. "To hold on and not give up. When we were writing it we were all weeping." Alaska's 2021 memoir, My Name's Yours, What's Alaska?, powerfully details the highs and lows of her life, including those challenging early years.
Her early 2022 tour was postponed until this fall, now officially kicking off on October 25 in Orlando, Florida. "I love the die-hard fans who are at the very front of the house," she says. "They have fought for those spots–they get there the earliest, they wait and maintain their position, even when being pushed or squished or trampled, and forego getting drinks or bathroom breaks to be right up front the whole show. I love them."
The "Red 4 Filth Tour" is sure to reflect the performer's fun, edgy, wow-factor style. Her favorite song to perform live is actually not her own—it's "I Have Nothing" by Whitney Houston. "Because she says 'There's nowhere to hide' and I pronounce 'hide' as "Hieeeeeeeeee'd," Alaska explains.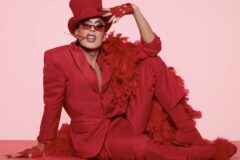 Being on tour is all fun and games—until you try to order takeout. "I miss my regular food places I order from," Alaska tells me. "Being in a new city hoping the Thai food is good is always rolling the dice."
Tickets for Alaska's upcoming first-ever headlining tour are on sale now.
Here's a day in the life of the one and only Alaska.
Date  February 22, 2022
Time I woke up  7:30 a.m.
Every day starts with  Espresso and Metamucil.
Breakfast consists of  Espresso and Metamucil.
To get going I always  Watch The View.
I don't feel dressed without  Jeans.
Before I start working I must  Get a sparkling water from the fridge.
Currently working on  Graphic design ideas for upcoming things. And trying to answer my email.
But I'd really love to be  On a beach in a speedo.
Book I'm reading  I'm not reading any books, but I listen to a lot of podcasts.
I don't know how anyone ever  Reads a book.
If I had to play one album on repeat, it would be  Britney Spears' Oops!…I Did It Again.
The perfect midday consists of  Ordering Veggie Grill.
To help get through the day I need  Water. Music.
Not a day goes by without speaking to  My bestie Nick.  We enjoy cold calling each other on Facetime.
My daydreams consist of  Really long hair and really long eyelashes.
In a perfect day, in a perfect world  I am focused, well adjusted, and feel supported.
I'll always fight for  People's right to do nothing.  Sitting still and doing nothing is extremely important.
Currently in love with  The Gilded Age on HBO Max.
Hoping to make time to watch  The rest of The Real Housewives of Salt Lake City.
By my bedside I always have  An oil diffuser.
To help get through the night I love a heated blanket so there's no cold sheets when I get into bed.
Bed time  10:30 or maybe 11:00 if I'm feeling crazy.
When I think about tomorrow, it's always  Lovely.