Last night, the music world was stunned by the news that Taylor Hawkins died. The Foo Fighters were scheduled to play a headlining set at Festival Estero Picnic in Bogotá, Colombia at the time of his passing. Instead, the stage was lit with hundred of burning candles while the words "Taylor Hawkins Por Siempre" shined on the big screens.
Foo Fighters confirmed his death on social media and artist tributes quickly poured out throughout the night.
"The Foo Fighters family is devastated by the tragic and untimely loss of our beloved Taylor Hawkins," the statement said. "His musical spirit and infectious laughter will live on with all of us forever. Our hearts go out to his wife, children and family, and we ask that their privacy be treated with the utmost respect in this unimaginably difficult time."
A cause of death has yet to be revealed.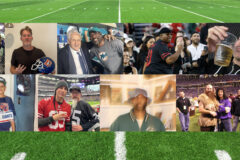 The drummer's final show was just three nights prior, at Lollapalooza Argentina. The band tore through their hits and once again welcomed Perry Farrell onstage to cover Jane's Addiction's "Been Caught Stealing," but in retrospect the highlight was undoubtedly when Hawkins switched places with Dave Grohl and sang Queen's "Somebody to Love."
"I fuckin' love Dave Grohl, man," Hawkins told the crowd before the song began. "I'd be delivering pizzas if it wasn't for fuckin' Dave Grohl. I'd be managing the drum department at a Guitar Center if it wasn't for Dave Grohl."
Watch footage of the full, two-hour-plus set and check out the setlist below.
Foo Fighters Lollapalooza Argentina Setlist
Times Like These
The Pretender
Learn to Fly
No Son of Mine
The Sky Is a Neighborhood
Shame Shame
Breakout
My Hero
These Days
Walk
Guitar Solo / My Generation / Keyboard Solo / Gonna Make You Sweat / Blitzkrieg Bop (band introductions)
Somebody to Love (Queen cover w/ Taylor Hawkins on vocals)
All My Life
Run
Wheels
Best of You
Been Caught Stealing (Jane's Addiction cover w/ Perry Farrell)
Monkey Wrench
Everlong