In late 2018, Rosalía captivated audiences with El Mal Querer, her breakthrough album where she gave flamenco music a modern pop twist. Since then, the Spanish singer-songwriter has performed around the world and expanded her sonic palette. In her follow-up, MOTOMAMI, she changes lanes and subverts her pop and flamenco roots with global sounds like reggaeton and bolero, all while reflecting on her newfound fame. Those who wanted another full flamenco affair like El Mal Querer might be disappointed, but MOTOMAMI is an exciting detour where Rosalía flexes her seemingly limitless artistry across 16 tracks.
MOTAMAMI is split between an aggressive MOTO side and a vulnerable MAMI side. Rosalía rips into the album with the scorching "Saoko" — in which she interpolates "Saoco" by Puerto Rican reggaeton pioneers Wisin and Daddy Yankee into a cyberpunk anthem that includes a jazz breakdown. "Drag queen makeup, I transform," she declares in Spanish. Rosalía also alludes to drag queens in the funky "Chicken Teriyaki," which also brought her countless new listeners when performed live on SNL last weekend.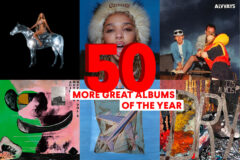 In some ways, MOTAMAMI could very well be like Rosalía's drag persona, enabling her to live larger than life when she pleases. Like her drag makeup, the over-the-top album is co-produced by the singer and Noah Goldstein, who worked on Kanye West's My Beautiful Dark Twisted Fantasy. Much like Ye's 2010 album, Rosalía's new release comes as she hits a point in her career where it's virtually impossible for her not to reflect on her own success at least a little bit.
Rosalía has reached a level of fame where the controversial sex icon known as the green M&M recreated the El Mal Querer album cover on packages of the candy. In the quirky bachata track "La Fama," she grapples with the toxicity of her fame alongside The Weeknd. "Fame's a lousy lover and won't ever love you for real," Rosalía muses. As a part of that fame, she's been criticized by flamenco purists for helping to popularize the genre with her fusions and flamboyant style. On the most flamenco-heavy track on MOTOMAMI, "Bulerías," Rosalía takes a stand and defends her position. "I'm as much of [flamenco singer] when I'm wearing a Versace tracksuit," she belts, channeling her flamenco discipline into an empowering moment of resistance.
Even the MAMI side of the album still has a bit of her signature edge. Both worlds collide in the hypnotic "Diablo," where reggaeton beats meet flamenco melodies. In singing about the fickleness of fame (once again), James Blake glides in as a voice of reason. With the industrial banger "CUUUUUuuuuuute," the cyber bounce is interrupted for a moment for Rosalía to plead to the late Princess Diana to "take [her] away from here." Then there are the ballads on MOTOMAMI — like "Como Un G" and her cover of Cuban icon Justo Betancourt's "Delirio De Grandeza" — which are both breathtaking with Rosalía's emotive performances.
Perhaps the most striking song is the finale, "Sakura," where Rosalía has her "Don't Cry For Me Argentina" moment. Her haunting voice soars over a roaring audience as she ponders the price of fame. "I'm in this to break things up, and if I break with this, then I'll break," Rosalía proclaims. It caps off the surreal experience of MOTOMAMI with the innovative fusions and experimental studio effects throughout the album. If El Mal Querer put her on the map, the singer's third album clearly shifts Rosalía's music career into the next gear and speeds toward a future where pop music isn't defined by one language.