The Red Hot Chili Peppers will join peers such as Pearl Jam, Bruce Springsteen, Tom Petty and the Grateful Dead with the April 1 launch of their own dedicated SiriusXM channel, "Whole Lotta Red Hot." Broadcasting from channel 315, the station will kick off with the band's track-by-track commentary about their new album, Unlimited Love, which arrives the same day.
Later that day, the channel will feature a previously unaired 2006 concert from the Forum in Inglewood, California. And at some point in 2022, the Chili Peppers will play for the first time at Harlem's famed Apollo Theater as part of SiriusXM's Small Stage series. The show will be open only to SiriusXM subscribers and Pandora listeners, and will also be broadcast live on "Whole Lotta Red Hot."
Channel listeners can expect to hear music from throughout the Chili Peppers' nearly 40-year career as well as selections from other artists and influences "personally curated by the band," including Fugazi, Parliament-Funkadelic, Iggy Pop, Stevie Wonder and Prince.
"We yearn to shine a light in the world, to uplift, connect, and bring people together," the Chili Peppers said in a statement. "Each of the songs on our new album Unlimited Love, is a facet of us, reflecting our view of the universe. This is our life's mission."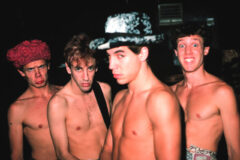 As previously reported, Unlimited Love is the band's first album since the return of guitarist John Frusciante, who was absent from the Chili Peppers from 2009-2019. It was produced by longtime collaborator Rick Rubin.
"When we got together to start writing material, we began by playing old songs by people like Johnny 'Guitar' Watson, The Kinks, The New York Dolls, Richard Barrett, and others," Frusciante said. "Ever so gradually, we started bringing in new ideas, and turning jams into songs, and after a couple of months the new stuff was all we were playing. The feeling of effortless fun we had when we were playing songs by other people, stayed with us the whole time we were writing. For me, this record represents our love for, and faith in each other."
The Chili Peppers begin an extensive world tour June 4 in Seville, Spain. A North American stadium leg gets underway July 23 in Denver, with support from such acts as Thundercat, The Strokes, St. Vincent and Haim.