The new Red Hot Chili Peppers album is out next Friday. As a final preview, the band shared "Not the One," the third song to be released from Unlimited Love. Opening with spacey keys and slide guitar (presumably courtesy of John Frusciante), "Not the One" is unlike any Chili Peppers song released in recent years. It's a tender, delicate ballad (and yes, they've released those before), but this one has a pretty linear pace.
So far, the Chili Peppers have released the rollicking "Black Summer" and funk-laden "Poster Child" from Unlimited Love. The album sees the band reunite with Frusciante, who left the band for the second time in 2007. He was replaced by Josh Klinghoffer, who remained with the band until 2019. Klinghoffer went on to release several albums as Pluralone and currently tours with Pearl Jam.
Unlimited Love also sees the band reunite with Rick Rubin for the first time since 2011's I'm With You.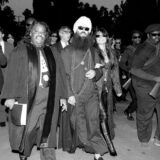 Red Hot Chili Peppers' Unlimited Love is out on April 1 through Warner Records. The band will be touring in Europe and hitting stadiums in the U.S. this summer.
Red Hot Chili Peppers Unlimited Love Track List:
Black Summer
Here Ever After
Aquatic Mouth Dance
Not the One
Poster Child
The Great Apes
It's Only Natural
She's A Lover
These Are The Ways
Whatchu Thinkin'
Bastards of Light
White Braids & Pillow Chair
One Way Traffic
Veronica
Let 'Em Cry
The Heavy Wing
Tangelo