In early 1993, L.A.-based photographer Loren Haynes (and his Mamiya RZ 67 camera) checked into New York City's Paramount Hotel, the same one as Lemonheads frontman Evan Dando, hoping to bond with the musician before their cover shoot the next day.
"I always try to arrange private time with the artist, get to know them, on a personal level, let them know how I work, listen to any trepidations they may generally have about being photographed," Haynes explains. "Looking back now, Bob [Guccione, Jr.] often seemed to assign me these covert shoots, where he wanted to have the images be titillating, controversial, indecorous. This was one of those."
The subjects were Dando and actor/model Adrienne Shelly. She, already a well-established muse and certifiable indie-film darling. He, about halfway between his fifth and sixth studio album releases (It's a Shame About Ray, June 1992 and Come on Feel the Lemonheads, October 1993). Dando would have been turning 26 by the time the April issue hit newsstands, Adrienne was a year older.
But the real subject lay in the cover line: "'S' is for Sex in the '90s," as part of SPIN's special eighth anniversary issue, featuring the A –Z of Alternative Culture.
"I met with Evan in his hotel room the evening before the shoot," Haynes recalls. "Evan was immediately very friendly and open. I work very organically when shooting and try to get to a place with an artist where they not only feel comfortable with me, but so they get a sense that I care about them, beyond just taking their photo. We spent at least a couple of hours in his room. He picked up his guitar and played some new material he was working on and we're just two dudes hanging out sitting on a hotel bed chatting, playing music, and talking about kissing girls for a SPIN cover shoot. It was very '90s rock 'n roll."
Yes, the kiss was very '90s rock 'n roll. And in case you were wondering, very planned out, on all fronts, especially when it came to Shelly and her comfortability. "The following morning we would have two women coming to the set who I needed to also be comfortable and game," Haynes says. "My lasting impression of Evan was his warmth, ease, and I was humble and grateful for the opportunity to work with the Lemonheads."
Haynes was thrilled to work with Shelly, but unsure if, in the end, she'd be willing to kiss Dando, so he'd hired another model, a backup, just in case. "Oh tongue, did I mention tongue?" Haynes says. And not just tongue, but "sloppy kiss Evan Dando for as long as it takes to get 'the' shot."
How did Shelly handle it? "Adrienne was amazing!" Haynes exclaims. "She was unpretentious, warm, funny, and the consummate actress she was. From the moment she entered the set, that was her," he says. "I explained to Adrienne what I was after and what we wanted the cover to represent and that was it; she got it and she went with it. Evan was also very sensitive and thoughtful with Adrienne and think she had to coax him on to get a little more raunchy. He was understandably tentative and protective with Adrienne, which I am sure she appreciated. But Adrienne knew exactly what I wanted and how to get it. It took a good amount of time to get the shot and that gave us some dark humor moments to help lighten up the action and time involved in getting the shot as we tried lots of different approaches." As the kiss was always planned, Haynes scheduled the model to shoot with Dando first, and for Shelly to come later. This way, if Shelly was adverse, he'd have his cover no matter what. But in a strange twist, the backup model specifically hired to kiss Dando—refused to kiss him.
"As for Evan," Haynes notes, shifting gears. "He would have tongued a horse if we had one for him."
"In the end, Adrienne saved the shoot. Of course, she was who we wanted on the cover with Evan. 'Sex in the '90s' with two perfect symbols of the time and the SPIN brand." He notes that Adrienne's tragic death, along with the passage of time, gives this particular photo new depth and meaning.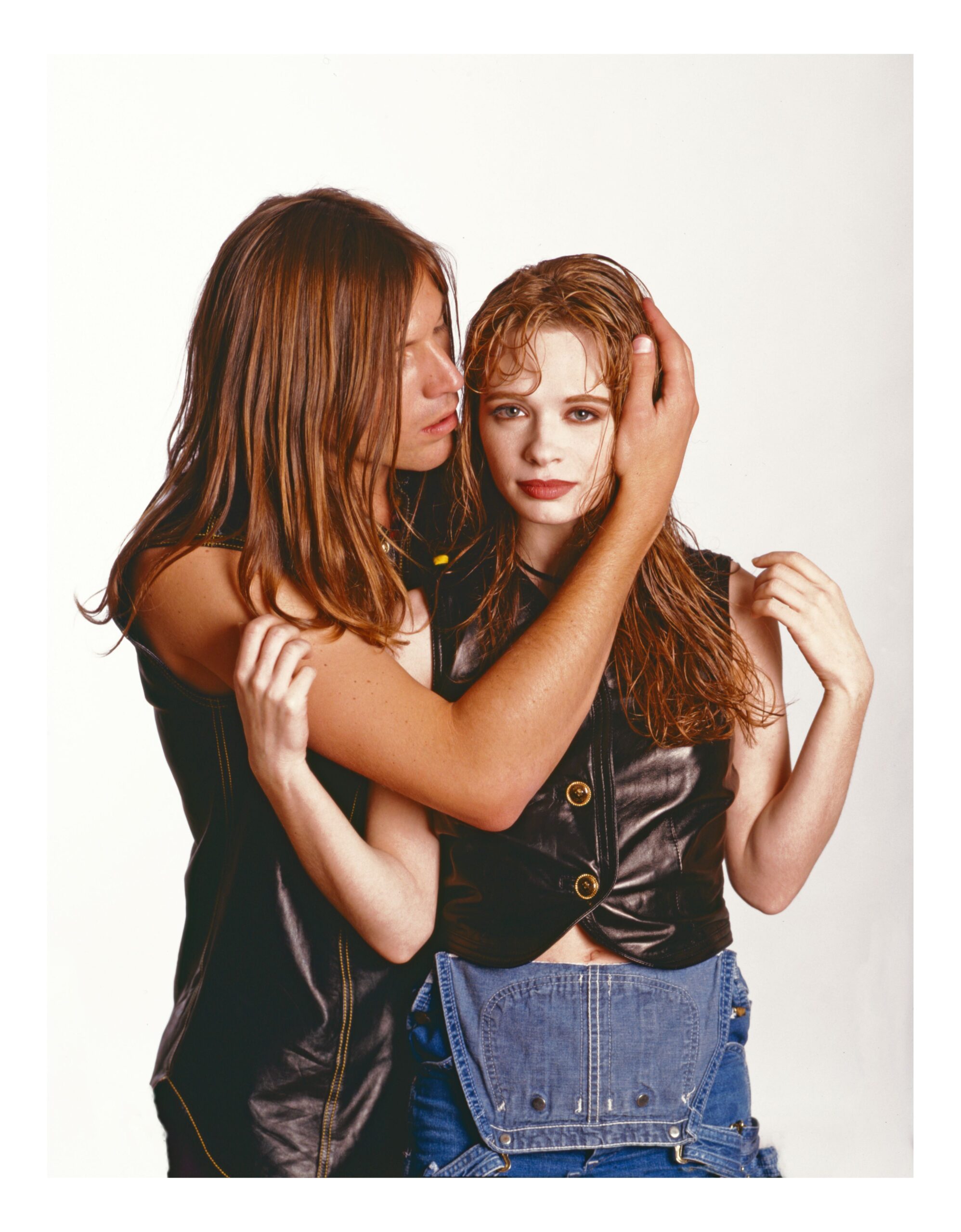 After nearly three decades, Haynes acknowledges that this particular cover photo and its process exists in its own time: Things have changed. "But, they have changed in two distinctly different directions," he says. "In regard to both women and men today there is much more proliferation and acceptance in presenting oneself in a manner that was once more reserved, for the purpose of marketing one's brand in much more sexually suggestive imagery, allowing for as much nudity as a given outlet would allow. It's great clickbait. That wasn't the case in the '90s. Now, it's pretty much expected through all genres, by handlers of name artists or up and comers, and why not; sex sells. It always has. Today in the mainstream, much more than in the '90s, the body is a wonderland and is to be flaunted. It has carried, though, to the IG and TikTok users and influencers."
And if that kiss were to be handled today, it would have been handled differently. "If we were to shoot that SPIN cover [today] with the same intention we would have Adrienne much more scantily dressed, clothes hanging off her, or on the floor, if dressed at all," Haynes says.
Most importantly, today this shoot would have been accompanied by an intimacy coordinator, someone hired specifically to ensure the comfortability of actors and models in all forms of media. "There would be a lot more oversight expected in order to create that moment today," Haynes says. That oversight would include the amount of time required to achieve the perfect kiss. "But let's be clear, that was not just any kiss, they went for the kick-ass SPIN Cover Kiss."
In 1993, Shelly arrived alone, without anyone dictating her choices for her. "Adrienne was in charge of her life and her career," Haynes recalls. "In the end, maybe things haven't changed so much. We did actually treat the shoot the same, everyone on the set during the shoot was sensitive to the talent and took care of each other, in the process. It was the care, bravery, mutual respect, trust, and commitment of everyone involved that created that image, and that is what is expected today."
This may have been one of the few times Haynes and SPIN founder Bob Guccione Jr. agreed on a cover image, a continuous source of debate for the two, who'd known each other since the early '80s. "Sometimes we had different opinions on the cover shot to use," Haynes recalls. "As far as I know, I never won any of those debates, I guess he liked this one, too! And, no, he wasn't always right! On this one, we agreed."
The result was an intimate, edgy image that, inarguably, became one of the most iconic magazine covers in rock 'n roll. Haynes attributes its specialness to the naturalness captured in the moment, with credit to Shelly, noting that he finds it "sad and maddening" to refer to her in the past tense due to her brutal and senseless murder in 2006.
"In this frame, Adrienne clearly looks as if she is in control and enjoying the control and the kiss, while Evan appears hypnotized into the kiss and submission by Adrienne. Which is pretty much as it was, and naturally as it is: Woman and Man. In creating a moment like this, it can easily look and be fake. This was the true honest moment, a perfect moment of Evan's tongue as it reaches Adrienne's lip."
He adds: "And, as with the greatest rock 'n roll music, it never felt forced."
Loren Haynes is currently working on a show in Los Angeles/New York of his extensive work with Tori Amos, to coincide with her US tour. You can check out his work here on YouTube.