Kurt Vile went into the woods, literally, in the video for his latest single, "Mount Airy Hill (Way Gone)." The clip sees Vile glide on a skateboard and yes, wander around the woods showcasing his sense of humor.
The song hails from (watch my moves), his first album on Verve, that's out next month. It is his first album on the label after leaving Matador.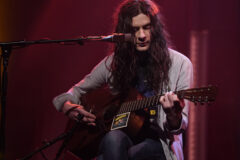 "Mount Airy Hill (Way Gone)" is the latest song to be released from the album, joining "Like Exploding Stones" and "Hey Like A Child." The song is named after the Philadelphia-area suburb where he lives and clocks in at just over six minutes.
The album was recorded at Vile's new home studio, OKV Central in Mount Airy (see the connection?). (watch my moves) was self-produced with an assist from Vile's partner in crime Rob Schnapf. The album features spots from long-time collaborators The Violators and James Stewart. Other guests include Chastity Belt, Cate Le Bon and percussionists Stella Mozgawa and Sarah Jones
Kurt Vile's (watch my moves) is out on April 15.