In a double bill straight out of the mid-2000s, Interpol and Spoon will team for the "Lights, Camera, Factions" tour, which kicks off Aug. 25 in Asbury Park, N.J. The two indie rock titans, who are both now signed to Matador Records, will be joined on the road by label-mates The Goon Sax.
Interpol has wrapped work on its seventh studio album and promises "new music is coming soon." The as-yet-untitled project was produced by Flood and Alan Moulder and is the follow-up to 2018's Marauders. Interpol has not played live since November 2019.
Spoon will be touring in support of its latest album, Lucifer on the Sofa, a top-five hit on Billboard's Top Alternative, Rock and Independent Albums charts. The single "Wild" reached No. 6 on the AAA radio tally. Earlier this month, we spoke with Britt Daniel about everything that went into the making of the album.
Beyond the new music, Matador cemented a long-term relationship with Interpol and Spoon when it acquired their complete worldwide catalog rights in December 2020, as part of a deal that also included Pavement.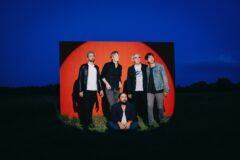 Before "Lights, Camera, Factions," both groups have their own dates on tap. Interpol's tour starts April 25 in Dallas and runs through June 19 at Holland's Pinkpop festival, while Spoon will return to the stage April 6 in Boston.
Interpol and Spoon's "Lights, Camera, Factions" tour dates:
Aug. 25: Asbury Park, N.J. (Stone Pony Summer Stage)
Aug. 26: Toronto (Budweiser Stage)
Aug. 27: Portland, Me. (Thompson's Point)
Aug. 28: Providence, R.I. (Bold Point Pavilion)
Aug. 30: Columbus, Ohio (KEMBA Live! Outdoor)
Sept. 1: Cincinnati (Andrew J. Brady Music Center)
Sept. 3: Asheville, N.C. (Rabbit Rabbit)
Sept. 6: Pittsburgh (Stage AE Outdoors)
Sept. 8: Indianapolis (TCU Amphitheater at White River Park)
Sept. 9: St. Louis (Stifel Theatre)
Sept. 10: Oklahoma City (The Criterion)
Sept. 13: Las Vegas (The Theater at Virgin Hotels Las Vegas)
Sept. 14: Paso Robles, Calif. (Vina Robles Amphitheatre)
Sept. 16: Seattle (Paramount Theatre)
Sept. 17-18: Portland, Ore. (Pioneer Courthouse Square)