"Band practice has always felt the same," swears guitarist/vocalist Wade MacNeil about reconvening with his colleagues in post-hardcore aggregate Alexisonfire. "We're just trying to make something that feels like us." After going on hiatus in 2012, reuniting for a tour in 2015 and writing, recording and releasing three new songs, the quintet spent their pandemic quarantine creating Otherness, the follow-up to their 2009 album Old Crows/Young Cardinals. "I think what we felt we owed to the fans is, if we're 'back,' then let's be back. We want people to know this isn't some nostalgia trip or victory lap. We're playing because we love it and we want to be on the road playing those songs for the people that have allowed us to do this for the last 20 years."
Of course, it's not like America ever needed to embrace the intrepid Ontario quintet. After all, the Vans Warped Tour gave plenty of domestic sing 'n' screech post-hardcore outfits a screamo clubhouse to avoid real employment for more than a few summers. (They did however play the tour in 2004, 2006 and 2009 though.) What made AOF so alluring was their trifecta of not one, but three lead vocalists. Guitarist Dallas Green is the melodic crooner that enhances the proceedings. McNeil is the gruff rabble-rouser who commands your attention, while George Petit's screaming sounds like a sociopath aiming to smash your windshield and break off the mirrors simply because he can. Add a driving rhythm section—bassist Chris Steele and drummer Jordan Hastings—and you can see how these guys inspired and enraptured listeners over the last two decades.
"I think maybe when we were a younger band, the criticisms that we got forced us to go deeper into being ourselves," MacNeil continues. "Maybe there was a little bit more 'take it or leave it' when we were younger, just trying to do the antithesis of things. Like coming into a music community that is very moody where everyone's wearing black and we bring extra lights to our shows and turn on all the lights in the hall. Or make a music video in a children's park where we're all wearing pink. So I think that there's always been a bit of a confrontational aspect, in terms of just trying to buck against these tired punk ideas that are just a dead horse."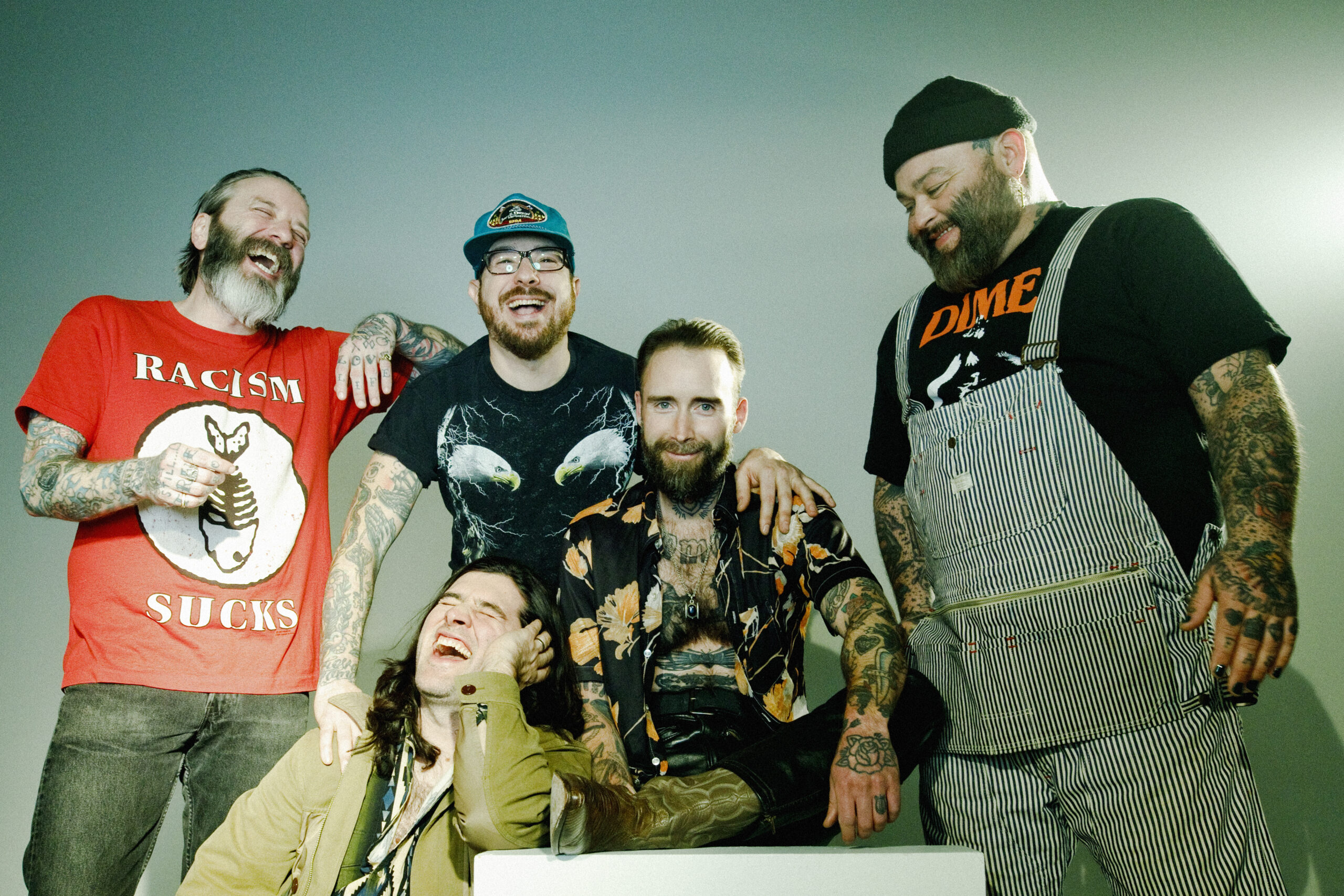 The break gave the band members the space to pursue other avenues (most notably Green's highly acclaimed City And Colour project and MacNeil's stint with Gallows), but the demand for Alexisonfire was still strong. ("One of the strange things about a band who stop playing is that you never stop getting offered shows.") When City And Colour played Riot Fest Toronto in 2014, all the Alexisonfire members were backstage hanging out, prompting Green to ask, "We're all here. Why don't we just play?" "Not long afterward, we got an offer to play next year," MacNeil remembers. "And we thought, 'Well, we almost played last week. Let's start rehearsing.'" AOF returned for a reunion tour the following year, with the joy of sharing stages and hang time inspiring them to return to their practice space to write. The early fruits of this appeared in 2019 with the harrowing nitrous-burning single, "Familiar Drugs" / "Complicit" which generated the kind of menace one usually expects from hungry upstarts trying to grow their balls in public and not 20-year veterans of the punk wars. They followed that up with the near seven-minute "Season of the Flood," a slow-moving, Green-sung effort that exudes both bombast and sadness. All of which (if you were paying attention) should prepare you for Otherness, AOF's fifth LP, slated for release June 24 via Dine Alone.
Let's do the reality check: Bands over 10 years old have the propensity to lose the plot. Given the post-hardcore community they came up through, Alexisonfire's competition isn't really other bands as much as it is themselves. The guys are keenly aware of this, which makes Otherness all the more brazen. Consider the new single, "Sweet Dreams of Otherness" where the band conjure the best essence of '90s major-label grunge and textured shoegaze that makes them the coolest guys in the room with the best record collections. Otherness also sports plenty of melodic respites ("Mistaken Information," "Blue Spade," "Sans Soleil") that won't disturb the dainty sensibilities of radio executives. And if you want to break some new land speed records when law enforcement isn't looking, "Conditional Love" and "Reverse The Curse" will jack your heart rate and your wallet at the gas pumps.
Such exercises in context and breadth reveals a great sense of humility between the members. AOF aren't the poster boys for anything except getting on with it. In a world where a lot of artists follow their accountants' leads instead of their hearts, this act feels downright incendiary.
"I just don't understand why anyone would do it," MacNeil wonders aloud. "We've been given the opportunity where people are actually listening, but what are we going to do with that? I'm going to make something that's odd and try and work with artists and people on the record that can help elevate that and push it in a different direction. The fact that someone's listening is an opportunity to do something bizarre and cool. And any band that uses an opportunity to go middle of the road? I just don't know why they're a band."
The sum of their parts and their personal friendships keeps Alexisonfire vibrant, fiery and real. With Otherness, it truly feels like the band can go anywhere without punk-police censure. They could make a record of smoov-groove soul, EDM spectacle or campfire emo singalongs recorded on a vintage MiniDisc player. Twenty years in, and they're still shocking each other. Like the time paint-peeling screamer Petit delivered one of the most gorgeous, melodic performances on the album.
"One of the most emotional, creatively inspiring moments on the record is when we're all in the studio and George started singing 'Mistaken Information,'" MacNeil recalls. "He walked into the room, did his part and it was just like all our jaws dropped. George said, 'I've always been able to do that. I've just been waiting 20 years to tell you guys.' [Laughs.] I think in Alexisonfire fashion, nothing is ever being taken too seriously for too long."