It's October 28, 2008, and 18-year-old me is roughly third in line for Against Me!'s show at the Wiltern in Los Angeles. It's the last West Coast stop of their fall tour behind New Wave, and my dorm neighbor has kindly driven me from the Inland Empire to the venue (I didn't have a car for my first semester of college) hours before doors opened, sticking around to see a band she's never heard of.
As I sip my original recipe Four Loko (I did have a fake ID my first semester of college) and avoid making eye contact with the handful of other punk kids who don't have to work on a Tuesday afternoon, the skinny kid in front of me strikes up a conversation. Frankly, I wish I could remember what he said, but here's the takeaway: His name was Pat, and he needed my help starting a mutiny as soon as the band launched into "We Laugh at Danger (And Break All the Rules)."
My objective was clear. I was to lift Pat over the barricade sometime during the drum intro between the opening guitar chord and first line — and then follow him myself. At the front of the line, an older punk (probably in his 20s, but some of us were still teenagers) looked back on us, sporting his denim jacket with a full back patch of the Against Me! Is Reinventing Axl Rose cover.
A couple of alcoholic energy drinks, hours in line and opening bands later, I was ready to do my part. I'd only really become a fan of the Gainesville punks over that summer when I got to know the band a little bit as a part of the Warped Tour, but I was already sold that singer-guitarist Laura Jane Grace, guitarist James Bowman and the rest (at that time, Warren Oakes on drums and Andrew Seward on bass) were one of the better bands in existence.
As the set moved from opener "Miami" through a guest appearance from Tegan Quinn toward its inevitable close, Pat looked over to me, each of us far sweatier and more exhausted than when we initially made the plan hours before being crushed into the metal barrier.
Moments later, that lone G chord rang throughout the Wiltern. "We Laugh at Danger" was upon us. It was time.
I reached down and interlocked my fingers to create a foothold for my new concert buddy. Our combined efforts launched his skinny jeans clear over the barrier and into the photo pit.
"It was a birthday gift of a Mexican Telecaster…"
Pat scurried up to the stage as security scrambled to get to him.
"And from this day on I will play along to all my Young Pioneers records…"
I pulled myself over the barricade amid the sudden confusion, nearly landing on my face from the combination of sweat rolling down my hands and just generally always being bad at hopping fences. As I regained my footing, two security guards were waiting to thwart my attempt — alongside the dozen-ish other fans now flooding toward the stage.
"And there will be a poetry spoken silently between me and the stereo…"
But just as it seemed all hope was lost, a black-shirted shoulder came flying in from the stage like some kind of deus ex-punk rock-ina. Bowman had entirely stopped performing to help push away security guards from other fans, and a member of their road crew ("probably John," according to Against Me!'s then-tour manager, Jordan Kleeman) had fully launched himself at the guards holding me. I took advantage of the chaos and rampant adrenaline to pull myself onstage, and soon security had relented on holding anyone back.
"Please don't hit our fans," Grace directed toward the security guards before launching back into "We Laugh at Danger."
Honestly, everything from the mutiny that night is a little blurry (Four Loko and 13 years will do that to you), but Kleeman remembers it far more vividly than I ever could.
"The fire marshal pulled the power," Kleeman says. "I would always go to great effort to educate the venues on what was going to happen because I wanted to make sure that security was going to let people up onstage. I didn't want security to ruin all the fun, and I wanted to make sure that people like the stage manager for the venue knew what to expect. 'It's cool. We do this every night. We got it. We have a whole system down. Just chill, don't lose your cool and everything will be fine.' But because the Wiltern is a huge venue, we had the fire marshal there and everyone freaked the fuck out when all the fans got onstage, so they pulled the power. I have this vivid memory of Warren finishing the song just on drums — because you can't pull the power on drums — while all the stage lights were coming on."
While the Wiltern may have been one of the biggest and fanciest venues to host an Against Me! show that ended with a mutiny either before or after the hand-clap breakdown in "We Laugh at Danger," it was far from the first. Since its 2002 release on Reinventing Axl Rose, the song has inspired well-meaning organized chaos at concerts — particularly after footage of such occurrences was included in the 2004 band documentary, We're Never Going Home.
"I wish I remembered when the first mutiny happened," Grace says. "I'm sure it was back [in the early 2000s] some time, but I don't remember exactly when. Eventually, we were like 'Well I guess we have to play ['We Laugh at Danger (And Break All the Rules)'] last because that's how people are going to react to it.'"
"It was always one of the bigger struggles as Against Me! got bigger, because we had to get security to do what we wanted them to do, and to go against all of their instincts," Kleeman says. "We had to just be like, 'Hey, remember, we're the ones paying you tonight. This is our show. You get paid by the money we bring in the door, so this is how it's gonna go.' Lots of times, it didn't go as we expected, because you definitely get lots of boneheaded people that want to take that job."
But mutinies and singalong punk rock anthems aren't the only lasting impacts from Against Me!'s debut album.
Born out of the perfect storm of punks, activists and college students that existed in late '90s and early 2000s Gainesville — thanks largely to local punk rock indie label No Idea Records and Rob McGregor's Goldentone Studio — Against Me! Is Reinventing Axl Rose (better known as just Reinventing Axl Rose) breathed new life into folk-punk, anarcho-punk and punk rock in general at a time when the genre was searching for the identity it would take into the 21st century.
Aside from being one of this writer's favorite albums and the beginning of Against Me! and Grace's near-flawless discographies, Reinventing Axl Rose remains one of the most influential releases of the 2000s — just ask any punk rock millennial or zoomer with an acoustic guitar. But it almost didn't happen.
Twenty years to the day after its initial release, SPIN spoke with all four Against Me! members who played on the album, Kleeman, producer Rob McGregor and other folks involved with Reinventing Axl Rose (although No Idea Records didn't respond to our emails) to get the full story of the album that's still speaking to punk kids today. Here's the oral history of Reinventing Axl Rose.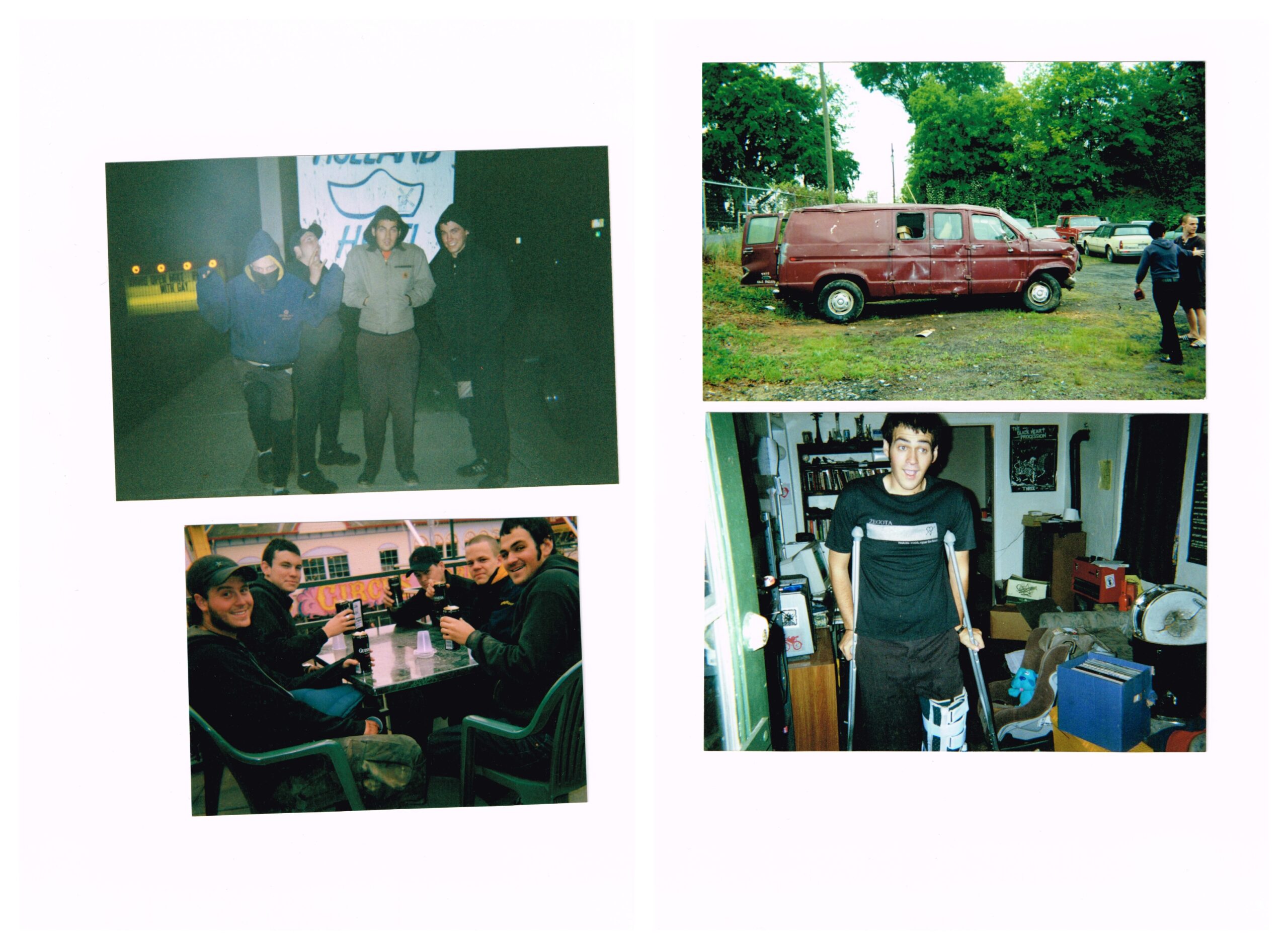 In April 2001, Against Me! (Grace, Bowman, bassist Dustin Fridkin, drummer Kevin Mahon, and Kleeman as the "unofficial" manager) went on their most successful tour to date in support of their first two EPs. But what began as a glimmer of hope toward the band's future almost ended their careers — or worse.
Laura Jane Grace (vocals/guitar): The tour we did before recording Reinventing Axl Rose solidified Against Me! into a four-piece. We had our first two seven-inches — the Crime seven-inch and the first self-titled seven-inch — and we didn't even sell shirts. We were like "Why can't we even pay for gas? What are we doing wrong?"
Dustin Fridkin (bass): My memories are somewhat beer-soaked and distant, so I could be running things together, but I believe that was the first big tour that I went on with Against Me! It was me, Laura, James and Kevin, and it was a freaking blast. It was so much fun. We were all under 21 at the time I think, so when we played in Buffalo and then bumped up to Niagara Falls, we crossed the border so that we could drink beer. We had a blast playing a show in Boston, where we stayed with this big, burly straightedge hardcore dude who was really a super sweet guy. In the morning, he came out like, "You guys want some orange juice?" We had a really fun time playing shows in Bloomington, where we we got involved in a house war between the folks we were staying with and a group of straightedge hardcore dudes. It ended up in a massive donut fight in a public park. We had a great time with a lot of the shows on that tour.
Jordan Kleeman (tour manager): That tour was a real eye-opener as far as like, "Holy shit, people really like this band." My memories of those shows themselves are so vague, but I just remember it was lots of house shows — lots of people just packed into houses and people spilling out of the doorways. It was all very DIY.
Grace: Jordan originally ran a record label called Crasshole Records, and I convinced him to move down to Gainesville and live with me on the southeast side of town as roommates. At first, we were even trying to record stuff ourselves, with Jordan as an actual player in Against Me! — like, he wanted to be the keyboard player. But bless his heart, it just became apparent that he didn't have the rhythm or the playing ability, so he took on more of a managerial role. But we were so young and naive that we didn't realize the roles we were assuming in that way. He came on tour as the merch person. Years down the road, he graduated to tour manager, and then — for a hot second — he was our manager because we realized the dynamics we should have had all along. And then it all fell apart, because bands fall apart. That's what they do.
Fridkin: You could absolutely feel that there was something building on that tour. There was enthusiasm and awareness, and all of a sudden, people that we didn't even know — who weren't even friends of our friends or anything — wanted to see our shows.
Kleeman: My most vivid memory is the end of that tour when we were on our way home. We had stopped at a drive-through — I want to say it was a Wendy's — to get french fries and sodas. We were all vegetarian, so we would just get french fries and condiment sandwiches from fast food places. We'd just gotten back on the highway in North Georgia, and I was sitting in the back next to Dustin. Laura was driving, and all of a sudden, the van just filled with light from the headlights of a semi truck right behind us. Laura was like, "Oh, fuck! I think we're about to get hit." Next thing you know, it was just a loud Bang! and we were rolling.
Fridkin: We'd spent the last of the cash that we had on hand on a big pile of fries and a giant drink from Wendy's that we were all going to share. I distinctly remember the super bright flashes of headlights coming back from the rearview mirror, and then Laura yelling "We're gonna get hit!" Then I just felt the impact and the van skidding and rolling over and over. I ducked down and grabbed on to the bar that was underneath the bench seat, and as we rolled, I felt the soda hit my back and splash all across me. And I was thinking, "Well, that sucks. I was gonna drink that." But eventually, I was just thinking, "Boy, I hope this stops soon, because I don't know how much longer I can hold on." It was a pretty surreal experience.
Kleeman: It was like you'd see in a movie, with french fries flying and floating in the air as we rolled and turned around. The semi spun us 180° and rolled us two and a half times, so we landed upside down. Kevin [Mahon], the drummer at the time, was sleeping in the loft, so every time the van rolled, he was getting crushed up against the ceiling.
Fridkin: The van ended up on its side, so we all started calling to each other just to make sure everybody was OK. Me, Laura, James and Jordan all accounted for ourselves, but we didn't hear from Kevin, who had been sleeping in the loft. We all sort of freaked out for a second, but it turned out that he had already gotten out of the van.
Kleeman: I just remember we all got up and screamed everybody's names to be like, "OK, you're alive. You're here." Then we got out and just saw all of the Crime seven-inches and equipment strewn across the highway. The biggest shocker was that there was no semi truck stopped anywhere, and I remember that it seemed like it took longer than it should have for that semi truck to come back to the scene. They did eventually come back as we were almost done getting checked out, but we were convinced that the only way you do that is if you're high on drugs or something. They never got charged with anything, though.
Fridkin: I don't know how we all made it out of that with, at worst, minor injuries. We were a little bit shook up, but we learned lessons like, "How to make sure that you use the right bolts when you install a bench seat in the back of a van" and "Remember to actually attach the seatbelts to the bolts." When you're 20 years old, you don't quite have a sense of these things — or at least we didn't. I remember driving back from just outside of Calhoun, Georgia. Friends of ours drove up with their cars and our cars, and we all piled into them and drove ourselves and what was left of our gear home. I remember riding home with James, and he was just picking little bits and pieces of window glass out of his scalp the whole ride home.
Kleeman: That accident actually led to some Against Me! songs and the back cover of Reinventing Axl Rose, so it sort of became this larger-than-life event in the band's history. But yes, I do remember coming back home from that tour. I was still living with Laura at the time, and I remember the band broke up at that point.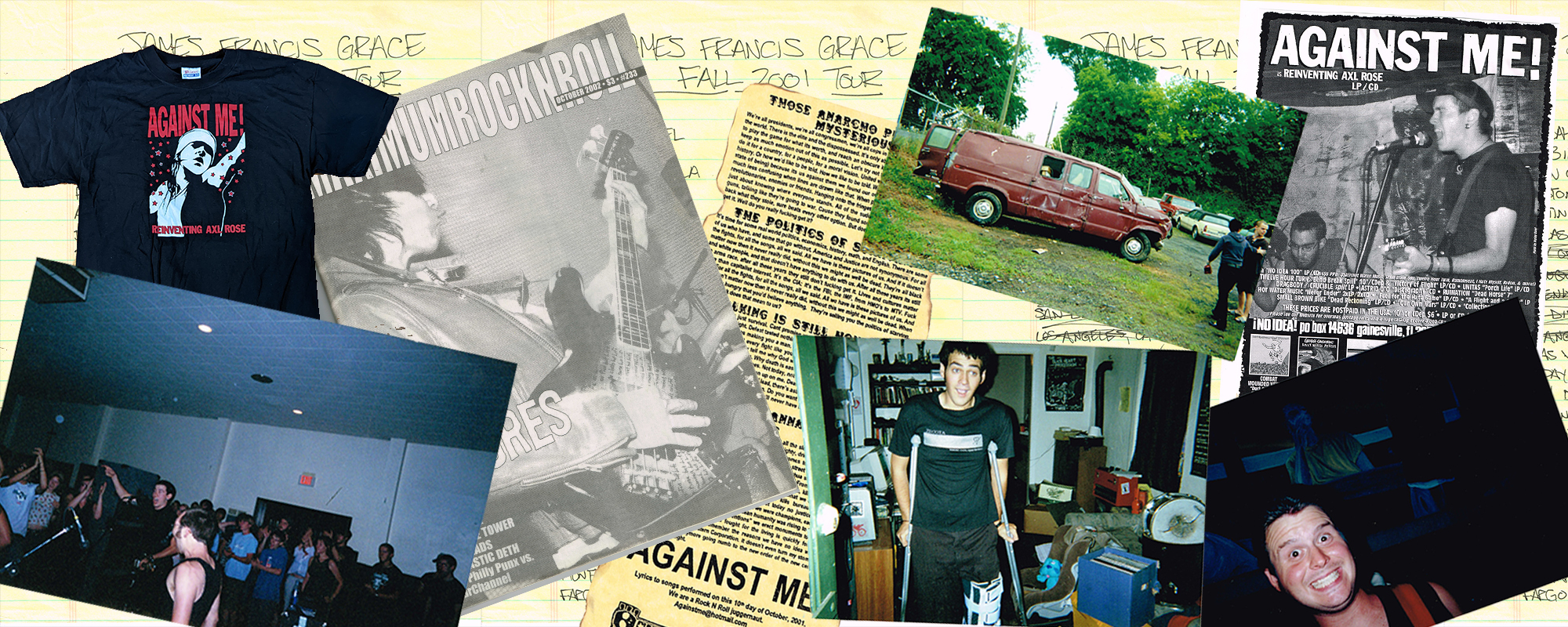 Shaken up and not sure of the future, Against Me! disbanded following the Spring 2001 tour and van crash. Never one to sit idle for too long, Grace joined back up with Fridkin mere weeks later to start playing once again.
Kleeman: Kevin wanted to go to Alaska. I want to say James went back to St. Pete. I don't remember what Dustin did at that time, but it was very short-lived. Laura's the type of person who just doesn't stop creating and doesn't stop writing.
Fridkin: I was couchsurfing in Gainesville at the time, wondering what I was going to do, since I had taken time off of college to move to Gainesville and do all of this. I just got a call from Laura, who was like, "Hey, I've got some songs. Do you want to come and play?" Those were the songs that eventually became the acoustic seven-inch. They were good songs, and it was fun to play them. I think there was probably about two weeks of wondering what the hell was going to happen when we broke up — which was mostly because Kevin left. Kevin and Laura were really the core of Against Me! at that time. I don't know how James felt, but I felt like I was just kind of parachuting into this thing that they had created.
Grace: Kevin decided that he wanted to go off train-hopping with his girlfriend, and James was working at this place called Steamers at the time. He just threw himself into working that job, because Against Me! certainly wasn't something any of us could pay our rent off of or anything. But Dustin was down to keep doing it with me, so we carried on as a two-piece for a second — just bass and guitar.
Fridkin: Laura and I had been in bands together before Against Me!, and she didn't leave the bands as much as Against Me! just went from a side project to her main thing. Then as now, Laura is an impressive singer and songwriter, and she's always had an extraordinary stage presence. Honestly, for as long as I've known her — which is middle school, and then we met James in ninth grade — she's been the most driven person I've ever known. Playing music is what she has always wanted to do, and fortunately for her, she's always been good at it. So yeah, when Against Me! broke up, that wasn't going to stop her.
Kleeman: I have this vague memory of walking over to what must have been Dustin's house and seeing Laura and Dustin playing acoustic. She was like, "Hey, I think we got something here. Let's go record these songs and do this." Most of those songs ended up being re-recorded again for Reinventing Axl Rose, but that's what led into the acoustic EP, which we put out on my label. It was just her and Dustin recording like three or four months after that accident, and at the time, it wasn't going to be called Against Me! She wanted to call it James Francis Grace after her grandfather, but the James Francis Grace name only stuck around for about a month or so. I think she quickly realized that Against Me! is her, no matter who else is there, and that nobody wanted to lose the name cache that we had already built up at that point.
Grace: When the band broke up after we got hit by the semi truck, I was unsure if I could continue under the name Against Me! I still had the songs, so I was like, "Well, maybe I'll just take it in a solo direction or whatever." If I was going to go in that solo direction, I was going to take on my grandfather's name, which was James Francis Grace. I actually played one show on the DL at this place called Eddie's Attic in Atlanta, Georgia, under the name James Francis Grace. There's a recording that exists of it where the announcer introduces me as such. But then I got bored of that setup. It wasn't fun.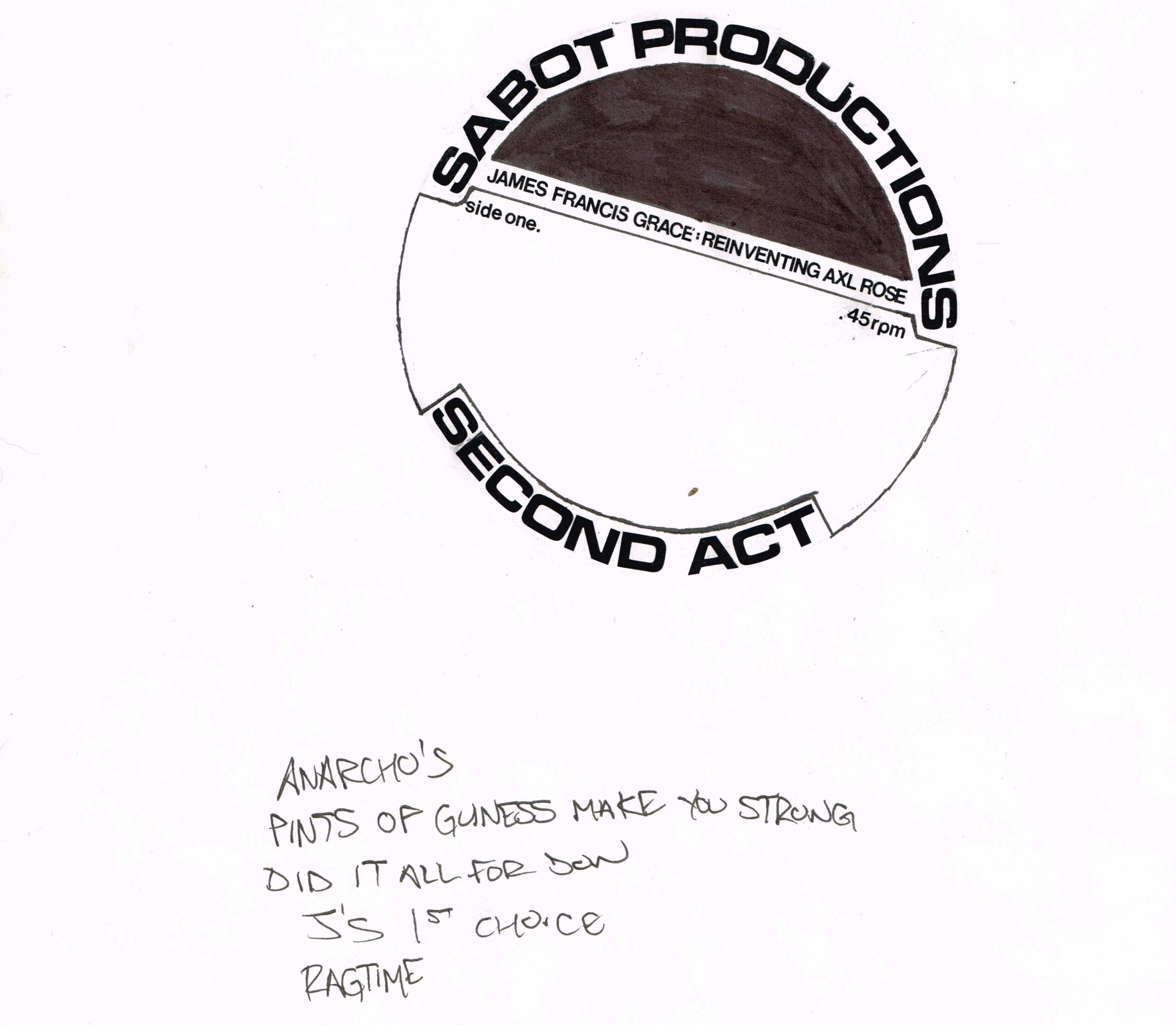 Fridkin: Laura had pretty much come up with all of the songs herself, and [I was just] trying to add bass — and I mean that on the most basic level. It was like "I'm playing a low note here at the right time." Then Laura and I just burned through those songs, made that EP, and would just drive around the southeast in my Honda Civic hatchback. We played a show in Whitesburg, Kentucky — which was a place that we'd never been before — and it was a super duper fun show with all these cool punk activist kids from southeast Kentucky with bone-deep Appalachian accents. It was just a scene that we hadn't ever seen or experienced before, and it was a blast.
Kleeman: That acoustic EP was recorded in July, and [Reinventing Axl Rose] was recorded in December, so everything came together very quickly after that. I remember Laura considered calling the acoustic seven-inch Reinventing Axl Rose, so the name was already there.
Warren Oakes (drums): I was in a band that played this punk house in Orlando called the Red and Black Shack with Against Me! when they were still with Kevin in their bucket drum incarnation. I think we also played with them at a show in Sarasota — maybe at the Monterey Deli or one of the other smaller venues. And actually, I think another band that I was in from Orlando also played a show with them. Then I moved to Gainesville and started working at Steamers with James and Kevin.
Grace: I tried playing with Warren years before — probably in 1999 or 2000 — and it was cool, but he lived in Sarasota at the time. By this time, he had moved up to Gainesville, so I just asked him if he wanted to get together and play with me and Dustin.
Oakes: Actually, I had come up from Sarasota with my drum set a while back and did an audition for Laura, because Kevin had gone train-hopping and they had the opportunity to do a tour with Submission Hold. Laura needed a drummer, and she remembered that we had played shows together. I was somewhat available — having recently gotten back from my own train-hopping trip — so I was like, "Alright, I could do that." It actually went really well, but I think Kevin made it back in the nick of time to do some of the Submission Hold shows.
Grace: We got together at my house one or two times, and I think James caught word that we were practicing. Then the next time we practiced was at Warren's house —  which was strange because it was a house that my friends from middle school and high school had lived in prior when they moved to Gainesville for college, so I was oddly already familiar with the house — and James just showed up like, "OK, if we're doing this again, then I'm doing it too."
James Bowman (guitar): I was working at a sandwich shop, and I got Warren a job there. Then one weekend, he came like, "Oh, I played music with Laura and Dustin…" I was like, "What the fuck? Dude… What?" I remember asking Laura "What's going on?" and she invited me back over to play. Then it just kind of happened. I was back in the band, and Against Me! kind of started again.
Oakes: Against Me! was playing acoustic, but they were trying to bring some more pieces in to electrify the operation a little bit. We'd kind of been orbiting because we were part of the same anarchist activist scene in Florida. I'd seen campfire renditions of a lot of the songs at May Day gatherings and Food Not Bombs gatherings, so we weren't strangers by any stretch, even when we first got together to start playing. But yeah, I just kind of found my way into the mix.
Fridkin: I knew Warren a little bit because he'd been in a couple of bands in Sarasota when I was going to college there, and I thought he was really good. Warren was a very unconventional drummer, which is one of the things that I thought would make him a good fit for Against Me! — because I thought of us as being a pretty unconventional punk rock band.
Grace: We were a four-piece again, but it was a weird spot where the band had some history, but also, we didn't really have any history. We had a couple releases that showed promise, but we felt like we were having trouble hitting our stride.
Grace: Once it solidified as me, James, Dustin and Warren, we just adopted a regular practice schedule, and we already had those songs that I had written before. I'd say maybe 35% of that record was written while I was still living in Naples, Florida at my mom's. Then 35% of it was written when it was me and Kevin. And then there were only three songs that were written by me, Warren, Dustin, and James. They were "We Laugh at Danger," "The Politics of Starving" and — I fucking hate this song title — "Jamaican Me Crazy." Most of those practices were just figuring out how to adapt those older songs into this new four-piece configuration.
Fridkin: Of the songs we put together from scratch, "We Laugh at Danger (And Break All the Rules)" is the one that stands out. As for "Scream It Until You're Coughing Up Blood [(Jamaican Me Crazy)]," I don't remember exactly how we ended up with that ska feel to it, but I feel like it was because I decided that was what the bassline should be. Laura would usually come to practice with a basic "Here are the lyrics" or "Here's what I'm thinking for a melody." She wouldn't usually dictate what the chord structure was going to be or anything like that. We would all just sort of work out the details amongst ourselves.
Bowman: Some of the structure of the songs changed a little bit to make it more like a "verse chorus verse" kind of thing. It was just one of those natural progressions. It wasn't acoustic anymore. I'm playing electric guitar, and it's loud, so there needs to actually be drums. Then drums are loud, so you need more loud electric guitar to play with the drums and keep up. It just kind of builds from there.
Grace: We really didn't necessarily know how to write in a group context. I guess we were kind of setting ourselves up for failure in a way that a lot of younger punk bands do. You expect that there's just going to be this magic moment that happens where it all gels and comes together and a song is born — and it really isn't like that. You actually have to write a song and have some intent and some direction in there. There can be magic moments, but it can be easier if you have a little more form.
Bowman: We spent a lot of time just going over the arrangements and stuff like that, but sometimes it was just Laura having a new song and then working on that. That was when we were really practicing relentlessly. It was all the time: five, six hours a day sometimes.
Oakes: It was not without its challenges. They were coming from a more stripped down, rough-around-the-edges scene in Naples, and I was coming from a sort of math rock, almost-jazz thing. There were a lot of times where I'd be like, "Oh, what if we did this weird little skippy turnaround off-time thing right here?" and they just all stopped dead like, "No. Fucking. Math. Just don't even go down that path at all." So I would play it straight, but still try to incorporate these little things. I was 20 years old and playing with these musicians who I love and playing the songs that I've been listening to, so it was a welcome challenge. But I had to wrap my head around it because they were not shy about their notes. We were all building toward bigger things, so it isn't about feelings. It was about "How do we make this song the fully realized vision?"
Grace: Kevin had a really specific, unique drum style, and we had kind of built the idea of Against Me! around his drums. A lot of the bands that Kevin and I were into at the time were like the English anarcho-peace-punk bands and the scene that was happening in Minneapolis around Profane Existence. We were really influenced by hippie-punk stuff, so he had no cymbals, no hi-hats and half of his drum set was made of pickle buckets with drum heads taped on to them. They had a really unique sound, and it worked really well for Kevin's style, but we were never going to just take Warren, plug him in behind that same style of drum set and have that same magic there. It was apparent that Warren was a great drummer in his own right, but he had his own unique style and we needed to adapt the songs to it.
Oakes: A lot of the beats that had been composed on Kevin's incredibly unique drum setup were hard to translate. If you're used to hearing it with no cymbals whatsoever, as soon as you hit a crash or ride, it's totally this thing that you're not used to in the song at all. You're like, "Well, that's not how that goes…" Percussion had such a unique role through so much of the Crime stuff that I couldn't just throw a double bass pedal on and try to match that. There was also so much intensity to it, because the way Kevin played was like a fully charged battery. He has so much energy, that it was like, "Alright, so I've got to bring it, and I've got to try to reinterpret this."
Grace: Warren had this strange Sonor Jungle kit, where the idea behind the kit was that it could collapse into itself, so it was easy to transport in like a hatchback Honda Civic or something like that. But the kit had a very unique sound that was very not punk rock. If you listen to the snare sound on Reinventing Axl Rose, it's just like, "What the fuck is going on with that snare?" That snare is bad, like on par with St. Anger's snares.
Oakes: I was traveling light at the time, so it was this little jazz travel drumset that you can telescope the whole thing up and fit every piece inside of the kick drum. I wanted to be able to sit it next to me in the seat of a car once I broke it all down if I had to. The snare for it was actually just a little wooden tambourine that had a head on the top and bottom, but it had a little tambourine jingle every time you hit it. I love that sharp crack of the piccolo snare that you hear on like Snapcase records, so I thought "Let me just get this little snare, crank it down, and it'll just cut through everything." But it's not without its charm. It's funny, though, because I did a full reaction to it, where the way that I play now — and pretty much right after that — was that I wanted my snare to sound as much like a crumpled-up paper bag as I could. I've never heard a record that sounds anything like that, though, especially with the acoustic guitar elements.
Grace: Warren had that kit, I was playing on an acoustic guitar through a Peavey amp, and James had a Les Paul that he was playing through a Fender Roc Pro solid state head and a 112 Marshall speaker cabinet. With Dustin, we were always just like, "Can you please get a real fucking bass amp if you want to be the bass player? Just get a real fucking bass amp." He had like a 115 Fender combo bass amp. So we could practice at Warren's house with neighbors close by and it wasn't shaking the foundations of an old wooden tobacco shack in Florida. But I just remember it being a joy to play, and it had such a cool vibe.
Bowman:  Warren lived in this nicer, big house, and we were just practicing in what was supposed to be the dining room. We were just kind of working on stuff, but we weren't really able to afford to record anything unless Jordan fronted the money and found someone else to step in and put it out.
Fridkin: We were getting together and playing every day working up to recording because we didn't have any money. On the eve of recording the album, the thing that was foremost in my mind was how intimidated I felt when I recorded the acoustic EP, and I was determined to not feel like that again. I wanted to be looser. That was my main focus.
Grace: We were learning a lot during that time from other Gainesville bands that were happening at the time that had more of a foothold already in touring. They were starting to get out there playing shows and putting out records before us. Gainesville had a really incestuous scene that we were kind of oddly outside of because Kevin, James and I had moved to Gainesville from Naples, so we'd just never played in any other Gainesville bands. We were kind of unique in that way, but it also kind of made us outsiders. But we did get connected with the No Idea scene, and that was when Reinventing Axl Rose happened.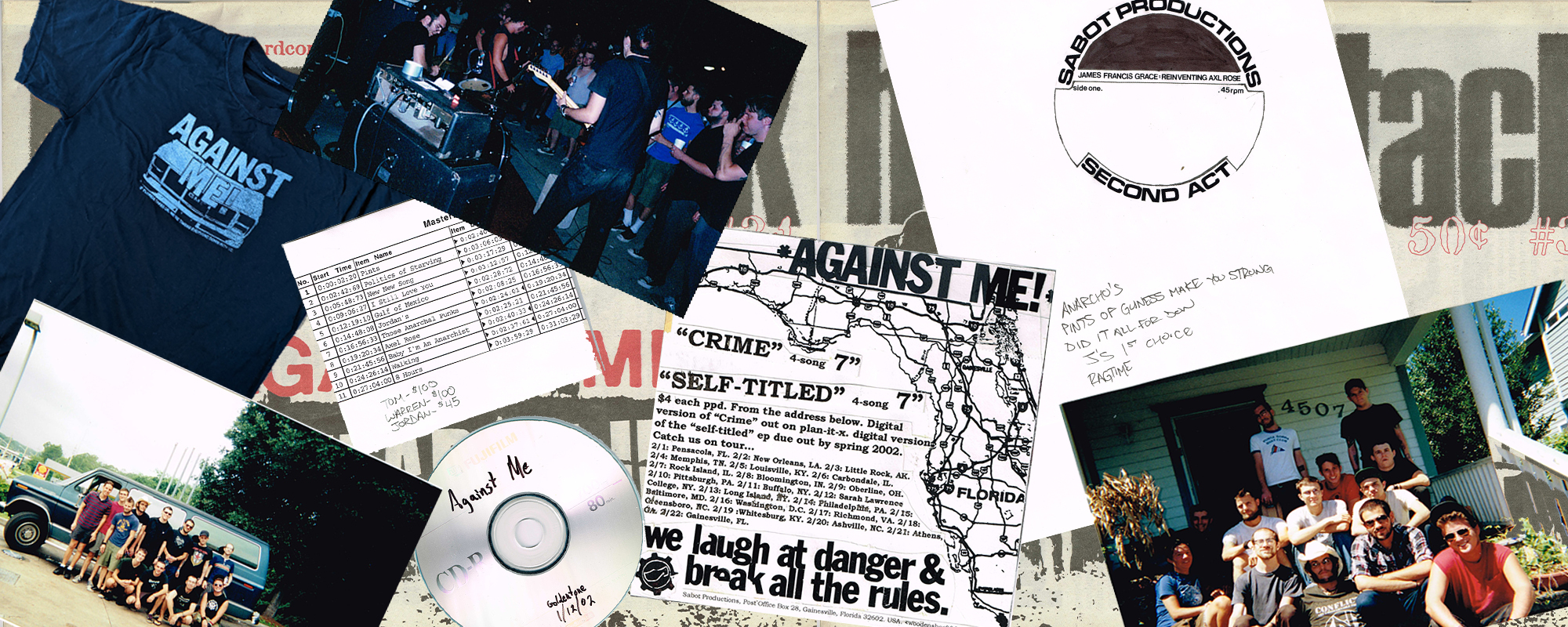 Now a solidified quartet, Against Me! began making plans to head to the studio with McGregor, the man responsible for producing many of Gainesville's biggest and best punk records. Although it wasn't everyone's first trip to a recording studio, those two days in December 2001 saw the band break new ground and shape their collective future.
Grace: We realized we had 10 songs, which was enough songs for a full-length. The whole goal was just to release a full-length LP, so we booked time with Rob McGregor, who ran Goldentone Studio. That was the studio that recorded every Gainesville band — every No Idea Records band — back in the day.
Kleeman: Rob was so great for the Gainesville music scene because he was just so willing to record any band cheaply and quickly. If you could scrape together $100, you could go into Rob's for half of a day, record some songs and get it done. Having him there was such a treasure. If you were to look through No Idea's catalog at the time, you would probably find that 95% of it was recorded by Rob McGregor.
Rob McGregor (producer): Though Against Me! was on the backside of the apex era of the Gainesville scene, Gainesville was still on fire at the time. There were so many great bands and so many records being released. It was truly amazing, especially considering the size of Gainesville. Bands would record and release full albums in [less than] 4 days, and this was happening almost nonstop. Everybody knew each other, and we were all friends. There was some competitiveness, but it was healthy competitiveness. We almost thought it was funny how good the bands here were. Unfortunately, we did take it for granted.
Oakes:  It's one of those things that was really kind of a perfect storm, like with Dischord [Records in Washington,] D.C. and Sub Pop in Seattle. With No Idea and Goldentone there, you could really affordably document the whole scene. You just get some songs together, and you can get in to get it recorded, get a press and have it in your hand without huge obstacles to make that happen. Not only was it a really vibrant scene, but it was also a really well-documented scene — and that creates a feedback loop. Bands wanted to work with No Idea and Goldentone and get in the midst of this thing that's happening. It started getting an energy of its own. Anybody can go back through [No Idea and Goldentone's] catalogs and see that it's aged very gracefully. There are some gems in there.
McGregor: The first time I met Against Me! was when they came in to record the Crime EP. They basically called me up and set up a session. I was the go-to recording guy for punk rock in Gainesville and North Florida back then. They came in with buckets and pots and pans for drums, and a beat-up acoustic guitar that couldn't be worth more than $40. I thought that was quite interesting because I always thought ideas, songs and energy were more important than fancy equipment. I consider it my job to make whatever people bring in presentable, which posed a welcome and notable challenge to me in this case. For Reinventing [Axl Rose], they came back to me with a more conventional setup, but still very unique. When I first met them, they were a scruffy and motley bunch, which I found refreshing and genuine. They presented themselves as punk rock street urchins — and like a singular gang, which I respect, because you need a gang-like mentality to have a band that can successfully take on a fucked-up world. They probably looked a little intimidating to some people, but I always saw them as really sweet, talented, motivated people, with an unusual commitment to the band. I really enjoyed working with them. I thought they were very talented and original. I was a big fan of the band and of them as people.
Grace: Rob's studio used to be in a house that was right around the corner from this punk house that I lived in, La Casita Blanca. At the time, it was not necessarily a nice neighborhood. It was a little rough and tumble. His house was just a little shotgun shack that had an L-shaped outer porch that he had enclosed and soundproofed. The drum set had to go in the corner, so if you're a four-piece band, then one or two of you had to be off to the right and the other one or two had to be over to the left — and you couldn't necessarily see around the L. The control room was like sitting inside of that, and then there's windows looking in at Rob. It was just floor-to-ceiling shitty, dirty carpet that I'm sure was from a dumpster. It was oily as fuck and all mismatched colors. Then there were boxes that the amps went inside of to make them soundproof. But Rob was able to get a good sound from it, and it felt intimidating because he had all these racks of gear and some kind of computer setup. It was more than I'd ever recorded with before, so I didn't know how anything worked. I didn't know how to achieve any sound that I was hearing in my head or anything like that.
Oakes: Rob's old place was right in the heart of downtown Gainesville. It's just a little house. He would sit in the kitchen, and I feel like maybe we did some of the vocal tracks in the bathroom, or a closet or something like that. It wasn't a big house.
McGregor: The studio was really just my living room for the "control room" and a porch that had been converted into a small room for the band recording room. Both rooms were exceedingly small. The studio was in the ghetto, and it was more of a shack than a house. I had prostitutes and pimps in my yard 24/7. I had no success running the business out of my yard, but I did the best I could with what I had to work with. Though the studio was a bit small and rough, I'd like to think it was inviting.
Kleeman: You had to walk around into his backyard to get into the studio. Even his studio after that one was always also in his house, so they were never these standalone structures. It was like, "I'm going to rent a house, block off half of it and make that a studio." It had a tiny closet turned into a vocal booth. There was gross carpeting everywhere and a shaggy-ass couch that we sat on. But to be clear, Rob and his girlfriend — I don't think she was his wife at the time — were always the nicest, most hospitable people.
Fridkin: We knew when we were gonna go to the studio, we were gonna have eight hours stretched across two days to get all this stuff recorded.
Grace: We recorded the record in two days, but technically, it was only recorded in one day because the first day we went in, we recorded everything way too fast — or at least we felt it was too panicked.
Bowman: I can't remember if we initially booked two days to do it or if the second one came out of necessity, but I remember we recorded it and immediately were like, "Oh no, this is all way too fast. Everything's way too fast. We have to go re-do it all." So the next week, we went back and re-recorded everything.
Kleeman: The original plan was certainly not to spend the entire second recording day re-recording everything. I can guarantee you that. I don't remember what the plan was. It was probably to do some more overdubs and maybe actually spend time mixing. I feel like I remember booking two days from the start, but I could be wrong.
McGregor: [My memory is that] the instruments and some vocals were recorded live on one day. The next day, more vocals were done and they brought a group of friends in to do group vocals. Then we did a quick mix, which ended up being the final mix.
Fridkin: We definitely ran through it and played everything way too fast the first time that we recorded everything. And then we went back and re-recorded it all also way too fast. On the second day, Laura and Rob spent two hours mastering things like, "That sounds OK. Fuck it." We just didn't have the money to have the time to do more, not that Rob's prices were unreasonable. He was very generous with us, but we had to do it fast. There was a certain aspect of it that was deliberate, because we thought of ourselves as being a live band and we were hoping to capture the energy of our live performances in the recorded work,
Grace: I think the version of "Walking Is Still Honest" that's on the record is the one from the first day, but other than that, the whole thing was scrapped, and we did a second take of it. I have no idea what happened to those original takes. I'd love to hear them at this point, but the album was recorded on ADAT, so good luck finding something to even play them now.
Kleeman: I found the masters from both sessions. The one from December 21 has a total runtime of 26:10. The re-recorded version on December 28 is 27:16. It wasn't even much of a difference.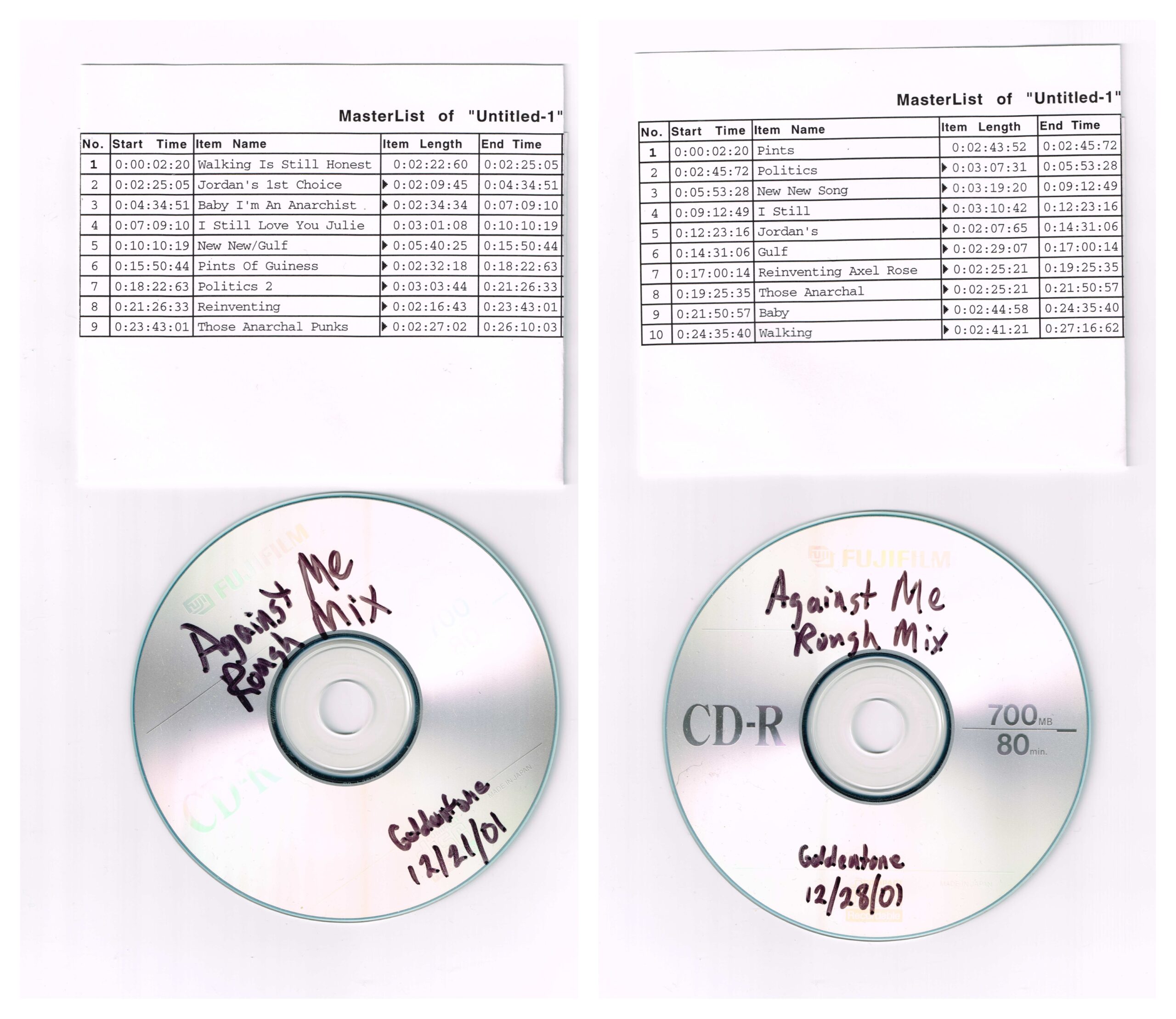 Grace: "Baby I'm an Anarchist!" was [particularly memorable to record], because it was essentially a cover song. It was a song that came together late at night hanging out at La Casita Blanca with my roommate, Rob Augman, and our other friend Cassidy Rist. Having Cassidy come in and sing on the song was really cool.
Kleeman: I remember when Laura first played "Baby, I'm an Anarchist!" in… I want to say '99 when I was still in Baltimore. I booked her a show up there, and the song wasn't even recorded, but we were still singing it for months after the band had left. To remember a song like that just from hearing it once in a show, it's crazy. I was always begging her to record that song, and she was always so hesitant because she wrote it with other people, and it was supposed to be for a music project that they were going to do together that was specifically not Against Me! It was kind of sacred to her in that regard, so she didn't want to take it for Against Me! Finally, when it came time to release Axl, she'd come around to it. I think that's part of why it was important for her to get [Rist] to come in and sing on that song, since she wrote it with her. That song is so special. It's just one of those songs that's so memorable that you can just sing it around a campfire.
Grace: The singalong stuff on [Reinventing Axl Rose] was kind of an evolution, and there were a couple of revelations along the way. Maybe in part it came from oftentimes playing to no one or playing in really weird situations where you had to break the ice. The first Gainesville venue that Against Me! would really play wasn't really even a venue. It was the Civic Media Center, a nonprofit, volunteer-run non-corporate press library and activist space. We would play there, and instead of being that band that was like, "Hey, everybody come up to the front," we would be like, "What if we clapped hands here to try to get people to clap along and try to have more singalong moments in that way?" Those '80s hair metal bands and '80s choruses had an impact on me when I was a kid — like "Pour Some Sugar on Me" or "Take me down to the paradise city." I also loved standalone snare drum moments. When it was apparent that those things kind of made us stand out from other Gainesville bands, we took it and ran with it. I remember one time Replay Dave from Grabass Charlestons — who also worked at No Idea — was like "Yeah, I don't know about these handclap moments. They're kind of kitschy." But we were getting people to interact with us, whereas everything else back then seemed really drab and people just weren't fucking throwing themselves into the other shit.
Fridkin: The song that we recorded on that album that sticks out in my mind is "We Laugh at Danger (And Break All the Rules)." We tried so many different versions of that song and did so many different things to try to make it a more complicated song than it turned out to be. I remember we were at Warren's house, practicing in his living room, and we came to a point where we were like, "Alright, fuck it. It's three chords, and we're just gonna have to play the shit out of these chords." I think we only played it at shows once or twice before we recorded it, but those two times that we played it, it was like, "OK, yeah, that works." The audience was responding to it.
Grace: There was so much on the line, and there was just that feeling of pressure and feeling of want and hope. At the time, I was working as an auto mechanic, and it felt pretty dead-end. I'd gone to school for it, but It was clear that I wasn't very good at it — and I really hated it. I wasn't enjoying life very much, and I wanted to get out on the road and play shows because we had already had a taste of that on the three tours we had done. I knew if it just kept going and got a little legs that it would take off. But it was very nerve-racking those days, and I think that eclipsed any kind of feeling of "Wow! I'm doing it. I'm doing this thing I set out to do!" It was more like, "Oh my god. Can we pull this off? Is it gonna sound good?"
Kleeman: Laura and Dustin had experience in a studio at that point, and I think James and Warren may have also recorded with other projects, but it was everyone's first time being a four-piece band in the studio. They were so excited. Warren might've been a little too excited and had a little trouble with pacing, so they just plowed through it. It was emblematic of what an Against Me! live set was at that time, which was just you start playing and you don't stop. It's just "Go! Go! Go! Go! Go!" and 30 minutes later, it's done and everyone's cashed. That's very much what the record sounds like. It sounds like a live record in the studio.
Grace: It was so cool for a first record experience. We invited so many outside friends and people to be guests on the record, like Samantha Jones, who played in the Gainesville band Bitchin' and a number of other fucking bands, and still plays music and still lives in Gainesville. She sang on "Pints of Guinness Make You Strong" with me, and that song wouldn't be what it is without her. We had so many friends come in and do the gang vocals with us, and it felt so special having everyone's voices captured in there. I could still listen to those recordings just so I can listen to the giggles in between or as this music dies down and remember that feeling of being in Rob's studio and what that day was like.
Fridkin: My favorite song on the record is probably "I Still Love You Julie." It was a song that Against Me! had been playing since it was just Laura and Kevin, and I always liked it. It was an easy thing to put together.
Kleeman: The one thing I need to set the record straight on [from the recording process] is that the song "Jordan's First Choice" is not about me. It's just called that because she always hated naming songs. She always felt it was pointless and that so many bands just named the song after whatever the chorus is anyway. She just never cared for it. So every time we'd go into Rob's studio, none of the songs had names. It was always just like, "New Song 1" or "New Song 2." Then we get into Rob's, and he has to type something into the computer to keep track of these things. So you have to be like, "Alright, well, it's time to pick a song name." That song in particular, I just really thought it should be the first song on the EP. It starts off acoustic and then kicks in, so I thought it was a great way to start off the record. That's why it's called "Jordan's First Choice."
Fridkin: To me, [Reinventing Axl Rose] is a fun time capsule, because — as we came to learn — songs change once you tour with them. The songs as recorded on the album are really different from what they ended up being when we were playing them live.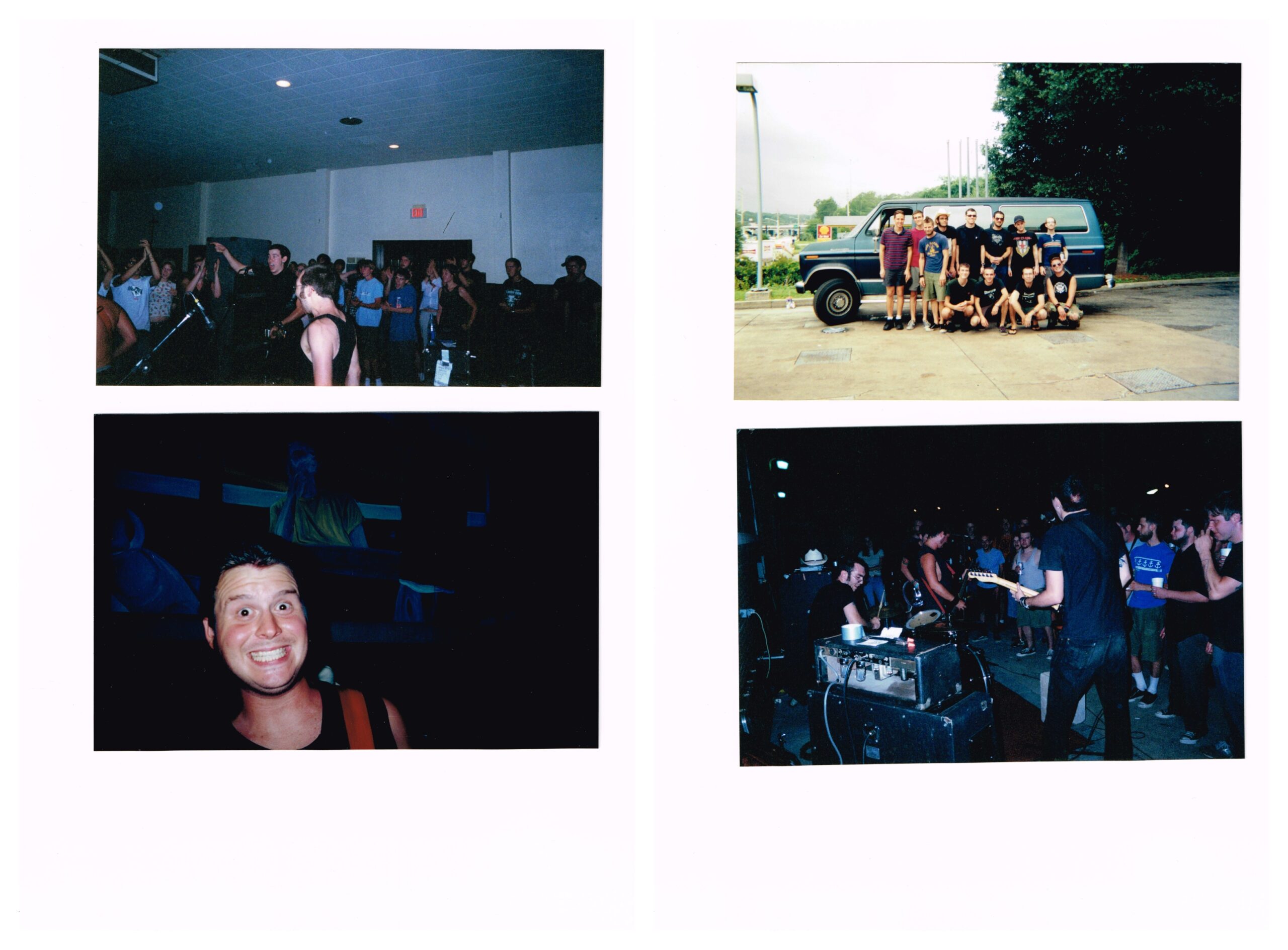 With their first full-length recorded (and re-recorded), Against Me! realized that Kleeman's Sabot Productions label may not be equipped to release a full-blown debut album. Instead, the band began looking for an appropriate independent label to release the music to a wider audience.
Kleeman: Against Me! was on my label, Sabot, for the two seven-inches and that infamous EP that's now, like, non-existent. I paid for Axl to get recorded because, at that point, I was like, "This album has to get recorded. I'll put it out if I need to, but it needs to be bigger." Going on that tour had opened our eyes to being like, "Holy shit! Lots of people really liked this band." It was the same where I was like, "OK, my label is just not big enough." I was able to recognize that. I wasn't trying to be selfish about it. So I paid for it to get recorded — I think infamously it was like $750 or something, which is so cheap in retrospect — and then we went to No Idea. [They were] so central to the Gainesville punk scene at the time that pretty much every halfway decent band got a shot at least for a seven-inch or something.
Bowman: No Idea was based right down the street and had put out countless records. It was weird because, in our heads, it was always like, "I wonder why No Idea hasn't talked to us?" But in their heads, they're like, "Oh, Against Me! doesn't want anything to do with us. They're too punk. They'll put it out themselves." I remember talking to Var [Thelin, No Idea Records' owner] the first time, and their stance was "Oh, we just assumed that you all were taking care of that and didn't even think about it."
Grace: Jordan was the one who actually went into No Idea and asked them to put out Reinventing Axl Rose because all of us were too scared to do it. Var Thelin was far too intimidating of a character to approach directly for any of us at the time. Jordan had put out our EPs on his own label, but he fully realized and understood that this could be bigger. So he went in there as our manager and asked them to put it out. He just didn't realize or didn't want to admit he was being the manager because we were all young and punk and that wouldn't have been a punk thing to do. But he asked them to put it out and pay what he had fronted to get it recorded, which I think it was like $800.
Oakes: I remember sitting down and talking about who could maybe put out the record and what our next move was — like if we wanted to tour with somebody, who should we see if we could go on tour with. I remember we were mentioning a couple of local labels our friends had, but I remember Laura specifically was like, "Let's think a little bigger. Let's zoom out a little bit and think about other labels that can bring it outside of just Gainesville." I feel like she knew how good the songs were on a different level and that there was a real possibility that it had legs and potential. I don't know to what degree, and I couldn't presume to put any ideas into somebody else's head, but I do remember that conversation.
Kleeman: There were a few other labels that were interested, but ultimately, I had been getting into No Idea because I had then lived in Gainesville for two years at that point. We had A-F Records — which was run by Anti-Flag — beating down our door trying to get us to put out Axl. I have this vivid memory of all of us going to Pat [Thetic] the drummer's apartment in Pittsburgh, which is what one of the songs on the Disco EP is about. They were really courting the band, but I had just gotten exposed to Hot Water Music and such right before I moved to Gainesville, so No Idea seemed super cool and awesome. You looked at bands like Hot Water Music or Less Than Jake, and that was the modicum of success that we wished we could achieve, so No Idea seemed to make the most sense. Plan-It-X Records really wanted to put out Axl as well, but they only did CDs, and we very much wanted this to come out on both formats.
Grace: It was intimidating because it was clear that No Idea was a real record label. You had to be led into the building, and you walk in and there's fucking seven or eight tanks full of exotic fish as Var's exotic fish collection. Then there's his massive Star Wars toys collection with, like, a life-sized Darth Maul at the top of the stairs, and I fucking loved Star Wars. I was in awe. This is the collection beyond my dreams, and downstairs was the distribution section, and it was floor-to-ceiling CDs and LPs with all the coolest fucking punks from Naples and Gainesville working there.
Kleeman: I definitely remember Laura was hesitant about it, so it was Warren and me who went in there. I already had somewhat of a relationship with Var and Jennifer [Crosby, No Idea Records' general manager] because they started distributing the two seven-inches that I put out, so I was already working with them a little bit. Everybody else that worked at No Idea loved Against Me! because at that point in the band's career, we were the darling angels of the Gainesville punk scene — this fresh, hot new band that everybody loved. Var and Jen didn't really know who Against Me! was at that point, so it took a little convincing. I have this vivid memory of standing at the top of the steps outside of Var's office in the No Idea headquarters, giving him the CD and just essentially trying to convince him, like, "You need to listen to this and put this out." Sure enough, he was onboard right away after hearing it.
Fridkin: In a way, [signing to No Idea] was really gratifying. We came up in a punk scene in southwest Florida that was very… I was gonna say "insular," but it would probably be better to say "peninsular." [Laughs.] Laura, James, Kevin and I all grew up way far down at the bottom of the Florida peninsula — basically the last city before you hit the Everglades. So we didn't have a chance for a lot of cross-pollination with other scenes. We had our thing, and then we plugged in to the broader activist scene. Early on, Against Me!'s music traveled around further than it would have because there were a lot of activists who would see our shows, hear our music and make mixtapes to share with people. It created a network that made it so even before we signed to No Idea, we would go places and people would sing along with our songs. These fringy activist kids and adults would show up for Against Me! shows in Gainesville in a way that the punk scene wouldn't because we were these weird kids from the swamp who played music that didn't sound like their music. Getting signed to No Idea was both exciting and intimidating because it meant that things were fundamentally changing. We had leveled up.
Grace: I don't fucking think they even let us approve test pressings or anything. I think they were sent the test pressings directly and they listened and approved it. It's funny to think back because now we're talking about year-long vinyl delay turnaround times and everything. I think it probably took two or three months between when we handed it all in and when it came back.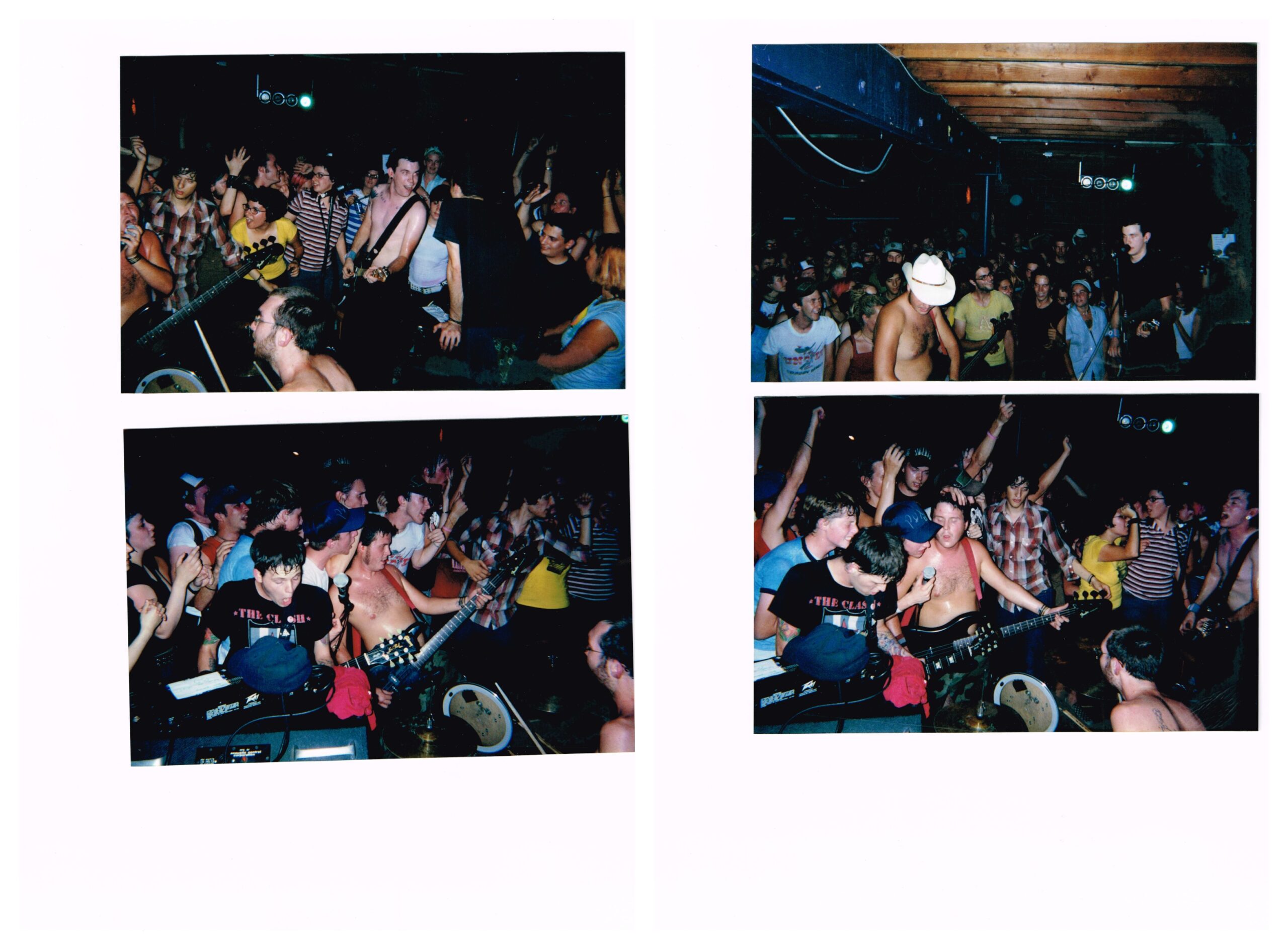 Once they had No Idea behind them, Against Me! shifted their focus to the ensuing work that goes into an album cycle. From the cover art to touring plans, every detail had to be mapped out more carefully for Reinventing Axl Rose than during their beginning DIY days — and it was all happening with a critical departure from the band happening in the future.
Grace: As soon as [Reinventing Axl Rose] was out, it was apparent that it was cool. Before people even listened to it, I knew it looked good. I fucking totally knew it. I went into No Idea when the LPs arrived, and I remember Jon Marburger slicing open one of the LP boxes. There were already a couple others open, but he was talking to me as he was doing this one, and he was like "Yeah, the UPS driver dropped these off, and he was like, 'Oh, cool. It looks like a KMFDM record.'" That was the second I knew that there was something resonating and universal about it — where people are picking up with the aesthetic right away. And then I could tell that No Idea realized that it was a special record once people started responding to the music.
Bowman: At first, it was just kind of like, "Oh, cool, we put this record out," but then there was a little bit of backlash in the DIY community because we hadn't done it ourselves. We worked with a label, so it was like we weren't completely DIY anymore. It was still the DIY community, but on a different scale. It was the next step for us. Working with an actual label of sorts gave us a few more resources. there. Like that's how we met our European booking agent and went over there for the first time, and stuff like that. But even that was a completely DIY experience.
Fridkin: Even before we recorded [Reinventing Axl Rose], we started to see [Against Me!'s popularity grow]. Like when No Idea agreed to put it out, or when we'd go on tour to places that we'd never been before and people would sing along with our songs. That seemed like a good sign. As early as the tour we went on in February before Axl came out — which, if I'm remembering right, was a tour that for some reason went up the East Coast, so we're kids from Florida playing Pittsburgh in February for some reason — we'd gone from playing indie record stores and house shows to enthusiastic crowds of dozens, to playing those same kinds of venues, but getting to the point where it was like, "Oh, is it actually safe to have this many people in this venue?"
Kleeman: We knew it was something as soon as the record came out because reviews started coming in, and they were calling us "the heroes of that corner of the punk rock scene." You've got so many different factions within punk rock, but every single fanzine in that DIY corner that we came from was printing a glowing review of the album saying, "Oh, my god, it's the best record of the year. These are the frickin' saviors of punk rock. Punk's not dead."
Grace: We had this mentality of like, "Goddammit, we're gonna take this somewhere!" It wasn't even a possibility that it wasn't going to go somewhere. That was just not acceptable at the time because it felt like there was no other option. It felt like we jammed our foot so hard in the door that we couldn't fucking waste the shot. We'd worked our asses off to record it, and it was fucking good. It looked good. It sounded good. We went out and toured in March and then again in July, and the shows were growing. There was a show at this upstairs loft space in Portland, Oregon called the Meow Meow Club, and it was fucking mayhem. The pictures on the cover of The Disco Before the Breakdown EP are from that show, and it was just bodies on top of bodies and sweaty as fuck. I knew that those moments resembled other moments I had seen for other bands when something was happening. I'm looking at these other bands that were our peers and realizing that we're getting a bigger response than them.
Fridkin: If I'm remembering correctly, that [March] tour was the first time we went on tour and came back not in debt. It was the first time we came back from a tour with enough money to pay rent instead of coming back broke with a van that had just gotten rear-ended. It's not that every show was a blockbuster or anything like that on the tour for Axl, but there were a lot of shows that were really fun. I think the first show we played on that tour outside of Gainesville was in Athens, Georgia, and we got heckled the whole time for being sellouts for having signed to a local indie label. There were a couple of crusty punks yelling at us like, "I liked you better when you were a punk band."
Kleeman: I feel like it got to our heads, and we got pretty cocky in that 2002-2003 era. We certainly kind of reveled in the attention and feeling like we were doing something important. I think that's ultimately the recurring theme is that it really felt like we were doing something important and making a real statement in what punk rock — and even just rock music — could and should be. We did that big tour in July 2002, and my God, if I describe the April 2001 tour as "eye-opening," this was like, "Holy shit. We're onto something here." That was the tour when we got to fulfill a lot of childhood dreams. We played [Berkeley, CA's 924] Gilman Street and these other iconic venues on that tour, and it was our first experience with shows really selling out. It was the first time where we really saw diehard fans who would follow us from show to show. It was sort of setting in that we were the favorite among the bands we were touring with, and we were a little full of ourselves. But that's part of what made the band really special and cool.
Grace: It was a real kick in the gut knowing that at the end of that July tour, Dustin was quitting the band and going back to college. It was just a pre-set up thing. He'd taken a year off from school to do the record and the touring, but we always knew he was going to go back. It was just like, "Fuck, it's not like we hate each other or had a falling out like we did after the fucking van wreck." It was just "This is the expiration date." It was depressing knowing that it might be ending, and we didn't really know where it was going.
Fridkin: To me, 924 Gilman was a legendary place in Bay Area punk rock growing up. That place was full of people that were singing along to our songs, and I was like, "Holy shit, something is really, really happening." The fact that something was really, really happening is actually one of the reasons why I decided that I wanted to leave the band and go back to school. I had a blast playing music — particularly with Laura and James — but I didn't want to be on tour 8-10 months out of every year, and touring is the way you make money as an independent band. I knew I was gonna end up being an asshole about it if I had to do it, so I thought for the preservation of our friendship, it would be best if I left the band.
Bowman: I remember our last show on that tour was in New Orleans, and I remember it was a really good, big show. After that, we were like, "Oh, that's crazy. That's it. That was fun."
Fridkin: That [New Orleans] show ended up with a pile of me, Laura and James weeping on the floor. It was the sudden realization of "This is the end of the tour, and now I'm leaving."
Bowman: At the time, we already knew Andrew, but he lived in Murfreesboro, Tennessee. We had played with his band maybe once or twice, and then on that tour, we went through Murfreesboro, played a show there and ended up staying with him afterwards. I guess he just kept in touch with Laura and one day sent a drunken email to her.
Grace: Andrew sent me a fucking Hotmail message that said "Kick the bass player out of your band." I was like, "Well, actually, it's not like that, but we do need a bass player."
Fridkin: One of the other nice things about those tours was that we played in Murfreesboro, Tennessee and stayed at Andrew's house. He was just an absolute sweetheart, as he always is. It was nice getting to meet him and knowing that I was handing off the bass to somebody who was both, frankly, a better musician than I am and also a lovely person.
Kleeman: I had literally met Andrew once when his band played Gainesville and hung out with him for an hour before Laura invited him to come join the band. But hey, it was the best decision ever. To this day, Andrew is still who I'm the closest with, so it's no regrets there at all. But yeah, it's so comical how that played out.
Oakes: It all happened pretty quickly. One of my previous bands had played with one of Andrew's old bands in upstate New York years before that, so we had already crossed paths before Against Me! played with his band. We knew him already on a personal level, so it wasn't like bringing in a total rando — and we knew on a musical level that he was an amazing bass player.
Grace: We had "The Disco Before the Breakdown" and "Tonight We're Gonna Give It 35%" kicking around from when we were working on Reinventing Axl Rose, but we were fucking terrible at coming up with music together. I remember one of the last practices with Dustin, we're practicing at James' house, and there's a couch, and I'm trying to teach them "35%," and Dustin was literally falling asleep on the couch. I was like, "Fucking hell! I'm trying to fucking write a song here and you're falling asleep. This is probably for the best that you're leaving."
Fridkin: It was a hard decision [to leave Against Me!]. It was a combination of two things. One, as I mentioned, was that I just did not want to be on the road that much. Frankly, I just don't have the constitution for it. I have issues with anxiety. I'm often a grumpy person. And I need to be able to be alone in my own little cave, for a number of personal reasons. The other aspect of it is that part of what felt magical to me about the band was our connection with a political movement — and that political movement had basically petered out and fallen apart by the middle of 2002. I wanted to be politically engaged in some way, and the band was going to be busy playing shows. If those shows weren't connected to politics, they were less interesting to me. I don't say that to suggest in any way that Laura and James were moving away from politics or anything like that, but I guess the basic facts of doing this for a living became apparent to me. I realized that this wasn't what I wanted to do for a living.
Grace: When it switched to Andrew being in the band, we had to figure out how to write songs together again and how to work out arrangements for everything we had already come up with on Reinventing Axl Rose. In re-adapting all of the songs, it was like the volume kept rising all the time. The amps were getting bigger as we were getting on bigger stages, and we were trying to figure out our identity again because if you have a four-piece band, one member can change the dynamic completely. We shifted to practicing at these warehouse spaces where everyone else in Gainesville bands practiced, and the sound there was way shittier and more metallic, so it was hard to hear what was going on.
Oakes: It was shockingly seamless. Andrew was very different stylistically, but he makes an effort to be incredibly easy to get along with. He's really willing to meet people where they're at and to find common ground. I've always really admired that about him because he's really good at building bridges. He came in and made this connection with everybody — not just in the band or musically, but he moved to Gainesville and became a part of the community really quickly.
Grace: We wanted to strike while the iron was hot, and it was obvious that there was success with Reinventing Axl Rose. The old punk bar was that if you can sell 1,000 copies of something, that's a pretty fucking good record. That's a success. So we sell through the first 1,000 copies of Reinventing Axl Rose, and we're like, "Holy shit, this is going somewhere!"  But also, my first marriage was falling apart. I was 20-fuckin'-2 years old going through a divorce all of a sudden, sleeping on couches around Gainesville. I felt like there was so much distance between me being homeless and sleeping on couches when I was 18 compared to when I was the ripe old age of 22. So knowing that the expiration date was looming and with my marriage falling apart, life started getting really blurry and messy as far as just partying. You're in a successful band, so everyone wants to be your friend when you're living it up, and we were just determined to keep it going. So after that last July tour with Dustin, we were back in the studio in September with Andrew. Then in October, we got a tour that was bookended with dates opening up for Hot Water Music — which was a fucking big deal for us. When we did that tour, that was when it was just like we were fucking off and running.
Kleeman: It was Hot Water Music, Thrice, Coheed and Cambria and us — all in 2002, when none of these bands had reached their prime. That was our first exposure to a real tour where you've got your 15-passenger van, a trailer and a crew. It was just such a great time.
Grace: We were frustrated with No Idea because we we had a shitty fucking Chevy 1500 van with a broken sliding door, an exhaust leak, no working heat and no working AC. It fucking sucked. It was a slog touring, and it was apparent to us that fucking Reinventing Axl Rose was doing really well. We were trying to make it apparent that we were willing to go out there and tour our asses into the ground in support of the record, and we went into No Idea and asked for $3,000 to put as a downpayment on the classic Dodge Ram 3500. "Can we borrow $3,000? Can we get tour support of $3,000?" They said no, so we felt like we had no other real option but to leave No Idea. It sucked because it felt like we found the scene where we fit in and these are our friends, but we kind of hit the ceiling and felt like we outgrew it. It kind of ostracized us from the local scene in that way, and that was a drag, you know — it really was.
Bowman: After the record came out, we did a tour out to California and ended up playing at a BART station in the Mission District. Toby Jeg, who worked at Fat Wreck Chords, was at that show and got our seven-inch while we were there.
Toby Jeg: I first saw Against Me! at Berkeley's 924 Gilman Street, which was their first time passing through the historic club. There were some fans of No Idea Records in the office, and I remember [Reinventing Axl Rose] really stood out. I bought a copy and fell in love with those songs like everybody else. [Laughs.] The show was incredible, even though it was maybe half-full. To this day, I still don't know how to best describe what I see in Against Me! — or any good band for that matter. They have great singalong melodies and a special connection with everyone in attendance. They've always been a super tight live act, and you can tell this band is all in when performing. You see something like them and it's just, "Duh, the rest of the world would love this too…"  Everyone at those early shows could tell you that the band was headed for great things, so there was nothing special about my talent radar or anything like that
Bowman: A few months later, we were back at home and Toby called Laura.
Jeg: I must've had some email interactions with Laura following the show, and the prospect of working with Fat came up. The real conversation took place at an office meeting with the entire staff — that's how the label used to make a lot of decisions back then, believe it or not. It really had a collective, consensus vibe, and Mike was wise to involve the employees because we were all young people who were excited about music and the punk world. Eric was the sales guy, and he knew the No Idea scene. Floyd did mail order but also volunteered at MRR and was very knowledgeable of that whole DIY realm. We literally sat in a circle and made our case for doing an Against Me! record, but I'll be damned, the office voted it down! It's wild to think about it, but their concerns were valid. Some folks felt like we'd be "stealing" the band from No Idea.  Back then there was a real sense of honor between the indie punk labels, and there was something to say about these self-styled anarcho-punks working with a shiny label out in California. I think the dissenting voices didn't want to spoil that magic. I kind of get that, but I actually spoke with the band and they made it clear that they wanted to do new things.
Grace: Toby was like, "Hey, would you like to do a seven-inch for Fat Wreck Chords' 7" of the Month Club?" Both me and James grew up on Fat Wreck Chords bands, so we were fucking blown away. It was like, "Holy shit, Fat fucking Wreck Chords wants to do something with us. It's not quite Epitaph, but it's fucking Fat Wreck Chords." We were fucking way stoked, but I was just bold for whatever reason, and I was like, "Well, we don't really want to do a seven-inch, but would you do the next full-length?" That was my immediate response to Toby, and he was like, "I'll ask my boss. I'll ask [Fat] Mike [owner of Fat Wreck Chords]."
Jeg: I phoned their landline and, as I recall, I spoke with Laura's partner first. She was very polite and we gabbed for a sec, but she mentioned that she was so excited when Justin Sane from Anti-Flag had left a message, and she thought that was so cool. I learned two things from that. Other labels were obviously out to sign this band, and that if they were stoked on Justin Sane's voicemail, wait until I get Fat Mike on the phone and we'll have this one in the bag! [Laughs.] God, I'm terrible. Anyhow, I do remember speaking with Laura, and we talked about punk rock and Star Wars action figures. No shit. We've been friends ever since.
Grace: Mike called me on my very first cell phone — which I only got because I was sleeping on couches. Me and James were on our way out to Best Buy for some reason, and Mike called and he's like, "Yeah, I'll do it. How does $25,000 sound?" I'm thinking "Fucking 25,000 fucking dollars?! We recorded Reinventing Axl Rose for $800 and had to borrow that money." I was punching the fucking roof of the van, flipping out, and James and I had that classic movie moment of when you're on the phone but looking at each other totally mouthing it all out. I'm like, [raises hand to ear to mimic being on the phone] "Yeah, 25 should work. Yeah, we totally have the songs written, and we're pretty ready to go. We've got these tours coming up, but after that we can go into the studio and do it no problem."
Jeg: The band must have felt disappointed about the idea of just doing a seven-inch, and I specifically remember Laura saying to me on the phone that they're ready to do an album on Fat. We even talked money — which, by the way, Mike gave them more than we agreed to, which proves I can sign a band for cheap. At the time, my desk was around the corner, and I remember hollering over my shoulder, "Hey, Mike, the singer is on hold and wants to talk to you."  He clearly vetoed the decision that was made during the office meeting, and it was probably the right call. Fat was the perfect place for Against Me! to grow in 2002.
Fat Mike: I don't remember that call, but I do remember our first four-day tour together. Barely.
Bowman: By the time they got done talking for maybe 15-20 minutes, she'd bullshitted our way into Mike putting out a full-length and not a seven-inch. "Oh, totally. We have a record ready. We're ready to go." We had absolutely nothing, so we looked at each other like, "OK, we've got to get to work."
Grace: Maybe there were one or two songs, but there was fucking pretty much nothing. We immediately went into panic mode and just started practicing six nights per week and just kept trying until we had enough songs.
Fat Mike: I was the last person in the office to hear them. Heard them, liked them, signed them.
Jeg: I was hardly "the bridge" [between Against Me! and Fat Wreck Chords, as many claim]. They're an undeniable band, and any asshole could have spotted that. In the case of Fat Wreck, any asshole did: me.
Kleeman: For me, it was just like, "Holy shit, Fat Wreck Chords!" At first we were hesitant because it was like, "Are they a little too pop-punk for us? That's not really our thing." But having grown up on NOFX since we were all 13, it was just kind of surreal. But it was ultimately that same mindset that pushed the band to No Idea. It was like, "Alright, we want to keep growing. We've seen that there are limits with this label. So why the hell not?" At that point, we'd realized that there was a limit to how much No Idea can do for Against Me!, and Laura's always had her eyes on the stars. She's always wanted this band to be as big as it could possibly be, so it was just kind of inevitable that this would be the next step.
Oakes: [Signing to Fat Wreck Chords] wasn't as cut and dry of a decision as you might think. We were having a lot of serious conversations about commercializing art, what it means to turn your expression into a commodity, and "At what point is the message being diluted by the medium that you're going through?" At the end of the day, we decided that we were dealing with an independent label that's run by musicians that operate with its own discretion. It's not just a secret subsidiary of Warner Bros. — we know what happened there. But it wasn't without a lot of serious deliberation between all of us trying to figure out how that decision settled. What kind of compromises might come with making that leap? Ultimately, we met with Mike, and he was very straightforward and very engaging. He made the case and won us over. No regrets on that front. It was great working with him and getting to hang out with him. He's a hilarious dude.
Grace: That was when we did our first European tour, and it was epic. It was two months long, and going over there while I was going through a divorce and being lost in Europe for two months pre-internet, with no cell phone, just drifting around Europe and knowing I got a Fat Wreck Chords deal — well, you're fucking trying to come up with songs and having these life-changing experiences. It was really fantastic. Potatoes, rice and bread: That's all we fucking needed each night to get through that tour. Then we did a tour out west and played shows with NOFX, and the songs came together on it. That's when we hatched the plan of going to Ardent Studios and doing an actual analog recording, but still bringing Rob with us to produce. That was a disaster of a bad idea.
To this day, Fridkin's only return to Against Me! was when he temporarily rejoined the band to play Reinventing Axl Rose in its entirety for its 15th anniversary at the Gainesville-based punk rock festival sponsored by No Idea Records known as The Fest.
Fridkin: I've almost always felt good about my decision to leave the band. There was definitely a moment when I was writing my term papers in the winter of 2002 while they were touring Europe, and I definitely had some second thoughts at that moment. I actually left twice because I got to play bass with them when it was just Kevin and Laura for a little bit before I went off to college the first time. It was super exciting to get to rejoin them, both acoustically and as an electrified four-piece that still contains elements of that early nucleus of what they were doing —  this sort of acoustic anarcho-punk thing that had grown and matured. It was always a really exciting thing to watch from the outside, and it was a thrilling thing to be a part of on the inside.
Grace: Having Dustin do those 15th-anniversary shows with us was really fucking cool. Dustin and I started playing music together when we were probably 13 years old, and the people that you play with at that young of an age have such an influence on your playing, because you grow up playing in response to each other. Any amount of time can go by, but when you sit down and play together again, you immediately find those grooves in those rhythms again. For me, Dustin and James, it was incredible. It was just really cool to immediately speak that language together again.
Fridkin: The show five years ago was a fucking absolute blast. It was so much fun. I'm a nervous person by nature, so I was worried about how things were gonna work out. Laura, James, Atom [Willard, Against Me!'s current drummer] and I had had a chance to get together and play once before actually performing the songs, and it had been 15 years since the last time I played a show with them — or played bass in front of people at all. We got together at a practice space at a warehouse that's right around the corner from my house, and we plugged in like, "Alright, we're gonna do this… [deep breath] OK." Then we started playing, and it was just like we'd been practicing the whole time. It was so easy to go back to playing with them. I think it's because we had come up together playing music throughout our formative years, so we just all have the same instincts for how to strike a chord. It was like getting back on a bike and you can still move around effortlessly. It was really, really weird to me how much it felt like we hadn't taken 15 years off from playing music together. The only thing that let me know that it had been a long time was how much my hands hurt.
Grace: Most of the songs on Reinventing Axl Rose, we never stopped playing. Every night, we play "Walking Is Still Honest and "We Laugh at Danger," and we still play a good number of the others regularly. The ones that were hard to recapture were "The Politics of Starving" and "[Scream It Until You're Coughing Up Blood] (Jamaican Me Crazy)" — which I just want to add that the fucking unfortunately titled track was an inside joke between me and Var when we were doing the fucking layout for the record. I don't even remember the conversation, but I'm sure I was fucking making him crazy and it was mentioned. I was like, "Just throw that in the layout. I bet that'll be funny fucking 40 years from now." Going back and recapturing the magic for those two songs was a little tough, but everything else was really easy to get back into because we still play most of the songs.
Fridkin: Laura promised everyone that it would be the last time that she ever played "Scream It Until You're Coughing Up Blood [(Jamaican Me Crazy)]." But I don't know. I guess I can forgive people for not liking that song, but it's still a fun song to play on the bass.
Bowman: It gave us a chance to revisit that album, think about maybe why we played it like we did and then maybe fix it. I still love a lot of the songs, and they're really fun to play live. "The Politics of Starving" is one that's a very weird song, but even then, it was fun to go back and play it there. I think they're all perfect in their own way — no need to change any of them. There are the ones that we still play that stand the test of time, and the other ones, like "The Politics of Starving," that we'll go back to maybe every 15 years.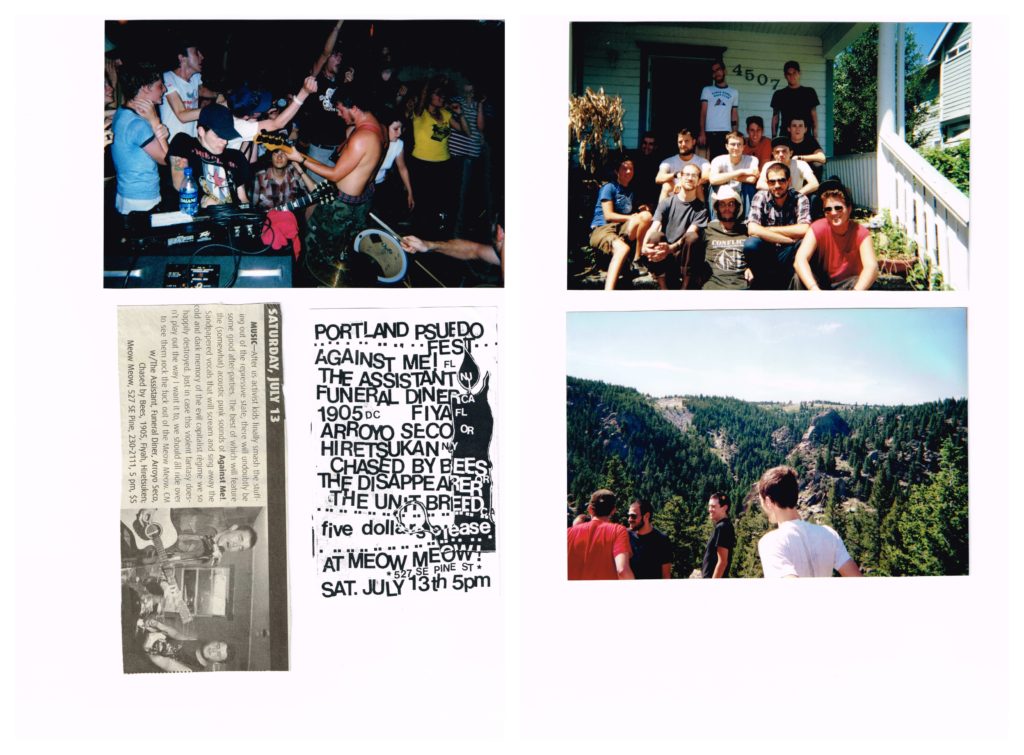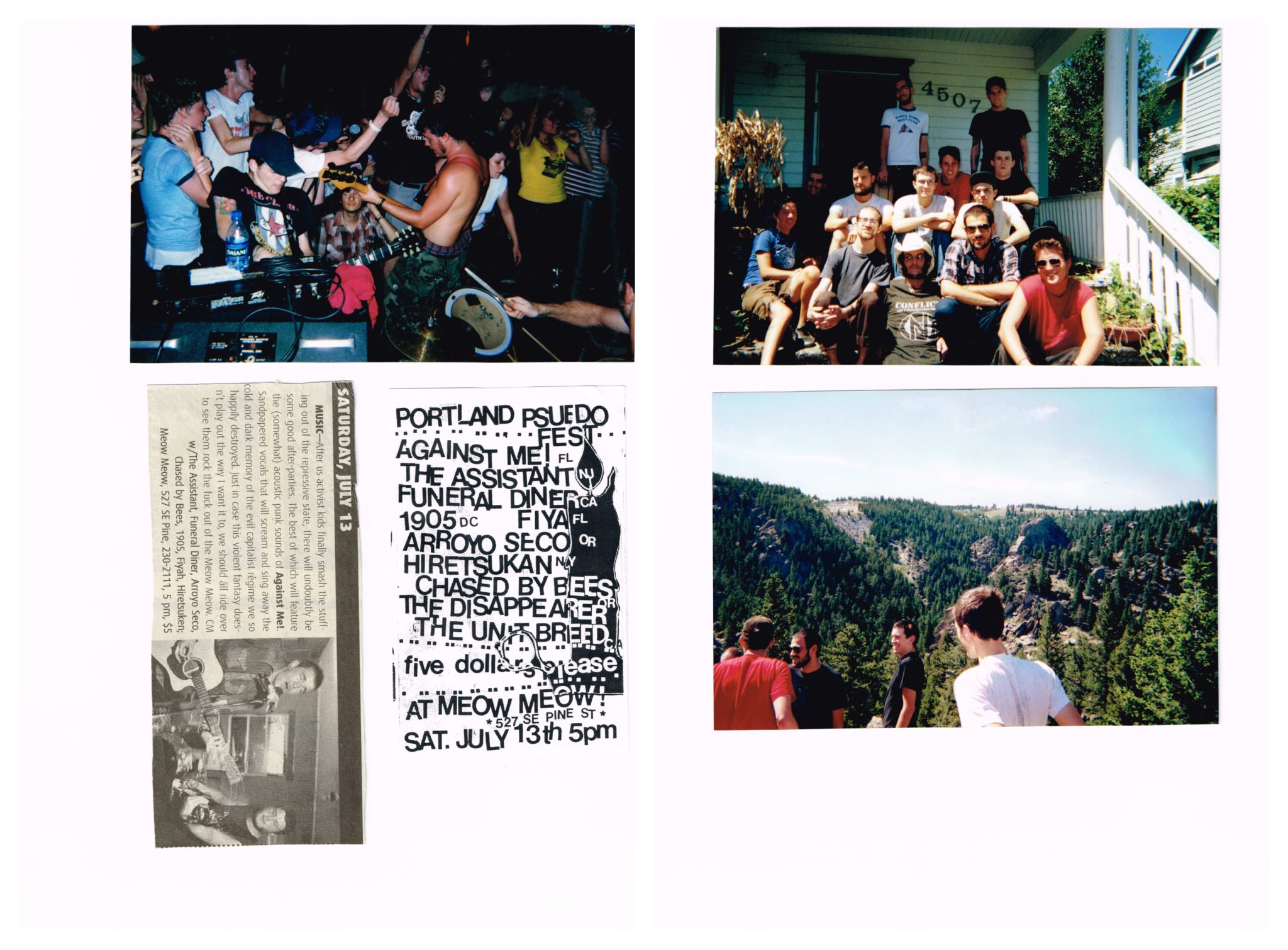 Now at 20 years old, Reinventing Axl Rose has built a legacy as not only a fan-favorite Against Me! album, but one of the most influential and important folk punk albums of all time. In addition to helping to popularize the subgenre as much as anyone since the Violent Femmes, the album's cover has become iconic in its own right — making regular appearances at punk shows on everything from patches and t-shirts to tote bags and tattoos.
Fridkin: I would say that [Reinventing Axl Rose's success] was immensely gratifying, but also not surprising to me. I thought that they were great songs. I found them compelling. And I felt really, really grateful to be a part of composing and performing them. My part was really a bit part in the composition, and it was a bit part that I felt very lucky to play. If the band had stopped when I left, none of this would be where it is now. I think a lot of it comes down to the work that Laura, James, Warren, Atom and Andrew have put into continuing to make really excellent music and get people interested in the band.
Grace: [Reinventing Axl Rose] was a very personal record for me, lyrically. I hate saying that because every headline in a fucking news article now is like, "This is their most personal album ever," but I wrote "Pints of Guinness Make You Strong" for my grandmother on my mother's side. It's about my grandparents. On "We Laugh at Danger (and break all the rules)," "Mary" is not just an imaginary figure. Mary is my paternal grandmother. I was anchoring the songs in my grandparents. And then there's a song like "Walking Is Still Honest" that starts out "Dear Mother…" because I wrote that song for my mother. It was really coming from a personal place of growing up and questioning the world while trying to figure out my ideals and morals and where I stood in it. I meant every fucking word I wrote on that record, and that's why it was hard years later when people would try calling me on shit like the title track itself, which is just talking about my idea of how things should be in an ideal world for music and punk.
Kleeman: I knew "Walking Is Still Honest" would [stand the test of time] for sure. Axl was the third time the band had recorded that song. It first appeared on that very rare first EP I put out when I lived in Baltimore, and then she recorded it again on the Crime EP, and then again on this album. Up until that point, it had kind of been the recurring Against Me! anthem. I knew how special it was back in my Baltimore days, when I first met Laura, because I would see how all of my friends would just get it stuck in their heads.
Jeg: I just did some recent traveling with Laura where I got to see her play some of those classic songs and it was really fun to watch again.  Even though we're all 20 years closer to the grave, you can still feel some of that Gilman spirit in the music. A few months ago I roped Laura into doing this show at Four Seasons Landscaping out in Philly. Long story, but it was a goof on Giuliani and all those bozos. The genius promoter behind that show, Dave Kiss, wanted a big name for the special occasion. I thought to myself, "Who's the biggest troublemaking, shit-stirrer I know?" I texted Laura and she immediately agreed. I still know how to pick 'em. [Laughs.] When I think about the legacy of that record and its subversive message, I think about that show and about how those songs are still giving 'em hell.
Kleeman: I think it comes down to Laura's songwriting. All of those songs — and I mean just Against Me! in general — start with her and her guitar. When you strip it down to its core, they have that raw energy that could just be played around a campfire with friends on an acoustic guitar, and you can all sing along and it will be great. Then when you add instrumentation to it, it's even better. I think there's just something special in that, and that's why it resonates so much.
Fridkin: At the risk of sounding arrogant, I knew that these were going to be durable songs when we made them. I mean, "Pints," "Walking Is Still Honest," "We Laugh at Danger," these are all anthemic. They're smart. They're just great songs. I'm just grateful to have had an opportunity to be a part of them.
McGregor: Looking at Against Me!'s trajectory, they were very ambitious and went for it. Many of the bands I work with, their goal is to record an album or two, play some shows out of town, and go on with their lives. Playing music for a living is very difficult, and most people are not cut out for it. The fact that they were willing to give up normal life to some degree and go for it made them ready to blossom into a true musical force. Of course, the fact that they were very talented, creative, motivated, unique, musical, had great songs, had a philosophical foundation, and rooted in songwriting history also helped. [Laughs.]
Bowman: It's definitely refreshing and nice to see [punk kids start listening to Reinventing Axl Rose]. I mean, it's better than putting yourself out to pasture as the crowd slowly dwindles to some guy in a trucker hat sipping on a Budweiser at the back of the bar calling us a sellout. It's nice to have new people get exposed to it.
Oakes: I just want to reinforce [to the next generation of fans] the DIY ethos that inspired [Reinventing Axl Rose]. There aren't as many obstacles as you think there are to express yourself in a way that could be incredibly cathartic to you and really help somebody else survive another day. If you feel like you have something to say, find your voice, find your instrument and speak your truth. It's one of those things that the more you do it, the more natural it feels.
Kleeman: It's crazy how special this record has become for so many people considering how freakin' shitty it can sound at times. I listened to it yesterday to refresh my memory, and I was reminded of that godawful snare drum. But that's just how it is. There's nothing to do about it.
Oakes: I was just excited about what was going on at the time in my life, that scene and the community. I feel like there was a real kind of revolutionary energy in the air. It really felt like what we were doing really felt applicable to the moment specifically. That was where we were deriving our energy from. There's a real earnest excitement and a willingness to take some chances and make some small mistakes. It's not virtuosic, but we're at the edge of our abilities at that moment, and you can see the train about to go off the tracks at a few moments — which I think adds to the excitement of it.
Fridkin: Laura's lyrics on all of the songs on that record are so good and smart. They're responding to a world that felt like it was coming apart, and from a certain perspective, the world always feels like it's coming apart. I think that's part of what makes Axl timeless. I mentioned that line from "The Politics of Starving" earlier, and we've been fed, politically speaking, thin gruel for like 40 or 50 years now. It's been years of neoliberalism and the end of the Cold War into the War on Terror and all of this. I'm not trying to get all professor of political science, but there's a political edge to it that I think is still appropriate. We haven't really moved on past the time that we were at when we were recording at the beginning of the War on Terror. Things, unfortunately, haven't gotten a lot better since.
Bowman: I don't get a lot of interaction on Instagram, but when people do interact with me, I feel like I'm the old guy now. [Laughs.] It's a lot of "Oh, I used to love that record back in the day." It's cool, but it's also kind of weird.
Fat Mike: I still think [Reinventing Axl Rose] is their best album.
Grace: [After Reinventing Axl Rose], it all moved so quickly. We went from No Idea to Fat to kind of blowing up and being on Warner and Sire, and then back around again. Ten years in, you have that realization of like, "Damn, it's pretty crazy that we're still out here playing these songs." I don't remember the exact moment, but I definitely know that there was a moment where I had this realization that it was kind of on its way to becoming a classic punk record. As a punk kid, you're not shooting for a platinum record. You're like, "Damn, if I could just make a classic punk record…" You're trying to make Operation Ivy's Energy. You're trying to make a Minor Threat record or Nevermind the Bollocks. You want to make London Calling.
Kleeman: [Why Reinventing Axl Rose still speaks to punk kids] is the million-dollar question, but I think it's because the record still sounds unique this many years later. I think that core emotion that Laura exudes in her songwriting just really grabs people. You can hear the authenticity in her voice. The lyrics can be personal, yet also political and kind of funny at times. I think the record's also so varied from song to song, so you don't have any two songs on there that are really alike. It's kind of like a mixed tape, and I think all those combined together are what made it last. When you're young and punk, the lyrics to Reinventing Axl Rose are like, "Fuck yeah! Let's go smash the state and be awesome." Like "Baby, I'm an Anarchist!" is a song you take literally when you're young, and that's your anthem. That's the anthem to like, "Let's go to this frickin' protest and smash the state," which I think will always be important to young angry punks.
Grace: The structure of the songs [on Reinventing Axl Rose] is a lesson that I'm thankful for because I can always look back to it. As you develop in your career, you work with other musicians with setups that might be more professional than yours coming from the DIY punk scene. There are certain standards or traditions of, like, "Well, a song works this way. Verses this long, and then comes the pre-chorus, and then the chorus, and you'll have the bridge and then go back to the chorus." But a lot of the structures of the songs on Reinventing Axl Rose are fucking nonsensical. "Pints of Guinness" has a strong intro, a verse, a chorus, and then there's a really long re-intro kind of thing, a strange other verse and another chorus. There are a lot of moments where it's just not following any traditional rules of songwriting or whatever because it was us not knowing what we were doing. But it worked. So it's something that I can always look to and be like, "You don't need to follow any fucking rules. You just need to have your heart in the right place and be saying something important to you." That's what's more important most of the time — not even the fucking recording quality. It can get you somewhere. It's not about the money that you have. It's not about the quality of the studio. Fuck all that shit. Sometimes, the other things matter most.