Hailing from Baltimore, Phil Celeste, better known as Life on Planets incorporates elements of soul, R&B, and house to create songs that will keep you on the dance floor. His Baltimore roots undeniably shines through his songs while still giving us a unique feel and perspective to his music. Life on Planets began his journey creating music in the underground Baltimore scene and is now reaching ears around the world. His recent release of Nomad Lyfe reflects his strive and struggle as an artist as it compares to the old western cowboys.
He sat down with SPIN to talk about his new project, inspirations, the old west and much more. Stream Nomad Lyfe here and dance the night away with his SET below.
Who is Life on Planets and what do you stand for?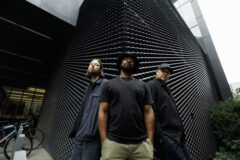 I'm here to remind you to move and to sing. I hold space for electricity, inspiration and release.
Tell us about your sound – where does your style originate from and what have been your biggest visual, social, and sonic influences?
From pop punk and hardcore shows in church basements, my Dad's mixtapes driving around in the car, to the diverse and experimental music scenes in Baltimore; I have taken influences from a big melting pot. The big three for me are Jimi Hendrix, Miles Davis and Django Reindhardt. Each overcame great struggles in one shape or form and completely changed the face of music as we know it.
Was there a definitive turning point to your success? When did you realize the magnitude of your impact within the industry/community?
A shift definitely happened in the months leading into the pandemic to now. More collaborations, labels reaching out, more press, a team of managers, agents, supporters and friends are ready to go. All these things I wanted to manifest locking into place. What really strikes me about the impact is that people from all over the world reach out to tell me my song touched them or helped them through a rough patch in their life.
Check out Life on Planet's electrifying SET below! Want more SETS? Head over to SPIN TV to keep up with all the latest and greatest DJ/producers breaking through the electronic sphere.
Where did the name Life on Planets come from?
My producer friend, Discuji, who helped me put together a lot of early LOP tunes, suggested the name when I was starting out. I'm always asking questions about people's birthdays so I can find out their astrology. I like to figure out if a relationship may be better for work, or for love, etc. I don't know if its self fulfilling prophecies but it tends to add up.
What was the inspiration behind your first song?
I believe the first Life on Planets song was Cold Front. I also believe in metaphysical manifestation. I have had so many coincidences that line up with my desires that there has to be some sort of force there. Anyway, I wrote this during the Winter in Baltimore. It was cold in my loft and I was imagining warmth; sunlight streaming through the window over a beautiful woman's face and trying to find a way to capture that in song. I recorded this song and sure enough, Spring came early that year.
Has Baltimore's club music inspired your music if so, in what ways?
The thing that inspired me most about the Baltimore scene was that you could go to a party where there would be dance music and also a hip hop act and a noise rock band. All things and all types of people would exist at the same party. Dance parties felt more like house parties, everyone getting down, no one too cool to bust a move. So I try to take that energy to every dance floor.
What inspired the old west theme of the Nomad Lyfe EP's visuals? 
My manager, Jonathan McDonald and I were talking about what a nomad is. Roving from place to place, always on the go. When I first started out, I was couch surfing, staying here and there, going up to New York for studio sessions, getting one way tickets. How could we break it down into something people recognize; a medium to translate this concept more easily? JMac's eyes lit up, "A Cowboy!" I can only imagine what it must have been like in those days, when it could take days, weeks to get to your destination on horseback. There's a lot in common between that hustle and the starving artist. So we hit the Crazy Horse Ranch, Joshua Tree, Pioneer Town and let our video/photo duo, Kye Popham and Enya work their magic!
In what ways have you pushed yourself beyond existing self-imposed limitations?
Lately, I've been taking communication and leadership classes to help me see my blindspots and take strides to do all the things I have been putting off. My limitations, the stories I tell myself are "the timing isn't right", "they might say no", "there's not enough money". The work for me is to be less attached to those fears and more committed to what I want to create for myself.
What's next for Life on Planets?
There's more music and videos on the way including a very special 4 part music video! I want a band as well as a collective. I see the project not just living on Spotify or on stage but becoming multi sensory. Interactive experiences and collaborations with artists of other disciplines. Performance art. Narratives spanning albums and concerts.
What do you wish for the future of electronic music? In what ways would you like to see it evolve?
I wish for electronic music, specifically dance music to get back to its roots in live performance. I want to see more live bands and musicians sharing the stage with DJs.
Any last words for the SPIN-verse?
You are where you need to be! That's my mantra while I've been living the Nomad Life and hopefully it brings whoever reads this some peace of mind.