DannyLux is reinventing corridos through a Chicano rocker lens. The Mexican-American singer is breaking through thanks to his innovative blend of Mexican folk balladry with an indie-rock edge. He grew a fanbase on TikTok after his songs were shared thousands of times on the app. Through a new partnership with Warner Music Latina, the label is backing his album, Perdido En Ti, which was released on January 28. By plugging his guitar into his bicultural background, DannyLux is striking a chord with his cool corridos.
"I just want people to be able to vibe to my music," DannyLux tells SPIN on Zoom from his family's home in Palm Springs. He's sitting in his bedroom in a cushioned chair that looks fit for online gaming. His vibe is very laid back during the conversation. "My first language is Spanish. I found myself better doing regional Mexican music, but I still incorporated touches of American music, like the classic rock my parents listened to."
Born Daniel Balderrama, the 17-year old's musical references span decades thanks to the music that was playing at home. His dad listened to bands like The Beatles, The Eagles, and Pink Floyd while his mom played regional Mexican music and Maná. After his father, a garbage truck driver found a guitar in the trash, he gifted it to a young DannyLux. The first song that the 7-year-old learned to play was Mexican-American icon Ritchie Valens' "La Bamba."
"I really feel like [Valens] left an impact," DannyLux says. "Like him, I want to be able to inspire people to do whatever they want to do. To create their own sound that's unique to them."
To connect with his Gen-Z peers, DannyLux took to TikTok to show off the corridos that he was recording in his bedroom. He started out by uploading covers of Valens and late Mexican singer Ariel Camacho. DannyLux also covered the music of another Chicano act on the rise, Eslabon Armado. After discovering DannyLux on TikTok, Pedro Tovar, the group's lead singer, asked him to contribute a song to their 2020 album, Cortas Venas.
"I showed Pedro the beginning of 'Jugaste y Sufri,' because that's all I had," he says. "He said, 'Yeah, bro, if you could finish that, that would be perfect.' We recorded it the next month. It's crazy how it went from covers to knowing that I actually have a song with them."
"Jugaste y Sufri" married Eslabon Armado's sierreño sound with DannyLux's soft rock. Towards the end of last year, the duet went viral on TikTok. On Billboard's reggaeton-filled Hot Latin Songs chart, the regional Mexican song reached No. 3. As the artist who actually penned the track, DannyLux also pulled ahead of Puerto Rican superstars Bad Bunny and Ozuna on the Latin Songwriters chart, topping the tally for eight consecutive weeks.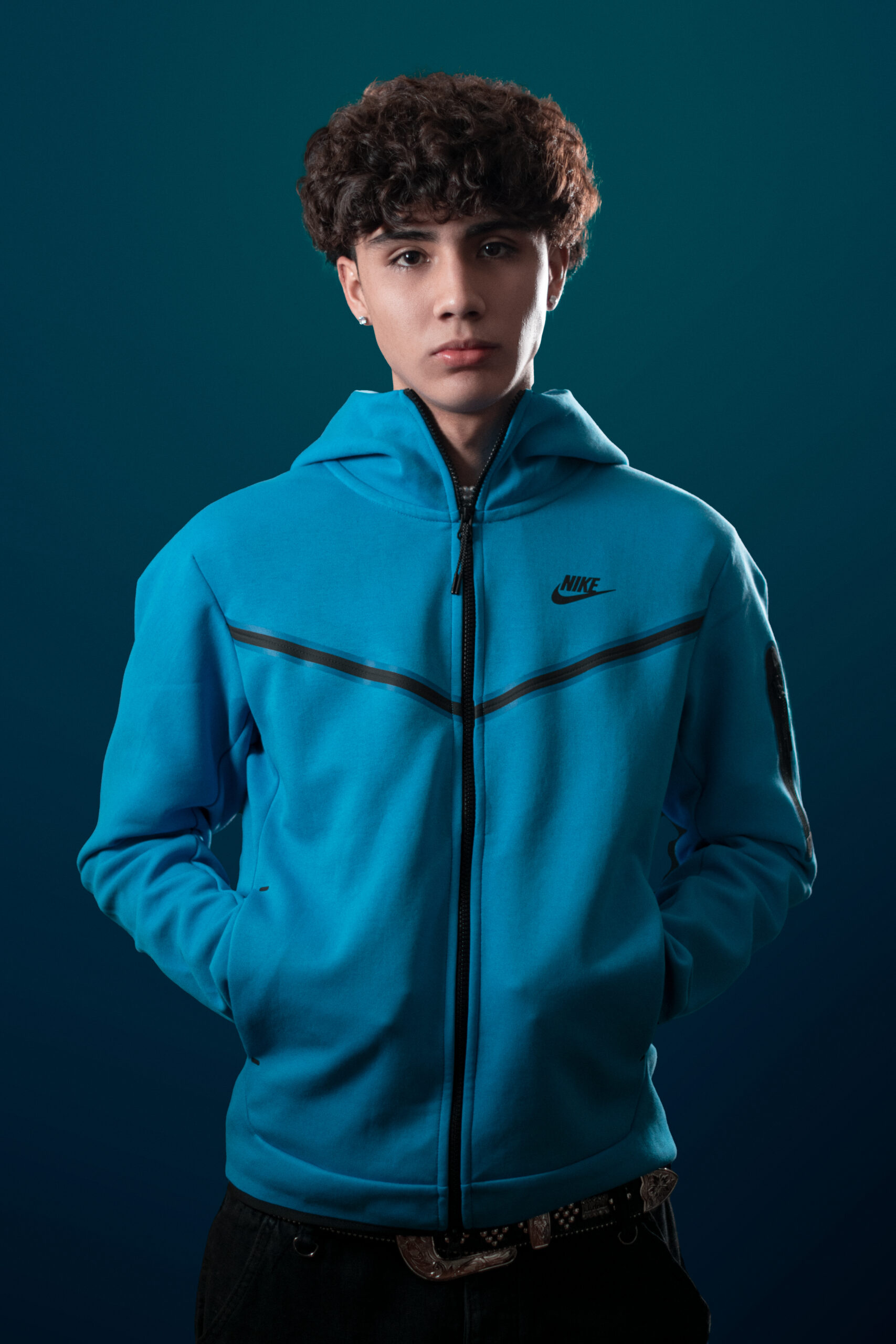 "That was so crazy to me!" DannyLux says. "That was a really big accomplishment for myself. I was literally up there with Bad Bunny and all them. Just to see myself there, it was pretty sick."
DannyLux's own songs on indie label VPS Music also took off following the success of "Jugaste y Sufri." The psychedelic "Tristeza y Traición" amassed over 9 million streams on Spotify. The dreamy "Dueño De Tu Amor" from his debut album Las Dos Caras Del Amor racked up another 9 million streams. DannyLux's emo lyrics are backed by his guitar that seamlessly switches between the chords of a typical Mexican corridos and his dad's classic rock collection.
"I feel like in my songs, it's always like a 50-50 [split]," DannyLux says. "It's like 50% [about] the actual music and 50% [about] the meaning of the lyrics. That's what I always focus on, having the perfect balance."
DannyLux continues to wear his heart on his sleeve in Perdido En Ti. The album's title roughly translates to "Lost In You." Across the 10 new songs, he chronicles a relationship from a flirty beginning to a heartbreaking end. DannyLux pines for his lover's return on the intoxicating "Infeliz." In the Eagles-esque "Mil Razones," he counts the ways that she has him wrapped around her finger. For the album's stunning closer, "Para Ti<3," he leans fully into his Spanish rock side.
"I just wanted to end off the album with something different," he says. "If people like it, I'm going to go a little more towards that style as well, but of course, keeping my original style."
Next up, DannyLux will be taking his show on the road. For now, he's booking a few concerts per month so that his fans will get a chance to experience his music live.
"This year is going to be the best of DannyLux," he adds with a smile. "Being able to change the way people see this music, it's pretty sick. I'm ready to take it to the next level."