Once in a while, a band comes along and brings something so special you have no choice but to love it. That band is Cha Wa. Founded in 2014, they released their third album, My People, 2021, a follow-up to 2018's Grammy-nominated Spyboy. Check out the 15-Minute Live performance they did with us in 2021 and try and tell us you're not hooked.
From brass band parades to the Mardi Gras Indian community, the sounds and culture of their native New Orleans make a vivid impression on their distinctive funk sound. Cha Wa vocalist Joseph Boudreaux Jr., a fourth-generation Mardi Gras Indian, pays tribute in traditional clothing, including stunning headdresses, one of the many elements that makes their live shows a must-see event. By blending a traditional sound with something utterly timeless, they create music that's uniquely irresistible.
Here's a day in the life of Joseph "Bugga" Boudreaux Jr. of Cha Wa.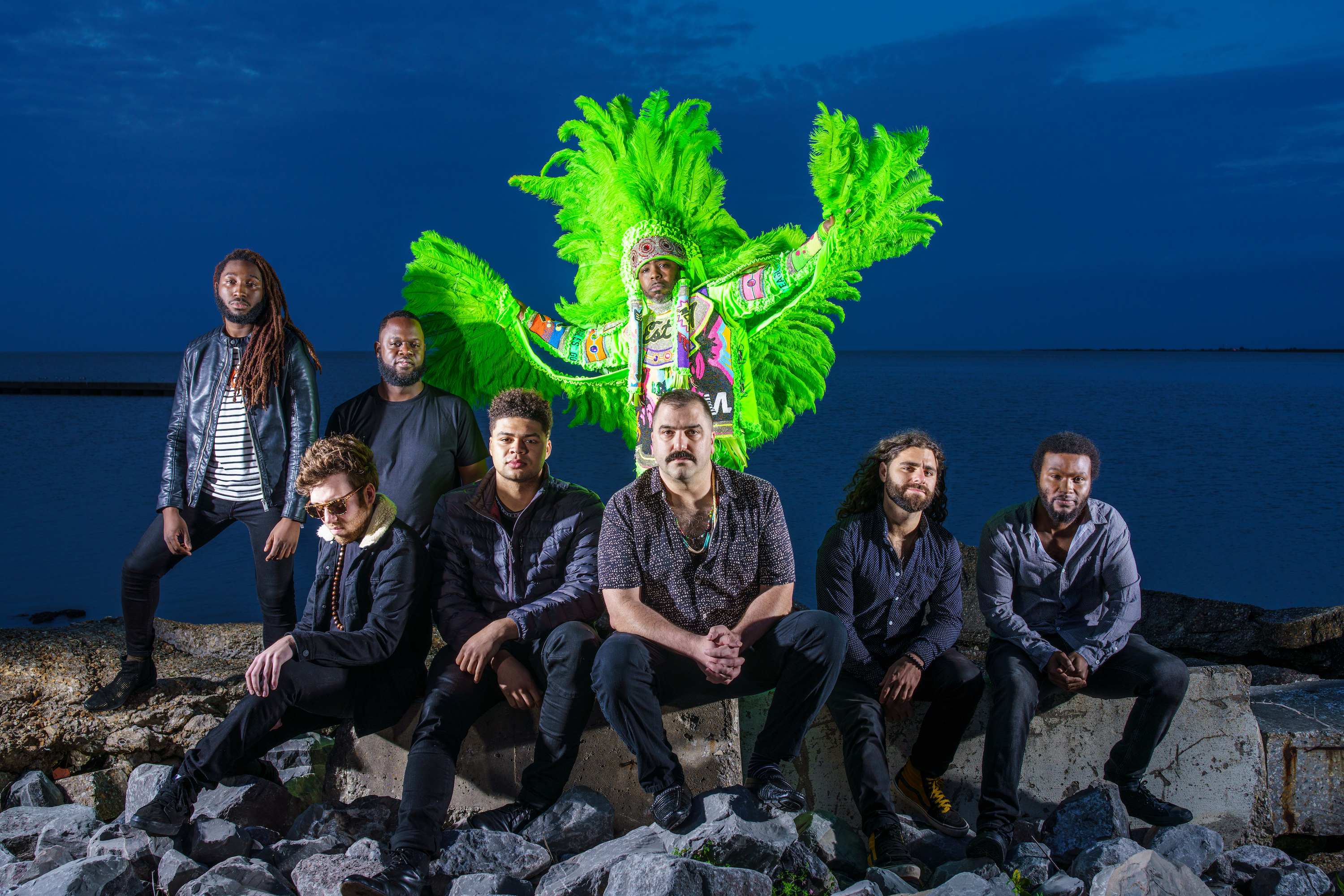 Date December 13, 2021
Time I woke up  I get up around 8:00 a.m. most days.
Every day starts with  My days are normally pretty busy so I'm up and at 'em!
Breakfast consists of  When I can get a proper breakfast, I like oatmeal and turkey bacon.
To get going I always  Have to talk to myself, give myself that self-pep talk.
I don't feel dressed without  The right shoes–I'm a big shoe guy.
Before I start working I must  Do vocal warm ups.
Currently working on  New music and NFTs.
But I'd really love to be  Cooking and art are my other passions, so I would love more time to do them as well.
Book I'm reading  The Art & Science of Respect: A Memoir  by James Prince and Jasmine D. Waters, and Blood in My Eyeby George L. Jackson.
If I had to play one album on repeat, it would be  Though I love variety, especially in music, I always listen to my father's first solo album during Mardi Gras season, which is called Lighting & Thunder.
The perfect midday consists of  A nap if I could get one lol.
To help get through the day I need  Music. Sometimes you need to escape from the day for a moment to reset, and music takes me away.
Not a day goes by without speaking to  My mom. She is one of my biggest supporters.
My daydreams consist of  Just conquering goals. Whatever I'm set to do, I constantly envision it to keep pushing towards it.
In a perfect day, in a perfect world  Violence wouldn't exist, and we all would appreciate each person for what they bring to this world.
I'll always fight for  What's fair. And love.
Currently in love with  My family.
Hoping to make time to watch  Godfather of Harlem and The Originals.
By my bedside I always have  Sewing equipment. Being a Mardi Gras Indian, I have to sew for hours on end. Sometimes I need to see it when I wake up to push myself to finish.
To help get through the night  I watch TV. It always puts me to sleep.
Bed time  I'm a night owl, so if I don't have anything important the next day, I'm up late.
When I think about tomorrow, it's always  With the hopes of it being even better than today.