The Lazy Eyes may be fresh in their 20s, but all four members are already feeling the pangs of nostalgia.
Roughly seven years after forming, the Sydney-based band is finally ready to drop their self-produced, self-recorded debut album, SongBook, in March. The collection is an escapist, idealistic, time-traveling journey that frolics in Beatles-flavored strawberry fields, trudges through heavy stoner sludge, and plays with the sort of effortless, heady sounds of artists like Tame Impala and King Gizzard & The Lizard Wizard who have made Australia this century's hotbed for psych-rock. The band refers to their long-awaited debut as a trip down memory lane. Some songs were written nearly half a decade ago, after all—a lifetime in teenage years.
As students at Sydney's Newtown High School of the Performing Arts, Harvey Geraghty (vocals, guitar, keyboard), Itay Shachar (vocals, guitar), and Noah Martin (drums) bonded as the only rhythm-based musicians in the school. "We were like the band-y kids. Everyone else was the classical violin, saxophone type. We were like, nah, drums and guitar," Schacar told SPIN over a Zoom call with the band from Australia, his shaggy long hair taking over the screen. While each member was secluded in their separate homes, all still looked casually cool—as much as you can on a video conference call—as they reminisced about their high school days.
The schoolmates took to the streets to busk around Sydney, where they learned the delicate art of attracting a crowd—which sometimes meant rolling around on the pavement. "My shirts got so dirty," Geraghty recalls. "We developed a mentality to go all out, and I think we've kept that element … to not be boring," Schacar adds.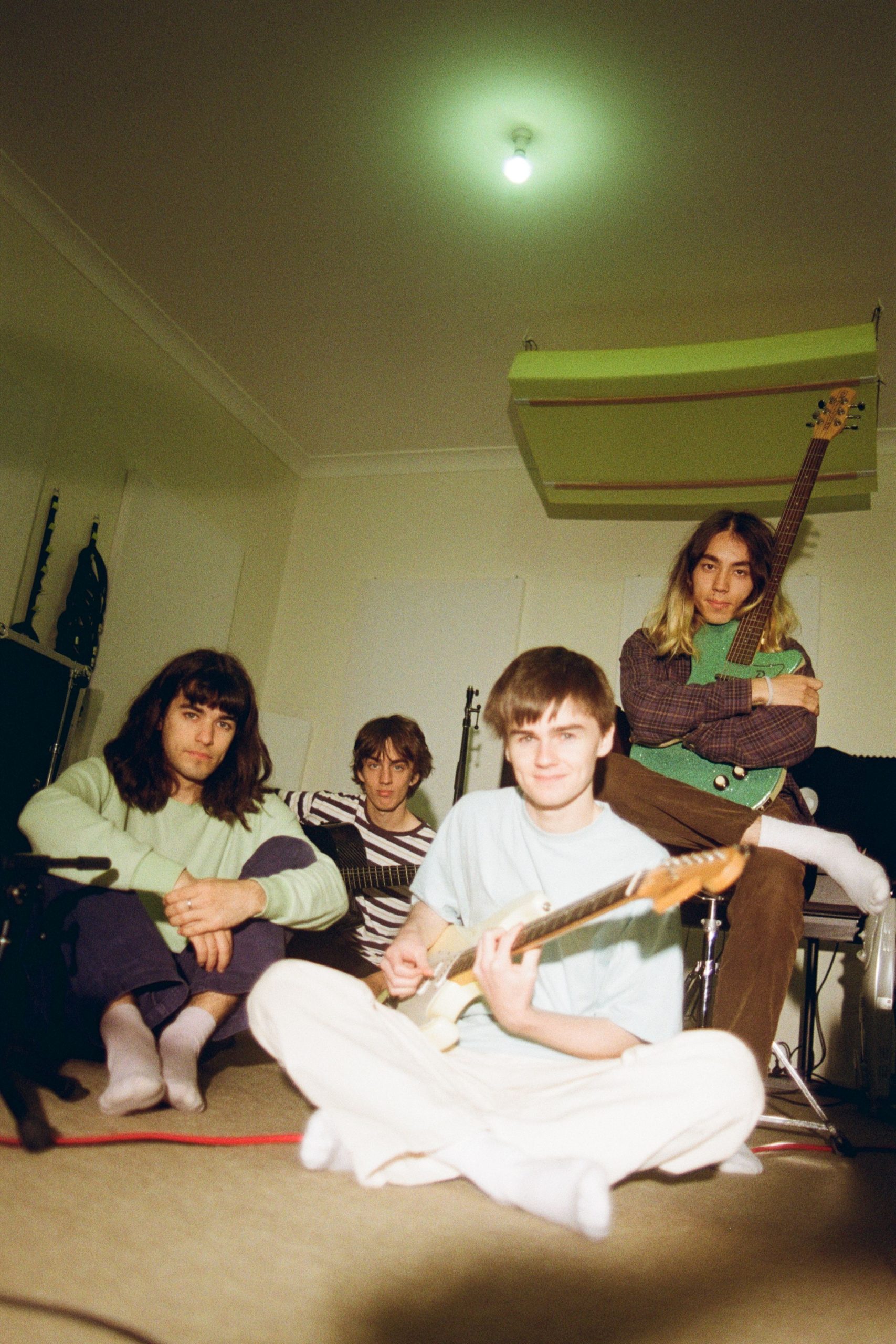 When bassist Leon Karagic saw Schacar and Geraghty doing a jazz rendition of King Gizzard & the Lizard Wizard's track "The River" in their school lobby, he was intrigued. Their first jam session together was dedicated to the Flaming Lips, and he quickly became an official member. Finally a full-fledged band with a name—inspired by Beach House's "Silver Soul" ("She's the one with the lazy eye")—the quartet began booking shows, transferring their street-savvy intensity to the stage and drawing increasingly bigger crowds.
Still, they weren't quite ready to press record.
"There were so many elements that took time because we were doing five completely different things for the very first time. Harvey and I were learning how to mix and produce from scratch. There was a long incubation of stuff just sounding kind of amateur-ish," Schacar admits.
The Lazy Eyes spent the next several years honing their playing and production skills, inspired by acts like Tame Impala, who do it all themselves. All that patience culminated in two EPs (2020's EP1 and 2021's EP2), and now SongBook. The coming-of-age record is a celebration of the band's evolution. For Schacar, "It feels like growing up."
But it also sounds very grown up.
Psych-pop reverie "Imaginary Girl" nods to the '60s' mind-altered idealism, while the guitar-dueling freak-out "Where's My Brain???" uncovers all the paranoia that comes with it. The propulsive "Fuzz Jam," guided by Karagic's strutting bass and Martin's tight beats, shows off the Lazy Eyes' rhythmic power as they channel Tame Impala's heavy-eyed hypnotics through a vintage Hohner Pianet T keyboard. Meanwhile, "Hippo," one of three instrumentals, is all sex and groove, building up to a squealing climax.
When Geraghty and Schacar do add lyrics, their youth is never exposed. "Times are changing, people stranger than before," sings Schacar on "Starting Over," with all the reflection of a weathered soul. But when talking with them, their optimism still shines through.
"I feel like we made this album for our previous high school, fanboy selves," says Geraghty. "It'd be awesome if people who are just getting into music have the same sort of experiences we had listening to our heroes."