After a tumultuous week that saw Neil Young, Joni Mitchell, and Nils Lofgren exit the platform, Spotify CEO Daniel Ek has responded. In an open letter posted on the company's website, Ek outlined a new policy regarding podcasts that discuss COVID.
"Based on the feedback over the last several weeks, it's become clear to me that we have an obligation to do more to provide balance and access to widely-accepted information from the medical and scientific communities guiding us through this unprecedented time," Ek wrote. "These issues are incredibly complex. We've heard you – especially those from the medical and scientific communities."
The big change? Spotify is adding "a content advisory to any podcast episode that includes a discussion about COVID-19." That label will serve as "a resource that provides easy access to data-driven facts, up-to-date information as shared by scientists, physicians, academics and public health authorities around the world, as well as links to trusted sources."
"I trust our policies, the research and expertise that inform their development, and our aspiration to apply them in a way that allows for broad debate and discussion, within the lines," Ek concluded. "We take this seriously and will continue to partner with experts and invest heavily in our platform functionality and product capabilities for the benefit of creators and listeners alike. That doesn't mean that we always get it right, but we are committed to learning, growing and evolving."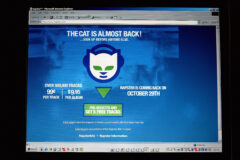 Young threw down the gauntlet last Monday, writing that the streaming giant choose between him or podcaster Joe Rogan. He exited the platform on Wednesday with Mitchell and Lofgren following suit.
In the past week, Spotify lost $2 billion in market share after the initial spat began.