Slushii is one of the leading DJ's in the dubstep and bass scenes and has been supported by major names such as Marshmello, Charlie Puth, and BTS. He has played major festivals such as EDC Las Vegas and Tomorrowland, to Ultra Miami, Reading + Leeds, and HARD Summer. Slushii truly knows how to captivate an audience with superb transitions between the highs and lows of a song. His music keeps you up, moving, and ready for more to dance the night away with his light hearted anime styled samples and infusions of some of our favorite songs with dubstep.
He sat down with SPIN to talk about where he draws his inspiration from and much more. Stream After Midnight here and dance the night away with his SET below.
Who is Slushii and what do you stand for?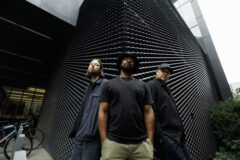 Well first thing's first, my name is Julian Scanlan, and I'm from a small town in New Jersey called Mount Laurel. I created Slushii in 2015 with the sole purpose of helping others heal themselves with music. When I was about 13, I was diagnosed with severe depression and Asperger's, and ever since I've been trying to figure out not only what that means for me, but how I can use this "disorder" as a super power to show others that you can do whatever you want, no matter where you come from or what you look like.
Tell us about your sound – where does your style originate from and what have been your biggest visual, social, and sonic influences?
My sound and visual style are a huge callback to the original Adult Swim / Cartoon Network run of Toonami. I feel like that was such an important time for a lot of people from my close friend group and generation. Shows like "Codename: Kids Next Door" and "Teen Titans" really helped shape a lot of the ethos behind Slushii in the beginning.
On the audio side, artists like Daft Punk and Skrillex take the crown for massively influencing my sound. I also played a lot of Guitar Hero and Dance Dance Revolution when I was younger, so that definitely shows in my trancey motifs and love for soaked reverb.
Was there a definitive turning point to your success? When did you realize the magnitude of your impact within the industry/community?
Honestly, it's something that as an overthinker I'm always struggling with. The definition of the word "success" is something that is subjective and not so easily defined. Some days I wake up, feel totally accomplished with everything I've done and my mind is at ease. Other days I feel completely uncomfortable with all of my past work and I want to wipe it all away and start new. There's something really special about taking a step back and just taking it all in once in a while. That's when I get my biggest feeling of achievement, not because of the festivals I play, but because I look around and see how much not only I, but the people around me and who have been listening since the beginning have grown. We're really on some character development vibes and I love it!
What is the difference between Slushii and sapientdream and what inspired sapientdream?
Slushii is who I want to be, and the ideal perfect world version of my sound. Sapientdream is very written in the moment, and vulnerable. I write sapientdream music when my back's against the wall, and I feel completely lost. And Slushii is for when I've got it figured out and I'm ready with a specific idea I want to put right in front of you in that moment.
What does your creative process look like?
A lot of the time it starts with a thought, or sometimes it will be someone saying something that really sticks with me. A lot of the time my music comes from the need to be heard, and say exactly what's on my mind in a musical way.
How can I tell you that I'm sad, but while we're all dancing? That's my mission, there IS a such thing as crying at the club.
What is your favorite song of yours and why?
My favorite song of mine is 'Wait For Me' on the new album, it's really a fireworks showcase of my sound at it's best! I want to keep dissecting the genre and finding new ways to exploit the kernel (iPhone jailbreak moment) and really expand on it.
What was that moment you knew you were in love with dubstep?
I used to have the 2011 UKF Dubstep album on repeat, and my mom told me to turn the volume down one day. That's how I knew it was my calling.
In what ways have you pushed yourself beyond existing self-imposed limitations?
I was told that I had a disorder when I was younger. My favorite thing in the world is when someone tells me something is impossible, because when you pull it off, not only have you done the seemingly impossible: but now you can expand upon it to craft something that only you can craft. Self limits are imposed by the self, which is why it's always important to keep moving forward.
What's next for Slushii? Tell us about 'Extinction Level Event'.
This album is really a starting point into the unknown. I have a very love and hate relationship with the unknown, if you couldn't already tell this deep into the interview. I love it because the possibilities are truly endless, but hate it because the possibilities are truly endless. 'Extinction Level Event' (ELE) is really a chance for me to do the album my way. Monstercat gave me a lot of creative control over this project and we were able to create something that I can confidently say is very unapologetically Slushii. Those that have been waiting for 'Out of Light 2' I think will be really pleased with this one.
What do you wish for the future of electronic music? In what ways would you like to see it evolve?
I feel like it's forever evolving, just like all forms of music. Whenever my peers and I create something that disrupts the scene, it forces everyone to play their best hand and come with the heat. That's why I really look up to guys like Elton John that have been able to keep reinventing themselves no matter the generation. They're timeless, that's what I would love to achieve one day.
Any last words for the SPIN-verse?
It's been a very surreal experience interviewing for SPIN, as it's one of the publications I've known about since I was younger. This is an 'okay this is epic' bruh moment for sure.
Check out Slushii's electrifying SET below! Want more SETS? Head over to SPIN TV to keep up with all the latest and greatest DJ/producers breaking through the electronic sphere.