Consisting of two members and a diverse array of contributors, CAPYAC always finds a way to include unparalleled visuals to ad dimension to their music. Always genre-bending, the duo captivates their audiences with a bit of jazz and funk, along with a mix of more modern sensibilities. Check out our interview and recorded session below. We think you'll agree that CAPYAC is bringing a profoundly authentic approach to songwriting, musicianship and live music.
SPIN caught up with CAPYAC to talk about inspirations, fashion, their amazing visuals, and more.
Who is CAPYAC & how did you come to life?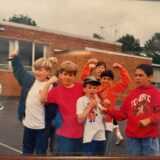 CAPYAC started as my (Potion's) production moniker on SoundCloud in March 2013. P Sugz joined the following year and we produced bootleg remixes and original tracks furiously. In the early days, we were playing 1-4 shows every weekend in Austin, TX, mostly at friends' houses. Real punk life. We had a rule that we'd debut a new song every weekend around that time. Friends started hopping on the project in Austin, and I'd say the band contains around 20 members now, with very fuzzy edges. Not all the members are musicians — we've got dancers, performers, art directors, VJs, etc.
In these new videos, we're showcasing an ensemble we are calling the CAPYAC Friendship Alliance, which contains roughly a dozen people. We hope to go on tour with this group, but since no one believes us when we say we have a ten-piece band ready to go, we had to film a few songs first. All of these songs were done with very minimal overdubs — I think we replaced 3 things across the whole project, mostly to fix bleed from performing in one room — so the video is very close to how we perform live.
Tell us about your sound – where does your style originate from and what have been your biggest visual, social, and sonic influences?
Before CAPYAC, Sugz & I had a folk band, a jazz band, a punk band, a funk band. CAPYAC was my third attempt to release electronic music, and I always kept the sonic influence very wide. I listen to Steely Dan, Sophie, and Art Tatum back to back, I have no idea where our music comes from. I think it is the music critics' job to decide what our influences are.
Visually we've both been big fans of surrealism, and Dadaism before that. We formed an art collective in Austin around 2011-2012 with a bunch of friends, renting a studio in Austin, mostly making art for ourselves. I want to refrain from listing names because I will inevitably forget a few. I can only say that Snowy Bing Bongs Across the North Star Combat Zone is the single most important piece of visual art I've ever seen.
Come and vibe with CAPYAC below! For more SPIN Sessions, head over to SPIN TV.
How has your songwriting/production process evolved through time?
We've gotten better at everything. Most importantly, we are thinking, seeing, hearing, feeling with more acuity than ever before.
What ideas, processes, etc. have you been exploring lately to generate inspiration or new musical concepts?
Writing songs without a computer. Previously most of our music was written to tracks ("toplining"), but recent songs like "Best Friend" have been written in a more traditional way, just the two of us sitting at a piano and working through the song linearly, and then deciding how to produce it after the whole thing is written. This results in completely different music, as you might imagine.
How do you define and perceive success? What's your journey been this year in the pursuit towards it?
I don't think about this. No one should be thinking about "success." I try not to compare myself to anyone. I think we're just doing what excites us, really. I'm not in pursuit of anything other than trying to outdo myself. There was a time when I looked at the Spotify numbers, charted our growth on Instagram, that kind of thing. But it was only toxic, I gained nothing from it. Success for me is the moment I've completely forgotten about success.
What inspires the surrealism and theatrics incorporated in your overall artistry?
We are really just being ourselves, I don't think we could be doing things any differently. It comes from wanting to put on a good show, from recognizing that when hundreds or thousands of people are giving you their attention, you have the power, and the responsibility, to make their lives better. Ideally to change the course of their lives permanently. The performance gives the music context. Without it, you have no idea what we're trying to say. Skits and improv comedy have been part of the show since day 1. Streaming our music is like watching a movie blindfolded.
Does your music inspire your fashion or visa versa?
Everything inspires everything. My walk to the coffee shop inspires my taste in shoes. My childhood home inspires my taste in art. My daily routine inspires my taste in music. My parents informed my politics, which inspires my fashion. My fashion selects my friends. My friends (and my neighborhood, and my biology) inspire my taste in food (which inspires my taste in music). When everything is connected, I don't find any point in singling out any one connection, and prefer to live in a vague, multidimensional graph of experiences.
What individual elements do each of you bring to the unification of the group?
Come to a show and you will see for yourself! A person is a lifetime of experiences, a Gestalt of the thousands of days that made them who they are. If you want to know what instrument they play, or how they play it, watch the CAPYAC Forever Alliance videos. The rest is up for you to judge.
What was your inspiration for your last album?
The albums that came before it. We wanted it to be better than all of them.
If you had to give a title to the current stage you're at in your career, what would it be?
Our last album was marketed as our second debut album, and our next album will be our third debut album. We are constantly beginning. Always starting from scratch. Always trying to pretend that no one cares who we are. I hope we're still "up-and-coming" when we're in our 80s.
In what ways do you wish to inspire up and coming artists/producers that are aiming to get their creative work out into the world?
There's nothing more important than ignoring what everyone else is doing. Don't compare yourself to anyone. For the love of god do not make "___-type beats" (except to practice of course, like how a jazz musician might transcribe a good solo to learn a few things). Don't compromise, and trust your gut more than anyone else. It's the only chance you have at doing anything original.
And if you aren't already inspired, already motivated, already feeling an irresistible calling towards music, then your calling probably lies elsewhere, and you should not waste any time trying to identify it! Go stare at some trees and ask yourself what you would do with your time, even if it earned you no money or recognition.
What's next for CAPYAC?
We are excited to premiere the CAPYAC Friendship Alliance, and play shows as this ensemble around the country. We're producing big events in Austin and Los Angeles. We're launching a quarterly club night called Milk Club in Austin and Dallas. We're working on a new album. We're throwing lots of dinner parties at our house. Thinking about starting a label to release all of our members' side projects. Building community around art is what it is all about.
Take a chance now and manifest something: ______________.
You should never tell anyone what you wished for! This is the only rule of wishes!
Any last words for the SPIN-verse?
Start using Bandcamp.