In her first single since last October, up-and-coming singer-songwriter Rainsford just unveiled her latest love song, "Brutal." The song was co-written with Charlotte Lawrence and features Anna of the North.
"Brutal" was co-written by Rainsford and musician/friend Charlotte Lawrence, while the music was done by Cameron Hale. As Olivia Rodrigo complains in her own song of the same name that "it's brutal out here," Rainsford, rather, admits that "brutal is better than confused." Her lyricism parallels the pain of her heartbreak to that of carrying the sun and moon, all the while she might even enjoy the brutality of it. She usually writes her songs about her own experiences, but Rainsford was inspired on "Brutal" to write about one of Lawrence's battles with love.
"Writing and singing are the two things that give me the most joy in my existence," she said. "Writing is such a personal experience and it's something I've always found solace in, it's spiritual for me in a way. 'Brutal' is a really unique song for me because up until this point, pretty much all of the songs I've released have been based on my own experiences.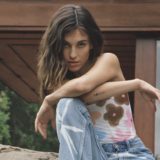 "I wrote 'Brutal' with Charlotte Lawrence – we had been speaking about getting in the studio for a while. When we got in the studio, we had this vent session where Charlotte was talking about something she was going through. While we were speaking, I was writing, of course giving it an artistic spin. We had the demo recorded in a couple hours. I liked the format of the female, female duet we had established, and had been a fan of Anna's (Anna of the North) for so long, so naturally she was perfect for this track."
The new track is just the beginning from Rainsford this year.
She is set to have a slew of releases this year, following her hiatus from music to focus on her acting career throughout 2021. The multifaceted singer-songwriter, actress, model, writer, and creative director is returning to music and plans to succeed her 2020 tracks including "2 Cents," "Crying In the Mirror," "Oh My God," and "Love Me Like You Hate Me" this year.
Back in 2018, Rainsford joined Twin Shadow for his track "Brace."