Changing your sound rarely feels autobiographical. But for Liam Neighbors, a.k.a. A.L.N., the man behind Portland blackened doom band Mizmor (often written as מזמור, the Hebrew word for "psalm"), it is. Though not a strict, sober play-by-play of his life, Mizmor has largely been a journey of a man losing his faith. Albums like 2016's Yodh and 2019's Carin reflect that conflict through weighty black metal rendered through doom's bigger scopes. They sounded hymnal, but not reverent, quite appropriate for someone struggling to leave God and his former life wrapped up in God behind.
His latest EP Wit's End, which came out last Friday on Gilead Media, does not represent a conclusion to his journey, but a point much different from where he started. For one, his belief, the thing he spent albums questioning, has vanished. Thus, he goes further outward in his anger. Black metal has receded greatly, leaving doom to dominate the title track, a piece of howling frustrations. His riffs are these boulders that take universes of energy to push one inch, a representation of how he feels toward the world outside him.
The record's second half, "Pareidolia," is an ambient track that eschews metal entirely – there's ominous messages recorded backwards where discerning them is difficult and not at all the point. There's as much of a sense of loss as there is in the title track, and in Mizmor's work as a whole, something one can feel without a text. Loss and destruction, though, have only fueled his growth.
Read our interview with A.L.N. below.
SPIN: Where does Wit's End stand in Mizmor's journey?
Liam "A.L.N." Neighbors: Wit's End marks a shift in perspective for me as an artist. I am feeling less compelled to write about myself and more compelled to write about humanity as a whole. I've spent a lot of time using Mizmor to work through personal issues, largely my loss of faith in God and transformation into an atheist. This process took a while and the music was crucial in my growth and healing. I do not feel I need to linger on this topic any longer and am finding my thoughts and emotions being influenced by society. My experience with changing my worldview is just an example of a larger story: humanity driven by ideas, and not all ideas are equally true or valuable to our species.
Normally, I try to ask about anything but the pandemic. But you've been open in saying this record was heavily shaped by the pandemic – how does it figure into here?
All the kindling was already stacked, the pandemic was just the spark that lit the fire. The past five years or so, I've watched us become more and more radicalized by ideas and thus more polarized from one another. A huge contributing factor, in my opinion, has been the internet and social media, which has changed the way we absorb and exchange information.
Everyone is becoming increasingly pigeonholed in an algorithmic echo chamber of like-minded people, whether knowingly or unknowingly. We live in a fractured reality where facts have become opinions and trust in all institutions has eroded. The pandemic brought all of this to the forefront of a large portion of the public's awareness, as people's differences in opinion became so stark and so consequential that families, friends, and governments were torn apart. I don't think the internet or social media are inherently bad or anything, but I think it's important to approach information with critical thinking processes for vetting truth.
On one level, Wit's End is a reaction to our society's increasing tendency (or even eagerness) to embrace and spread misinformation, disinformation, cultism, conspiracy theories, and superstition. It's an extension of my frustration with faith-based, dogmatic thinking and the rejection of science as our best method for attaining knowledge and making accurate predictions.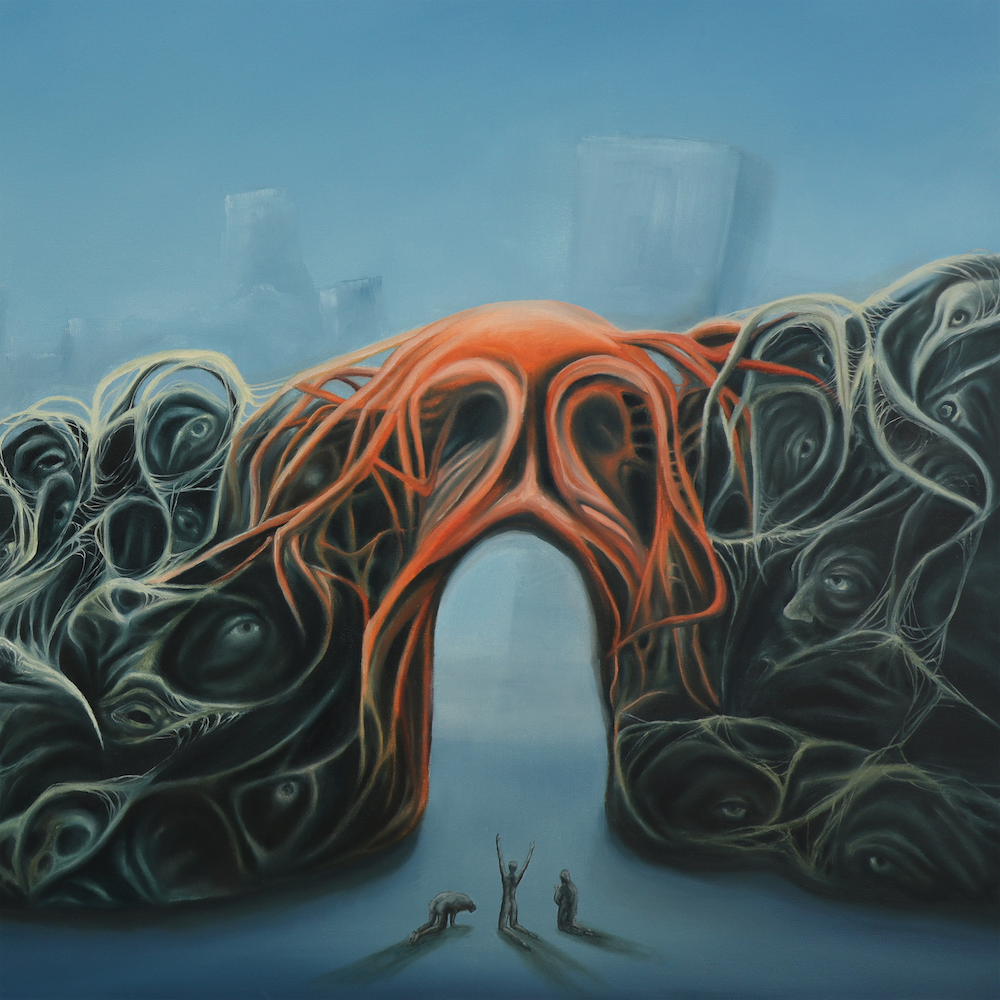 In the title track, you've fully submerged yourself in doom, almost entirely shedding black metal. Does this signal where Mizmor is going?
I just let the music come out how it wants to. Although fierce, the mood of the song is largely depressive and contemplative, and a crawling funeral doom song is simply what came to be. There is definitely still black metal in Mizmor's future.
You recorded the intro spoken word segment yourself, even though it sounds like a sample. It harkened two sample-heavy tracks for me – Neurosis' "Rehumanize" and Dystopia's "Sanctity," the latter's weariness especially. What inspired that particular segment?
I wanted to include the eery emotional quality of a sample overtop the ominous, clean doom section at the beginning of the song. I didn't want to run the risk of copyright infringement though, and also had a very specific idea in mind for the content of the words. The solution was to create my own sample. I essentially performed the words as an actor, trying to get the emotion in my voice just right. Then I manipulated the recording by running it to tape and messing with it in my recording software. I did this to disguise my voice a bit and give it that antiquated, creepy, sample quality.
What went into the ambient direction of "Pareidolia?" Was it shaped by the Andrew Black collaboration Dialetheia from last year?
I've been listening to a lot of ambient music lately – sometimes more than metal. I've loved it for a long time but never saw it as a means of personal expression until working with Andrew. Our album Dialetheia definitely influenced how I approached my own music for this album, from using tape for modulation to becoming more comfortable with making songs without drums. There have always been hints of ambiance in Mizmor's music via drones and atmospheric segments, but I've never gone full-on ambient the way I have with "Pareidolia." After trudging through a track like "Wit's End," it seemed appropriate to take the listener to an entirely different realm, one swirling with delusion and madness, though suspiciously soft and calming.
There are these ghostly, disembodied voices around the nine-minute mark of "Pareidolia." They sound like they're played in reverse. What are they saying?
"Pareidolia" was derived from a very old song of mine (11 years). Before writing and recording the first Mizmor album (2012), I made a handful of original hymns in a dark, neo-folk style. These songs were made right on the cusp of my loss of faith. The songs were worship songs, however embittered and sorrowful they may have been. For "Pareidolia," I took one of those songs, stretched it out over time, reversed it, and affected/modulated it to turn it into a new song. One reason was I simply liked how it sounded. Another reason was to continue to tell my story without laying this song bare, as it is a bit too personal for that. I feel it serves as a powerful example of the type of thinking "Wit's End" opposes. I've literally been there before – been a superstitious person who falsely attributes meaning to meaningless things, caught up in the narrative of God's purpose for my life. For those who are curious, the lyrics accompany the record. You'll have to read them in a mirror though since they are reversed, like the audio. Audio enthusiasts may also have fun reversing the song and hearing a ghost of the original track.
Cairn and Yodh were these works of great scope that were quite emotionally taxing – Wit's End still packs a lot in, but was it necessary to scale it back?
I did not intentionally scale Wit's End back. For me, it's hard to classify the release. Is it a full-length double album like Cairn and Yodh? No. Is it an EP? Maybe, but it's still 30 minutes and fills a 12-inch record. It kind of just is what it is, haha. I think it's an interesting sonic offering that pushes the evolution of my sound and will tide people over until I release another hour-long record. After all, it's fun to get weird sometimes.
———————————————————————————————————————–
New year, new you? Questionable at best. More new music? Definitely…
40 Watt Sun – Perfect Light (Svart)
Richard Walker is a master of melancholy – his group Warning laid on doom a whole new level of emotional devastation, and its wounded majesty and vulnerability have informed many breakthrough doom acts ever since. (Seriously, if you've never heard "Footsteps," that song will DESTROY you.) 40 Watt Sun initially began as a continuation of Warning, but on their third album, Walker puts his voice and his endless heartbreak firmly at the center, with sparse, primarily acoustic instrumentation. In a softer vessel, his longing only grows louder, his soul more haunted.
Wiegedood – There's Always Blood at the End of the Road (Century Media)
Belgian black metal trio Wiegedood, featuring Oathbreaker members Wim Sreppoc (on drums) and Gilles Demolder (on guitar), return even more frenzied on their fourth record. Leadoff track "FN SCAR 16" in particular is constant escalation and deescalation, with anxious tremolos driving those extremes.
Celeste – "Le Cœur Noir Charbon" (from Assassine(s), out Jan 28 on Nuclear Blast)
France's Celeste are long overdue for wider recognition for their furious and dense blackened hardcore, and by ailing themselves with Nuclear Blast for their sixth album Assassine(s), some of that will hopefully come their way. "Le Cœur Noir Charbon" is another stunning track, with a doomy middle that wouldn't be out of place on Paradise Lost's Gothic.
Polterwytch – 5 Curses of the Polterorgel (Grime Stone)
After all this seriousness to ring in the new year, how about something a little sillier? From Germany, Polterwytch's first tape is super lo-fi black metal dominated by creepy, chintzy organ that blurs the line between carnival and funeral. "Turboorgel" verges on circus d-beat, and your friends into garage rock might actually dig "Skulls at the Door."