Happy Birthday to Interscope Records! The label is celebrating its 30th anniversary alongside the Los Angeles County Museum of Art (LACMA), which will display a new exhibition, Artists Inspired by Music: Interscope Reimagined.
The exhibition will feature over 50 new works by visual artists in honor of the groundbreaking music from Interscope's iconic recording artists. To name a few, Cecily Brown, Julie Curtiss, Shepard Fairey, Lauren Halsey, Damien Hirst, Rashid Johnson, Takashi Murakami, Richard Prince, Ed Ruscha, and Kehinde Wiley are among the artists that have created an original artwork inspired by the music of 2Pac, Billie Eilish, Dr. Dre, Eminem, Gwen Stefani, Juice WRLD, Kendrick Lamar, Lady Gaga, Mary J. Blige, MGK, Nine Inch Nails, No Doubt, Olivia Rodrigo, Selena Gomez, Snoop Dogg, U2, and more.
Today, the museum unveiled three different images by Kehinde Wiley, who created an artwork inspired by Dr. Dre's 2001 The Chronic, Cecily Brown created one for Billie Eilish's EP dont smile at me, and Rashid Johnson for Kendrick Lamar's Good Kid M.A.A.D. City.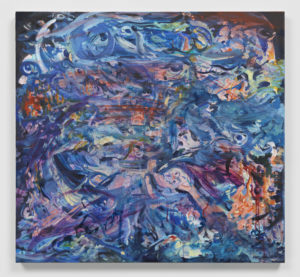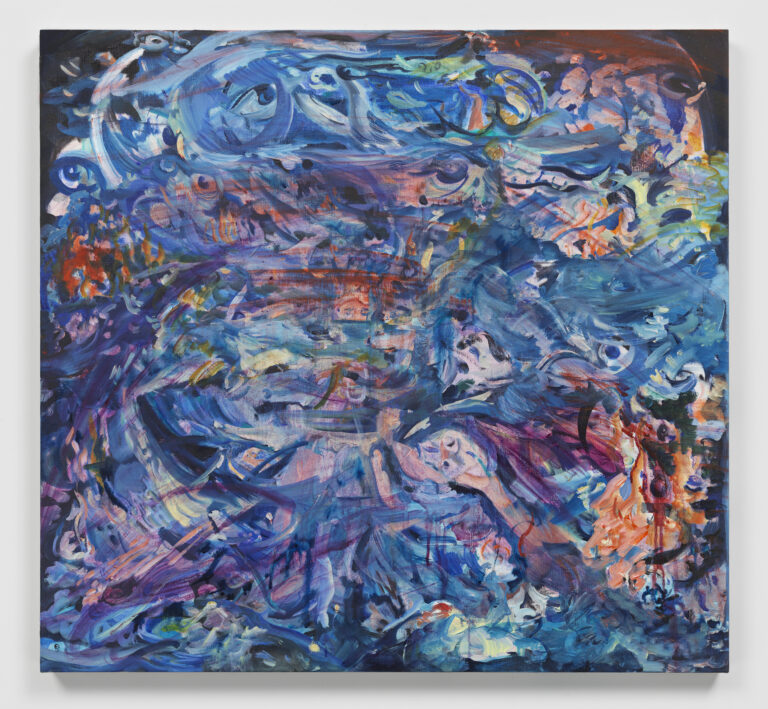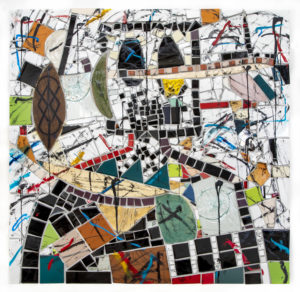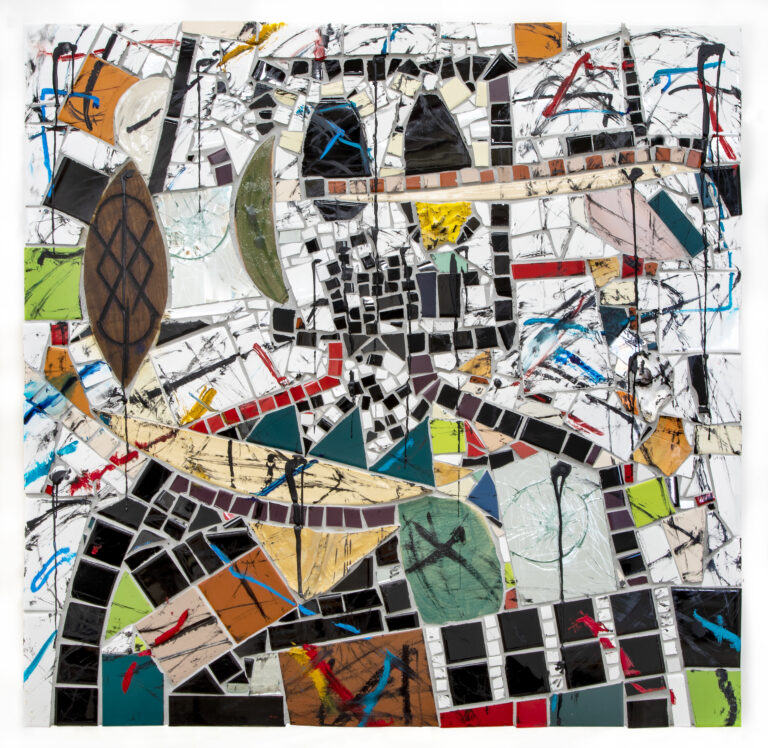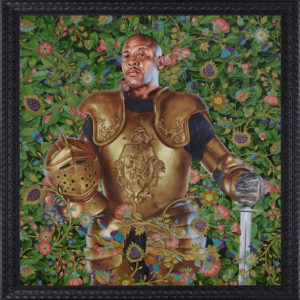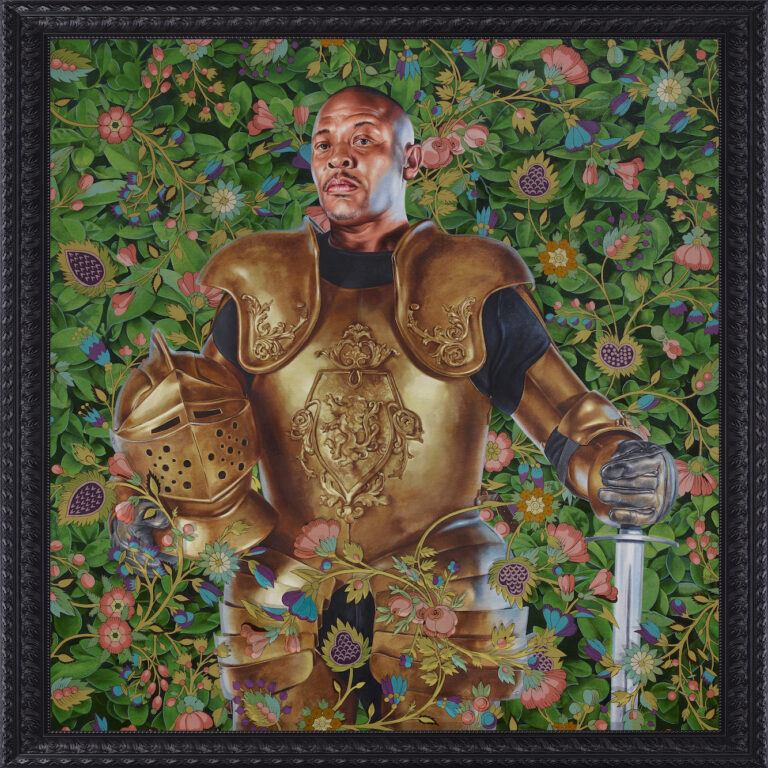 Artists Inspired by Music: Interscope Reimagined is available to the public beginning Sunday, Jan. 30 through Sunday, Feb. 13 in LACMA's Resnick Pavilion.
Visual Artist and Music Artist Full List
• Adam Pendleton – Dr. Dre – The Chronic
• Amoako Boafo – 6LACK – FREE 6LACK
• Anna Park – Billie Eilish – When We All Fall Asleep Where Do We Go?
• Anna Weyant – Gwen Stefani – The Sweet Escape
• Burnt Toast – Timbaland – Shock Value*
• Burnt Toast – N.E.R.D. – Seeing Sounds*
• Cecily Brown – Billie Eilish- dont smile at me
• Chloe Wise – Yeah Yeah Yeahs – It's Blitz!
• Damien Hirst – Eminem – Entire Catalogue
• Derrick Adams – Mary J. Blige – The Breakthrough
• Ed Ruscha – 2Pac – All Eyez On Me
• Emily Mae Smith – Nine Inch Nails – Broken
• Ferrari Sheppard – Blackstreet – "No Diggity"
• Genesis Tramaine – Summer Walker – Over It
• Henni Alftan – Olivia Rodrigo – SOUR
• Henry Taylor – Kendrick Lamar – DAMN. ("DNA")
• Hilary Pecis – Selena Gomez – Rare
• Issy Wood – Gwen – Love. Angel. Music. Baby. ("Cool")
• Jenna Gribbon – Lana Del Rey – Born To Die
• Jennifer Guidi – BLACKPINK – THE ALBUM
• John Currin – U2 – "Beautiful Day"
• Jordy Kerwick – MGK- Tickets to My Downfall ("My Bloody Valentine")
• Julie Curtiss – No Doubt – Tragic Kingdom ("Just a Girl")
• KAWS – Dogg – Doggystyle
• Kehinde Wiley – Dr. Dre – The Chronic 2001
• Lauren Halsey – Kendrick Lamar – To Pimp a Butterfly
• Lisa Yuskavage – Billie Eilish – Happier Than Ever
• Loie Hollowell – Lady Gaga – Fame Monster
• Lucy Bull – No Doubt – Tragic Kingdom ("Spiderwebs")
• Mark Quinn – MGK – Tickets to My Downfall
• Matthew Wong – Lana Del Rey – Paradise
• Fulton Leroy Washington AKA Mr. Wash – The Game – The Documentary
• Nicolas Party – Lady Gaga – Joanne
• Nina Chanel Abney – 2Pac – The Don Killuminati: The 7 Day Theory
• OSGEMEOS – Black Eyed Peas – The E.N.D.
• Rashid Johnson – Kendrick Lamar – Good Kid MAAD City
• Raymond Pettibon – Lana Del Rey – Norman Fucking Rockwell
• Reggie Burrows Hodges – Kendrick Lamar – Good Kid M.A.A.D City ("Swimming Pools" (Drank))
• Richard Prince – Nine Inch Nails – The Downward Spiral
• Sayre Gomez – 50 Cent – Get Rich or Die Tryin'
• Shepard Fairey – Yeah Yeah Yeahs – Fever To Tell
• Stanley Whitney – Kendrick Lamar – To Pimp A Butterfly ("King Kunta")
• Takashi Murakami – Juice WRLD – Goodbye and Good Riddance
• Titus Kaphar – Eve – Scorpion
• Toyin Ojih Odutola – Kendrick Lamar – DAMN.
• Umar Rashid – Tupac – Me Against The World
• Will Boone – Helmet – Meantime
* NFT