With over 21 years in the making, the documentary film spotlighting Kanye West, Jeen-Yuhs: A Kanye Trilogy, is set for a three-week event on Netflix beginning on February 16.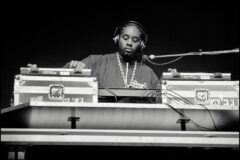 Filmmakers and friends of West, Coodie and Chike, collected videos spanning over 20 years of West's life and music career  for the film. The trailer shows clips of a young West at home, in the studio, and among music legends like Pharrell and Jay-Z.
"Very rarely do you encounter self-contained people," the trailer said. "This man can do everything himself. He livin' it."
The announcement comes at an interesting, but possibly fitting, time as West has recently been surrounded by various controversies. West invited disgraced artists Marilyn Manson and DaBaby onstage with him at his Donda listening event at the end of last year, and shocked the music community when his newest album was nominated for the Album Of The Year Grammy. Manson and DaBaby also received Grammy nods for their contributions to Donda, but we will have to wait and see the results as the Grammy awards have since been postponed by the Recording Academy due to the rising cases of the Omicron variant of COVID. The award ceremony's original date was scheduled on January 31, and the Academy has yet to announce a new date.